Big Cats Mounts and Followers SE
"Big Cats" allow you to summon 23 Big Cats Mounts (3 Lions, 3 Lioness, 3 Panthers, 4 Leopards, 9 Tigers, Spectral Sabrecat) wherever you want + You can easily dismiss the mounts with a spell tome.
You can easily DISMISS when you want with a "Spell tome:Dismiss Summoned Big Cats"
Optional File: Esp version Fr.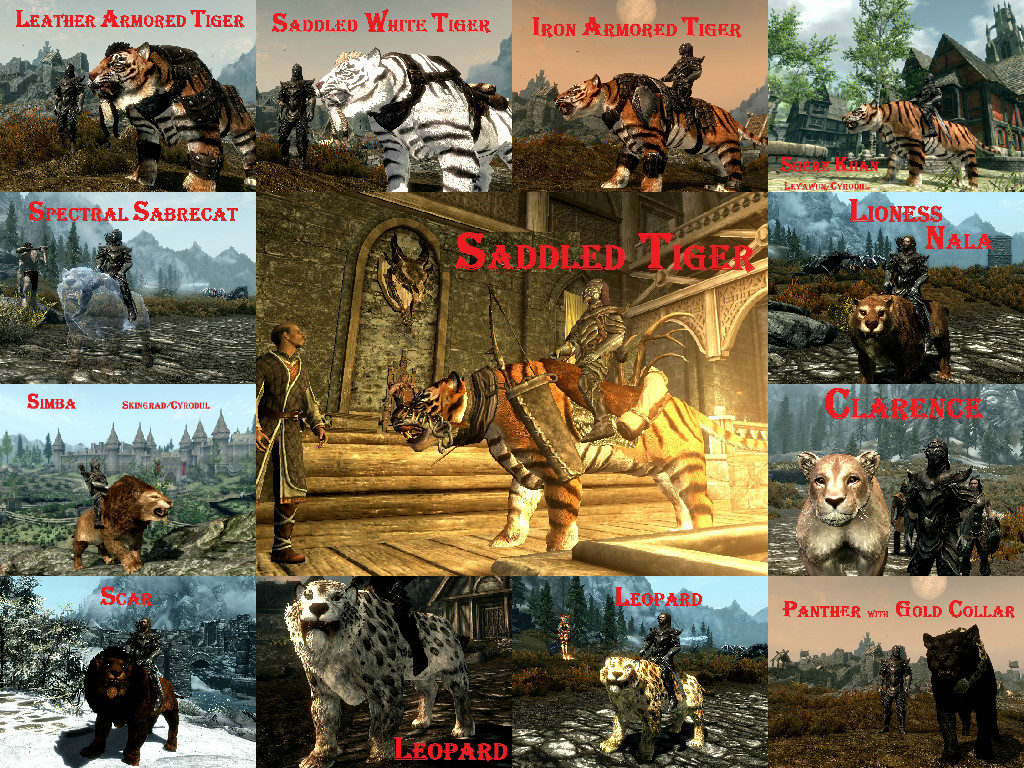 INSTALLATION
:
You must place the .esp at the bottom of the list when you launch the game to obtain the 24 books
You can find the "Spell tome: Summon XXX" and the "Spell tome:Dismiss Summoned Big Cats", at Farengar Secret-Fire in Dragonsreach/Fort Dragon (Whiterun/Blancherive) or with an other "Spell Vendor" (ex: Sybille Stentor in the Blue Palace/Palais Bleu in Solitude).
Duration of the summon: 1 hour (15' for the Spectral Sabrecat)
If you have any problem with these mounts, you can try a FAST TRAVEL...
Credits
FrankTheFish (Mod
Prides of Skyrim
) for the Lions, Scar texture, the Panther texture and mesh edit ("NEW addition of tail and teeth on panther mesh were not my own") and the Lioness ( "You may use my Lions and other big cats as long as proper credit is given").
The textures of lions are from Bellyache ; Mod
Bellyaches Animal and Creature Pack
("Asset use permission": "You are allowed to use the assets in this file without permission as long as you credit me").
New Lions and Lioness Nala models from the team (-in the credits of FrankTheFish-):
"Targaryen (for the Mane of the lion)
tumbajamba (for the Tail)
TreasureChest (for the Teeth)
DVAted (for the effort of making the new model possible)"
"Also DVAted's team for the Tiger model:
Targaryen, tumbajamba & TreasureChest (model)
DVAted (textures and model direction)"
AlienSlof (Mod
Slofs Sabrecats
)for the texture of the Snow Leopard ("Use these textures freely")
muppetpuppet (Mod
Tiger retexture and skin addon for sabrecat race
) for the meshe and the texture of the Sabre Tiger ("enjoy free to use")
Tumbajamba for the Mesh and the texture of the Armored Tiger (« i decided to upload all my unreleased mount models as a modder resources ») in his mod
Armored SabreCat Mount
testiger2 for the Meshes/Textures of the White Tiger (with
sliceandkill
), Saddled White Tiger, Leather Armored Tiger, Iron Armored Tiger, Panther with gold collar, Dawnguard Armored Tiger, Saddled Sabre Tiger, Lioness with Leather Collar, in his mod
TesTiger's Mesh Resources
Eldroth
for the Model of the Lioness Clarence (Mesh from Eldroth/Julien; derivative work based on the Tera games* from -"En Masse Entertainment" and "Bluehole Studio"- and the textures from
AlienSlof
)
Mihail Romanov for the
Mountain Lions and Panthers
New -Free- Sounds :
universal-soundbank/
;
Sound Fishing
;
pawsonline.info
and
bigcats2.tripod.com
Videos
with the Big Cats
->->->->->->->->->->->->->-><-<-<-<-<-<-<-<-<-<-<-<-<-
->->->->->->->->->->->->->-><-<-<-<-<-<-<-<-<-<-<-<-<-