Hey guys.  I AM BACK!!!  Over a year ago, I have lost all vision in my right eye and there is now getting it back.  So I am done with the DR.s and moving forward with modding again.  Sorry it's been a while.  I will be working on my other mods to get them cleaned up and updated.  Possibly redo them from the ground up.  So look for some updates in the near future.  Have fun and keep gaming.
This mod is now included in my new mod D.E.R.P.
http://www.nexusmods.com/skyrimspecialedition/mods/10997
.  This mod will still continue to be supported.   
Thank you.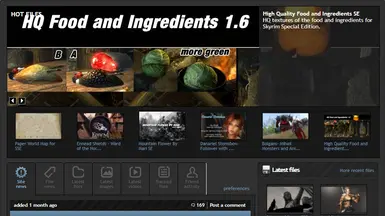 WOW!!!!  We did it again!!  Made Hot Files within a few days!!!  You guys are awesome!!!  Thank You
eraitico
 for your work on making the mod and Thank You everyone for liking the mod.  THANK YOU!!!
This is not my mod.  This is a port of Eraitico's essential mod
High Quality Food And Ingredients
.  Please go and Endorse his page.
Permission
received.
His mod is still one of the top essential mods in 
STEP - Skyrim Total Enhancement Project
.  Check it out for Skyrim Legendary Edition.  
My mod is part of
S.E.T.O.G.
 by 
EvilKnight78
.  I recommend you check out his awesome step by step guide to make 
your Skyrim Special Edition looking spectacular.
Description
This is a retexture for the food/ingredients listed below. 
List of the food.
Apple Pie
Beef Meat
Bread
Cabbage
Candy
Carrot
Cheese
Chicken Meat
Cooked Beef
Cooked Chicken Breast
Cooked Slaughter Fish
Cooked Venison
Green Apple
Red Apple 
Grilled Leek
Grilled Potato
Mead
Potato
Salmon Meat
Salmon Steak
Sweet Roll
Venison meat
List of ingredients.
Bone Meal
Charred Skeever Meat
Garlic
Ingredients Bowl
Mammoth Tusk Bowl
Moon Sugar
Mora Tapinella
Salt Pile
Scaly Pholiota
Slaughter Fish Scale
Void salt
List of Misc.
Chicken
Dead Pheasant 
Dead Hare
Salmon
Compatibility

This is just a texture replacer so let this Overwrite when prompted.
For People using SMIM!!
SMIM seems to overwrite some of my textures.  If you want my textures when using SMIM, follow these steps.
When installing SMIM, click 'custom' option, choose the options you want except 'Improved Bowl Ingredients', 'Improved Food', and 'Improved rabbits'.  If you prefer SMIM textures over mine then click those option.  It's all up to your personal preference.
Installation
Click Download With Manager button and install.  Follow instructions in installer.
Mods Used In Screenshots
Ruins Clutter Improved
Static Mesh Improvement Mod - SMIM
Skyland - A Landscape Texture Overhaul
Skyrim Floral Overhaul Se - Trees Only
Veydosebrom - Grasses and Groundcover

Dolomite Weathers - Natural Lighting Vivid Atmospherics II
Sin Xtreme Realism ENB
My Mods


Deathbell By Mari SE
High Quality Food And Ingredients SE
Mountain Flower By Mari SE

D.E.R.P. - DarShonDo's Eyesore Retex Project
Sweet Snowberries SE
Neurotic Nightshade SE
Silky Spider Eggs SE


Credits
All credit goes to
Eraitico
 for making this mod.  Thank you for giving me permission to port this wonderful mod to Skyrim Special Edition.