Welcome to Valkyrja Estate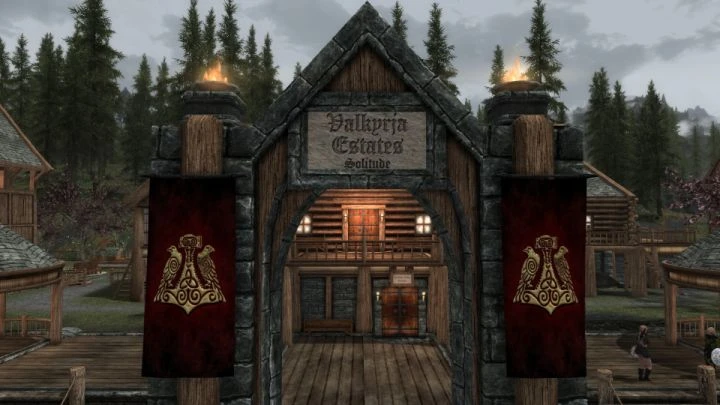 When I did the patch for Valkyrja Castle and The Great Forest of Whiterun Hold, I got to talking to jpitner, the author of the 
Valkyrja Castle
.
He then mentioned that his very first Player Home Mod, never was finished or shared.
He had the mod very nearly finished and all the permissions were granted by the authors of the resources he used (see credits below), he just ran out of time. 
He has been involved with Mods for Skyrim, Skyrim SE and Fallout 4. See his list of Mods below. 
He then asked if I would like to look at the Player Home and finish it and upload it to share with the community. 
After looking the mod over, I knew I had to finish it and share it.
This was not just a very functional Player Home, this was a work of art.
I am honored that jpitner trusted me to put the finishing touches on this home and upload it for the community to enjoy.
All credit for this mod goes to jpitner and the other authors mentioned in the credits area below.
Video by 
Dar'ShonDo

(Give him a like and Subscribe to his channel if you like his videos)
Valkyrja Estate Recreation Area v3.7
with Music: "Path of the Wise Man" by
Ken Morlock

This is a large Player Home, located near the Solitude Mill, below the stables.
It has a main living quarters, a Museum, a Follower quarters, several crafting areas and garden and planter for your ingredients.Bee hives and fish hatchery included along with farm cows and chickens and private stable.
A main armory, a follower armory and a secret armory with lots of mannequins and storage, linked and separate, for your storage needs.
There are many displays and the Museum has displays for your unique items and quest items.
There are custom weapons and Armor, (male full set, female full set, female skimpy set and all are craftable), and crafting books for all items.
Valkyrja Estates introduces:
10 Guards
1 blacksmith / Merchant
2 mages / Merchants
1 Food Server / Merchant
1 Tailor / Merchant
1 Housecarl / Follower
2 Horses
1 Bard (as of v4.0)
Display activators for almost all unique items that can be found in game
Display activators for unique faction items.
Note: Treasures acquired through Thieves Guild quests are automatically displayed so there is no need   
to take them from the Thieves Guild headquarters.
Beds, pools, and hot tubs have autostrip triggers - Player Room hot tub also has player autostrip.
Guards and Housecarl can be disabled in game.
Auto Strip feature on Pool and Hot Tub can be disabled in game.
The Estate is completely NavMeshed for follower and guard sandboxing.
Hearthfires Adoption compatible. You can use this home for your spouse and children.
There are several mods available to make this your default home.
Requirements:
Most recent version of Skyrim Special Edition
Known Issues:
Valkyrja Castle Whiterun
For those who use both the Castle and the Estate, Load Valkyrja Estate below/after, Valkyrja Castle.
Conflicts:
Landscape Fixes for Grass Mods" ( http://www.nexusmods.com/skyrimspecialedition/mods/9005/? )
Load Valkyrja estate below Landscape Fixes and you should be ok.
The Moors SE
(Both occupy the same worldspace)
Compatibility:
Hearthfire multiple adoptions
- by TMPhoenix Now with custom home support for kids and spouse 
Double Beds Are For Two People by OldMansBeard 
(Patch is under Optional files)
Alternate Start - Live Another Life by Arthmoor
 (Patch is under Optional Files)
CortexFollowerSeries
 (Patch is under Optional Files) 
Read install instructions

Simply Bigger Trees SE - (formerly SkySight SBT) by fadingsignal
Skyrim Flora Overhaul SE by vurt

General Stores - Auto Sorting Cloud Storage Resource for packrats SE Convert
 (Patch is under Optional Files)
Landscape Fixes for Grass Mods
by code1k
Credits:
There are many talented authors without whom this project would not have happened.
First – If I missed any author in my credit list please notify me so I can correct the list or if you wish, remove your asset from the mod.
jpitner
for the design and construction of the home.
Stoaty6666 - Base ideas for the creation of this home, without him this home would never have been started.
SkyrimLazz - Textures and help getting started in modding and his continual help when I get stuck.
Asatru Background 2 - 
painsplayground
Viking Shields - 
ZawArt
Nordic Shield - 
HolaBlackDavy
Valkyrja Armor Mesh - ChronoTrigger77 
Remodeled Armor
DarkFox127 - Amazing tutorials, textures, and meshes
Caliente for CBBE body
Apachii for 
ApachiiSkyHair
Blary - 
OpenBook
 and 
BookSet
 Resources 
RefurbMadness - 
Cherry and Mahogany Alchemy Tables
 and 
Cherry and Mahogany Enchanting Dragon Table
Garnet/flintone - 
Wicker Furniture
 textures and meshes 
Zerofrost - Nigtingale base textures
Tamira/Stroti - Some great meshes and textures, just search for Stroti or Tamira.
Tueffel - 
Modular Crafting Table
 resource 
MrDanSG1 - Modder Display Compendium - Custom Displays for the Collectible Items found in Skyrim
Berticus0001 - Great meshes and textures and some awesome tutorials.
Insanity - Carpet mesh, wall charts, towels, The Stamford - Viking Sword mesh and who knows what else (this person provides so many resources)
Oaristys and Tony67 - 
Modder's Resource Pack
Runspect - Meshes and textures from Resources for modders
icecreamassassin - Meshes and textures from Project Havok(TrueStatic display model resource)
Oldmansbeard -
DoubleBedsarefortwoPeople
Patch
Music: "
Path of the Wise Man
" by
Ken Morlock
copyright 2018 (Unauthorized use is strictly prohibited)
Bethesda
Permissions:
The file is free for personal use only. Do not modify remove or reuse any resources located in this project. 
All resources used in this package remain the property of their respective authors and permission from those authors would be required.
All permissions set forth by authors of resources is carried forward and apply to this package also. See credits.
Please contact jpitner, or myself, for written permission prior to using any resources from this mod.
Do not upload to any other website. This is a Nexus Exclusive.
No resources in this mod may be used in a paid application.
Other Mods by jpitner:
Other mods by Cortex56:
My other mods:
Donations:
I do not accept donations, please consider purchasing a Nexus membership if you feel the need to donate. Keep this website going.
If you already have a membership, please consider donating to your local animal shelter or children's Hospital.
Disclaimer:
THIS MATERIAL IS NOT MADE, GUARANTEED OR SUPPORTED BY ZENIMAX OR ITS AFFILIATES.