TranslatorAPIs are services that provide machine translation. Most of them are subscription-based, but some have some limited free offer, like MSTranslator or Yandex which are supported here. In both cases you need to get an authorization key.

Yandex: The free offer (11/2016) allows you to translate up to 1000000 characters per day 
You need to create an account then generate a key there https://tech.yandex.com/keys/get/?service=trnsl

MSTranslator:The free offer (11/2016) allows you to send 7200 requests per month, however the free key is a bit confusing to get:
You will need a msLive account, then log on azure marketPlace, then subscribe to the msTranslator service, then create an Application to get your clientID and Client secret keys.
Check that blog, for detailed information: https://blogs.msdn.microsoft.com/translation/gettingstarted1/
Note: MsTranslate registration will move to  https://azure.microsoft.com/ by th end of 2016


In Beta20b there are also 3 new supported APIs:


-Baidu (requires a key : http://api.fanyi.baidu.com/api/trans/product/index ). 2000000 chars free per month
-Yandao (Requires a key: http://fanyi.youdao.com/openapi?path=data-mode ). 1000Query per hours (200 chars per query, also only capable of translating from en/fr/ru/ja/kor to Chinese, and Chinese to english)
-Transltr (Free but gives very raw results, 350 char per query)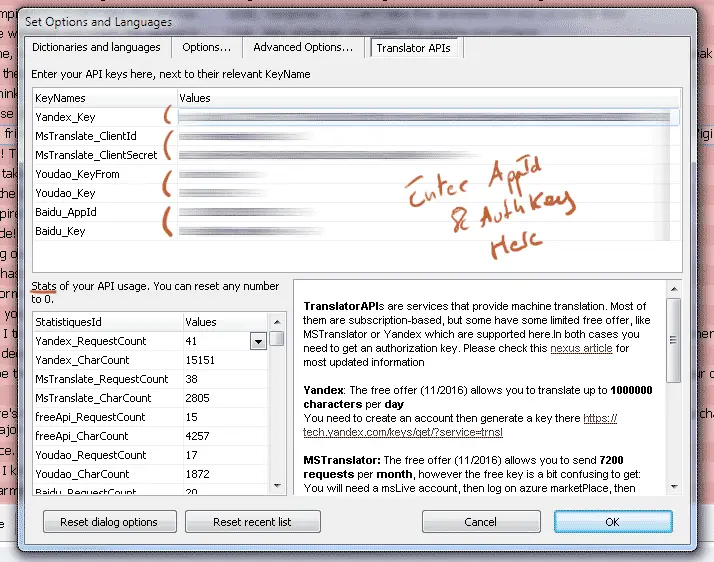 In cases that are requiring AuthKey, you must enter the given credential in the relevant fields in the xTranslator -> TranstatorAPIs options, then you will get direct auto translation access through the context menu in the edition window. You can see usage stats.
Since it's using online services, you will need to allow the internet connexion for xTranslator.

Usage: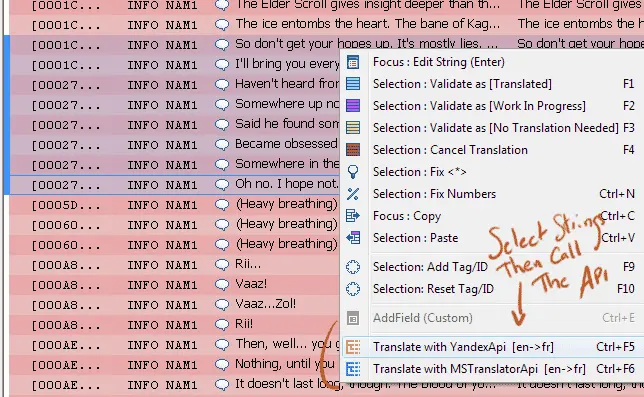 or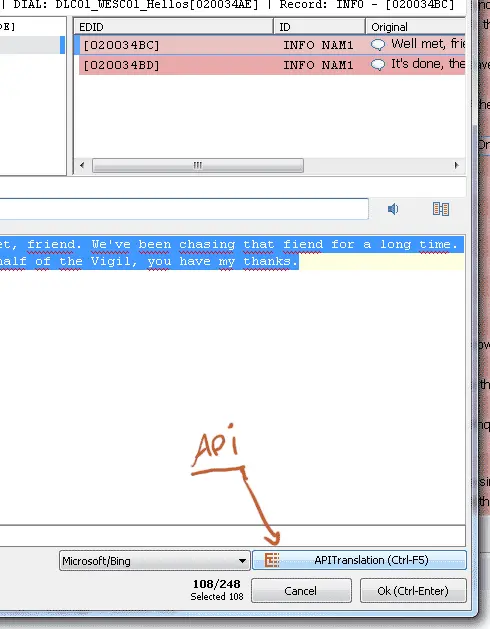 Note: your credentials are saved in clear in the xTranslator preferences, also, do not Spam translation requests or you probably will get your credentials locked.