About this mod
No more flat soled, chubby, short toed, pig trotters.
-Bare female feet models
-Vanilla revealing footwear conversion
-Sliders for Bodyslide
Requirements

Permissions and credits
CHANGELOG
CBBE V.4.1S 02/06/2018
No more gaps! *Had a weird CBBE body template that I used which had different vertices for some reason... Should be the correct CBBE now
V.4S 01/06/2018
Added version UUNP V.4S 
Added version CBBE V.4S with corrected UV maps
Overall smaller feet
Shorter toes
Even less exaggerated arches
Equippable toenails for V.4S also added on its page https://www.nexusmods.com/skyrim/mods/91373
UUNP V2.2 17/05/2018
1st of all Thanks lots to ppl commenting on this mod and bringing my attention to problems! As a beginner modder this is highly appreciated!
Finally no more gaps/seams!
Fixed the one vertex that was sticking out from the ring toe nail for some reason...
ALSO CHECK OPTIONAL FOR A CRUCIAL FIX THAT SOLVES A GAME INNATE PROBLEM WITH THE MOTH PRIEST SANDALS!
UUNP V2.0-2.1 15/05/2018
2.1: Added UUNP Sliders and ShapeData for CalienteTool/Body Slide
2.1: Fixed my previously broken vanilla wear conversions
Slightly less exaggerated arches
The back of the toes are rounder 
Corrected medial to lateral malleoli ratio and position
Added more meat to the lateral plantar area
Better weights
Smoothed vertices 
Should be completely seamless now
CBBE V3.0 15/05/2018
Added CBBE adaption (WARNING: If you are a perfectionist DONT GET THIS VERSION. UV MAP FAR FROM PERFECT)
Vanilla footwear conversion w CBBE adaption
+Sliders

DESCRIPTION
This mod contains my personal customized feet model and replaced vanilla footwear that show bare feet. Original feet model from 
Natural Feet - More adult female foot CBBE - UNP
. Super thankful to Lerny34 and its author/s (not sure how that mod actually came to be, the nexus page is not super descriptive) for making that mod happen. Was so glad last year to find these people, people also noticing how lacking for some, the preexisting models could have been at the time. Their over all design direction was very similar to what I had hoped for. In fact, their work sparked my interest into finally taking things into my own hands and learning Blender.
Bore this pain for years hoping to find better feet models since I started modding Skyrim in 2014. Many of the existing feet models were definitely well made and I do not want to diminish their value. However I am sure there are many like me out there that wish there was more, suited to our own taste. For one I personally prefer feet with pointing index toe (also called long toe for a reason right)
 And more:
Longer and more chiselled toes
Higher arches both medial and lateral
More protrude ankle bones
Slenderer metatarsus area
Lengthier tarsus area
and more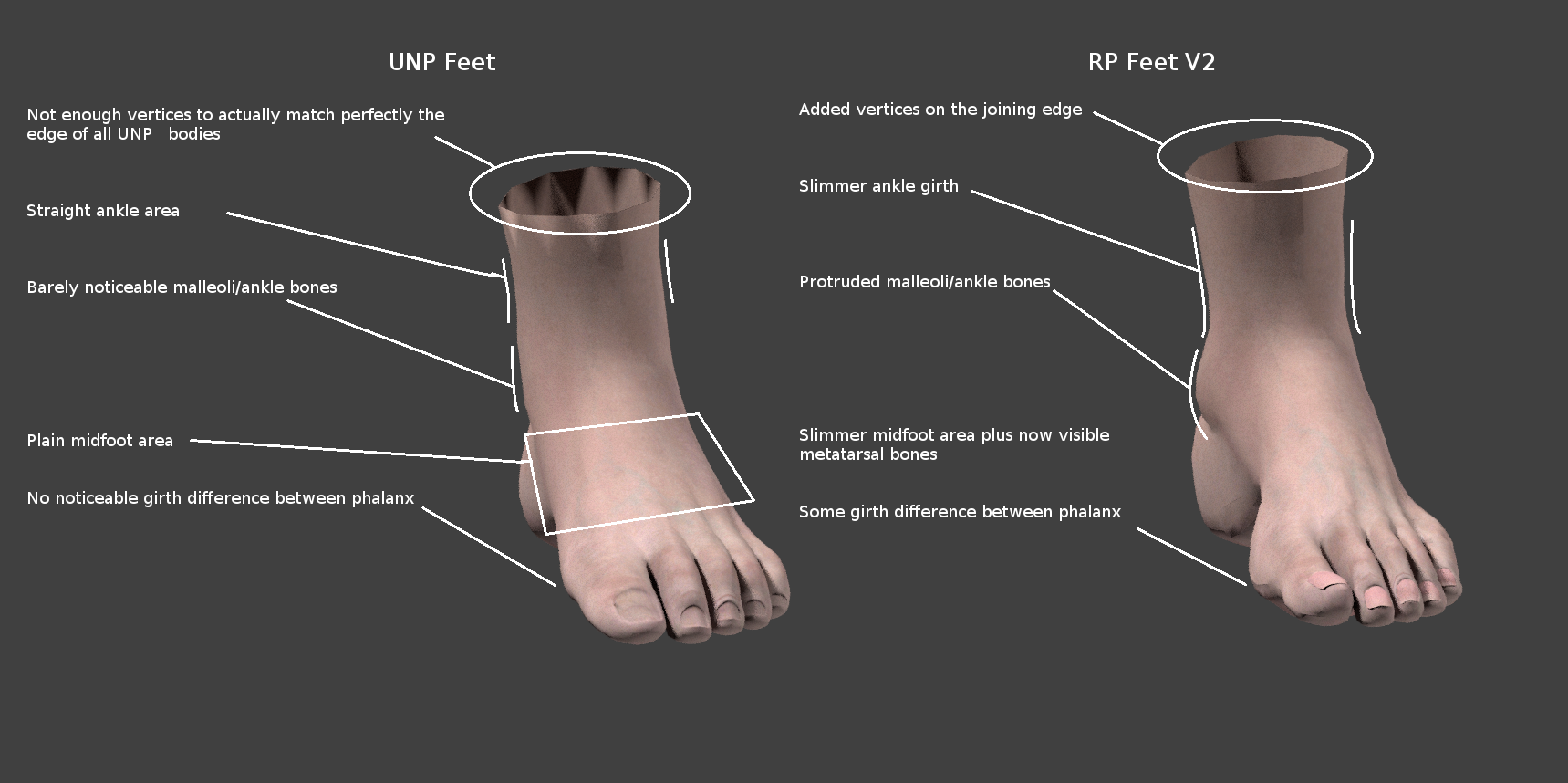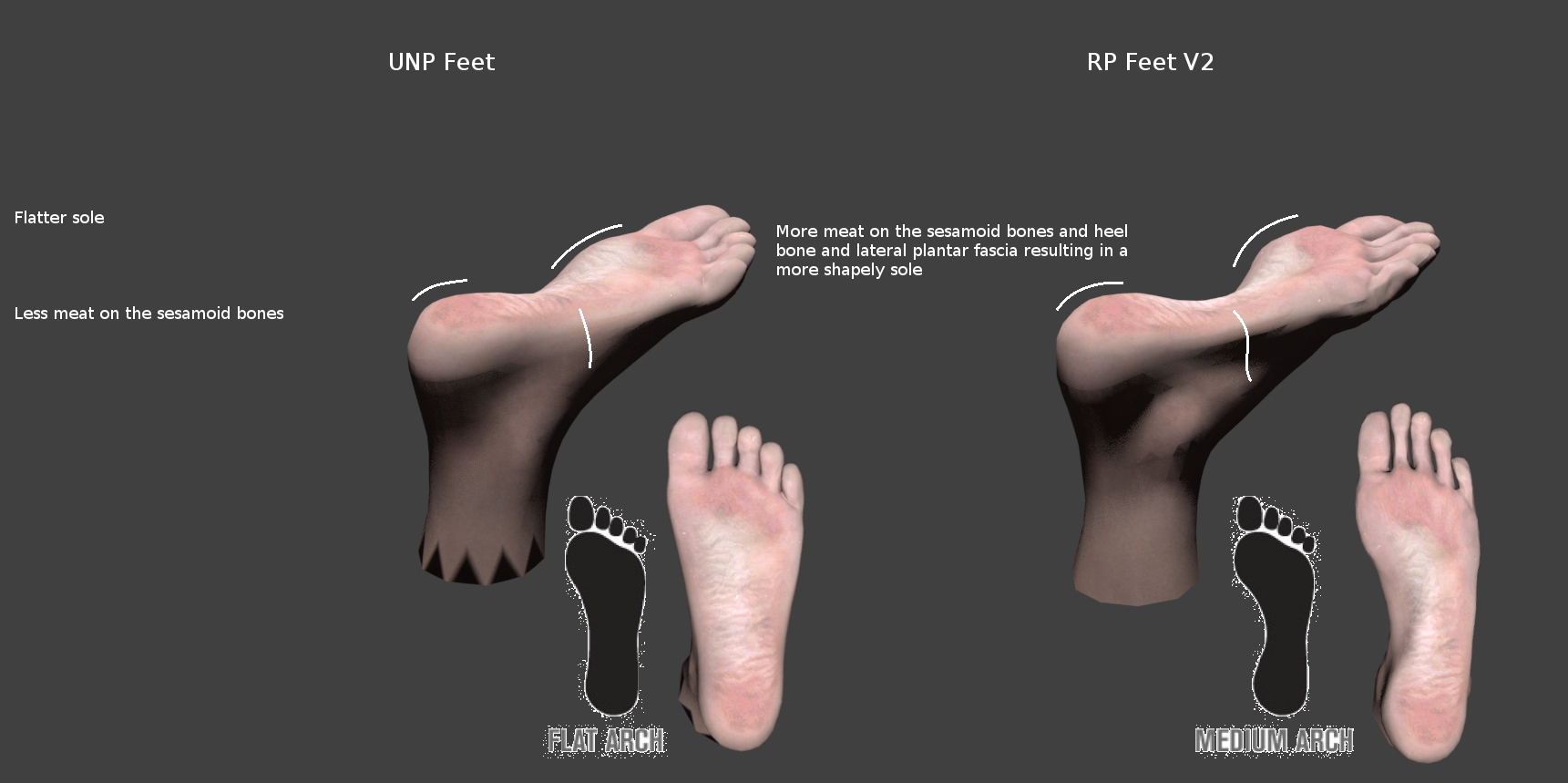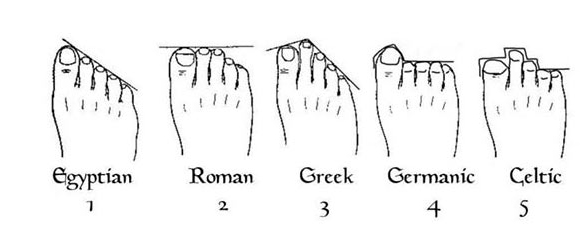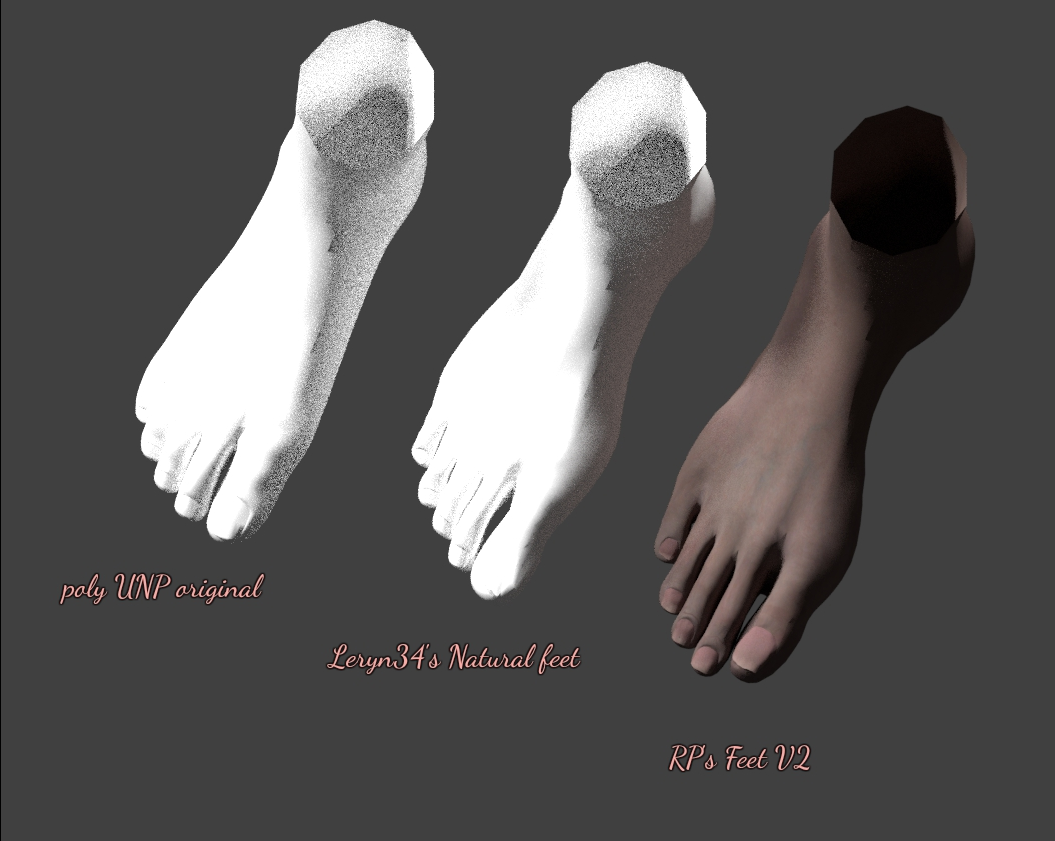 REQUIREMENTS
Skyrim
Recommended:
Toenails seen from the images above:
Equippable Toenails for female RP femalefeet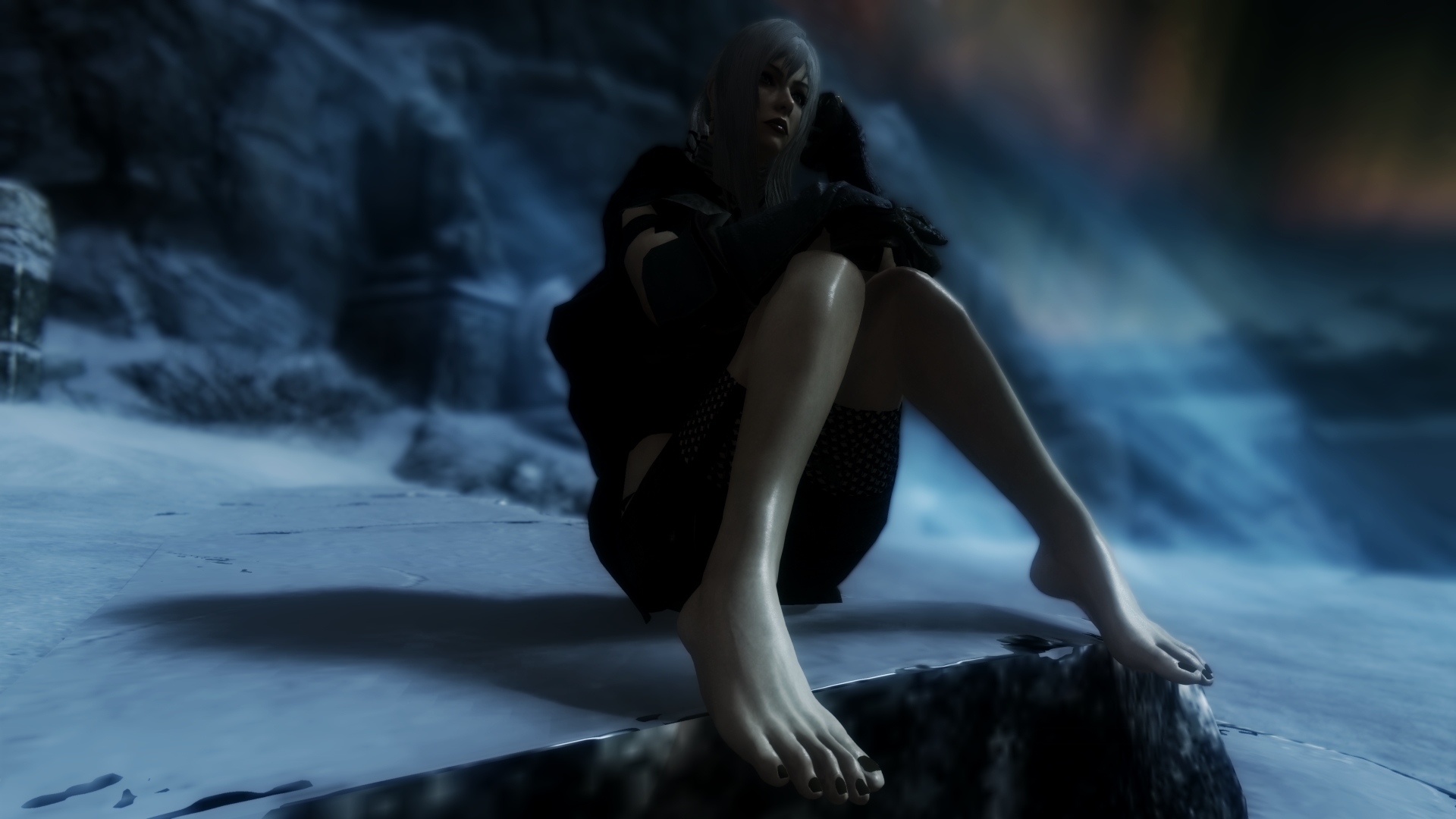 HOW TO INSTALL

EASY: Use your mod installer like MO or NMM.
MANUAL: Unzip the entire mesh folder that you'll find in the zip from this mod into your \Skyrim\Data folder and overwrite .

Thank you and criticism appreciated~