Mavis reached 2nd place on Hot Mods - Thanks to everyone who has endorsed her - We really appreciate your support!!
Looking for the SE version of Mavis?
Mavis Stormquiver SE
Backstory:
Mavis is a member of a newly founded adventurers' guild located in Cyrodiil. She and her fellow adventurers are sent to different provinces of Tamriel to gather information and raise and spread the guilds fame and reputation across the continent. They want to achieve this by helping out the local people and committing heroic deeds.
After hearing about the dragons' return, the guild's council assigned Mavis and other members of the guild to travel to Skyrim to use this occasion to their advantage, and to get rid of the menace (of course slaying dragons like the ancient Nordic heroes once did is much more impressive than getting rid of a few bandits and trolls). She'll ally with the Dragonborn, the ultimate dragonslayer, and support him/her on his/her quest to slay Alduin.
Details:
Race: Nord
Height: 0.9
Weight: 0
Marriage: Yes
Age: 21
Voice: Young Eager
Class: Custom (Spell Ranger Dual Wield)
Combat Style: Custom - Tuned to allow her to use a mix of her offensive weapons
Leveling: Levels with Player, with a minimum level of 5 - no maximum
Location: Whiterun - at one of 3 locations, or walking in between them:
Mavis spends the most time in the Drunken Huntsman.
During the morning (8:00-11:30 AM), she can be found shopping in the Whiterun Marketplace (by the well)
Mavis is a member of the Whiterun Market Shoppers Faction - Seriously!
During the afternoon (1:00-5:00 PM), she can be found crafting and smithing outside Warmaiden's (next to Breezehome)
Note: Mavis tends to use the side door to go in or out of the Drunken Huntsman - the door across from Breezehome


Equipment and Inventory:
Witcher 3 Yennefer outfit (please note that the limitations of this outfit required an all or none approach, see the FAQ for more details)
Stormquiver Bow of Shocks - A custom enchanted Ebony Blue Glass Bow, enchanted with shock damage (level 3)
Stormquver Arrows - Custom Ebony Blue Glass Arrows
Daggers: Two custom glass daggers, with ebony grips (handles), as described below:
Mavis Ebony Blue Glass Dagger of Shocks - A custom enchanted Ebony Blue Glass Dagger, enchanted with shock damage (level 3)
Mavis Ebony Glass Dagger of Scorching - A custom enchanted Ebony Glass Dagger, enchanted with fire damage (level 3)
Spell Tome: Transmute Malachite Ore - Used to learn a spell to Transmute Malachite ore into Stormquiver Blue Malachite ore (See FAQ)
Potions: 10 each of potions of Minor Healing, Healing, and Plentiful Healing - For emergency use only!
Lockpicks: 10 - Mavis can unlock some chests and other locks for you. She may not need any picks, so you can borrow some!
Food: Apples and cooked beef... In case she gets hungry while waiting for you!
Gold: 50 Septims... She can be dangerous, but she still likes to shop!
Outfit and weapon improvements - crafting arrows:
Her outfit, boots, and gloves can be improved using iron ingots at a workbench. (see FAQ for details on changing outfits)
You can craft more Stormquiver Arrows at a forge if you have either the Glass or Ebony Smithing perks (you don't need both) by combining 2 Firewood, 1 Ebony Ingot, and 1 Refined Stormquiver Blue Malachite (see FAQ for details on Stormquiver Blue Malachite) - Since two materials are required, you get 48 arrows instead of the normal 24!
If the player has the Arcane Smithing Perk, her weapons can be improved...
Her Stormquiver Bow of Shocks can be improved using an Ebony ingot at a grindstone.
Her Ebony Glass Dagger of Scorching can be improved using Refined Malachite at a grindstone.
Her Ebony Blue Glass Dagger of Shocks can be improved using Refined Stormquiver Blue Malachite (see FAQ for details on Stormquiver Blue Malachite)
Magic:
Healing spells - Mavis has basic healing spells, and she also has a custom healing shout that allows her to heal herself occasionally (she is NOT a healer)
Lightning Bolts - at around Level 20, Mavis will begin to use her Lightning Bolt magic, in addition to her other weapons.
Requirements and recommendations:
Mavis is standalone. She should not require anything beyond Skyrim with all updates applied. However, to make her more enjoyable, here are some things we recommend:
Use a follower mod such as
AFT
,
EFF
, or
UFO
. We tested with all 3, in addition to the vanilla follower system.
Face Light
along with
Better lighting for Face Light and Facelight Plus
Relationship Dialogue Overhaul - RDO
to improve and add a lot of follower dialog.
Follower Commentary Overhaul - FCO
for even more dialog.
Credits and Special Thanks:
This follower mod was a joint effort between Laoshan99 and chickmetalhead, but a lot of things went into it.
Laoshan99 did an amazing job creating the beautiful character Mavis Stormquiver! Starting with a preset by
wnisewond - Amelia Rose V2
, he then added his vision to create Mavis. Special thanks to
wnisewond
, who was kind enough to give us his permission to proceed.
The custom weapons Mavis uses were created by chickmetalhead, doing retextures and tweaks to the meshes. But to make her two glass daggers come alive, it took the special magic that is only found in LeanWolf's meshes, found in
LeanWolf's Better-Shaped Weapons
, and LeanWolf was kind enough to grant chickmetalhead permission to use the LeanWolf meshes in his mods. They are used as the base for the two daggers Mavis carries, with additional effect tweaks by chickmetalhead. So special thanks to LeanWolf! We
highly
recommend that you use the weapons mod in your game - and that you go and endorse it!
The Witcher 3 Yennefer outfit that Mavis comes equipped with is from zzjay's awesome
Witcher 3 Female Armors
mod. Special thanks to zzjay for allowing the outfits to be used by others! The Witcher 3 mod also uses assets from:
CDprojektRED for witcher3 models
s666 for yennefer fur pars
See the
Witcher 3 Female Armors
mod page for more details - and give it an endorsement!
Caliente's Beautiful Bodies Edition -CBBE-
- Slim version
DIMONIZED UNP female body
- Skinny version
Fair Skin Complexion
- Slim textures
KS Hairdos - Renewal
- Dreamgirl hair
Mikan Eyes
SG Female Eyebrows
(If I have forgotten anything, my sincere apologies - and please let me know by PM and I will update immediately!)
Tools used:
RaceMenu
TES5Edit
Nifskope
Gimp
Creation Kit
- Haha, as little as possible!
Image notes:
Unless otherwise noted, images on the main page use
Rudy ENB
Face Light
along with
Better lighting for Face Light and Facelight Plus
were used in most or all images.
Pose mods may have been used in a few images, using the amazing
GomaPero Pose
mod!
The image at the bottom of this main page includes a private retexture for the axe Mavis is using
, changing it from black to Stormquiver Electric Blue!!
Special thanks:
Brandiibuck - For mod testing, being a good friend, and other things, including her characters: Linea, Ace, others - some published, some I am hoping for. Check out her mods, and track her for future developments!
Onota - For mod testing, being a good friend, and other things, including his characters: Onota (especially Onota!), Na'Ku, Dwemer Fairies, and more - some published, some I am hoping for. Check out his mods, and track him for future developments!
Personal thanks from chickmetalhead:
Laoshan99 - for creating a special character, and for allowing me to create this mod based on her, and for patience during the process! For being a great mod partner, who shared in the process of customizing the special features - and making the hard choices easier when they had to be made. For pushing me to make things better, and understanding and listening when I might have gotten frustrated. Thanks, friend!!
Pandorable - for many things: Inspiration, advice, encouragement, friendship, and... All of her amazing followers! Without Pandorable and her mods and support, (and forgiveness for the 'Volrina Incident'), this mod might not have happened. Check out her mods - all are awesome!
Sthaagg, for help making my game run in an awesome way without problems with over 400 mods using his amazing Guide:
Stability Performance Optimization ENB Configuration - a Comprehensive Guide Without Sthaagg's advice on tuning, tweaking, video card upgrades, power supplies and more, I would not even be playing Skyrim! Thanks friend!!
All of my friends that support me on Nexus ImageShare - without you and your encouragement, I would have stopped creating my weapons, and this mod would not have happened. You are all special to me, and too many to list. But special thanks to Izzy for her amazing images, inspiration and friendship, and to Avalos1 for his great landscapes, friendship, and... Avi!!
All of my friends on the Skyrim Mods & Modders facebook group...
Especially Dave for creating the facebook group and for help reviewing this mod page, Cathrine for her support and mods, and Laura for teaching me VioLens, Auto Killcam, and for a beautiful sunset!
And finally, thanks to Bethesda, Nexus, and to all the great modders that have gone before me! For Skyrim, Oblivion, and Morrowind... You all rock!!
FAQ:
(Please read before asking any questions in the comment area!
Please!)
Q: When I remove part of the Yennefer outfit from Mavis, strange things happen, clipping, body parts disappear... What should I do?
A: As noted above, the Yennefer outfit has an "All or None" restriction. So if you want to remove part of the outfit, you need to remove all of it. This is a restriction by the mod creator of the Yennefer outfit. We love the outfit, so decided to supply it as the default outfit Mavis wears. The exception is the Yennefer amulet - that can be removed so you can give her a different amulet to wear, without any problems.
Q: Can you offer any other body types or skin textures?
A: No, but you can change them out if you want something different.
YSYW!
(but you have to put in some effort of your own)
Q: Mavis is not using her Stormquiver bow or her arrows, and is using a hunting bow... Why is that?
A: This can be a problem with some follower systems. There are mods that can help with this, but the quick solution is to remove the hunting bow and any arrows other than her Stormquiver arrows.
Q: Can she use other weapons or armor?
A: Of course, but her custom Class and Combat Style have been tuned for her default equipment. She is strongest in Archery and using One-Handed weapons, and prefers Light Armor. But feel free to experiment!
YSYW!
Q: What is Stormquiver Blue Malachite, and where do I get that to craft more arrows or to improve her Ebony Blue Glass Dagger of Shocks?
A: Blue Malachite does not exist in Skyrim by default. It (along with several weapons) comes from a mine in an unpublished mod that I might finish... some day... So for this mod, we had to get creative. Press the Spoiler button for details!
Q: Are there any tips for changing her outfit? So I can improve it at a workbench or give her something different?
A: Sure! Hit the spoiler button for some tips on doing this with the various follower mods:
Q: I don't like the weapons! Especially the glowy ones! ..... ?
A: Feel free to take them away from Mavis, sell them, and buy (or craft) her whatever you like!
YSYW!
Q: I noticed the word
YSYW!
mentioned a few times in the above answers, what is that?
A: I (chickmetalhead) have a motto:
"My Skyrim, My Way!"
- but for you, the reader, any entry marked
YSYW!
above means "Your Skyrim, Your Way!"
Q: Is there any way to support you?
A: Absolutely! Endorse the mod, throw us a kudos point, endorse the mods in our credits and thanks list. Kiss your spouse, hug your kids... Or just pay it forward and be nice to somebody when you don't need to be!
Q: What does Mavis do to relax when she is not out on adventures?
A: Two things... She likes to dress up like a princess and do a little dancing...
(Special thanks to my amazing friend
Izzy
for this awesome image!!)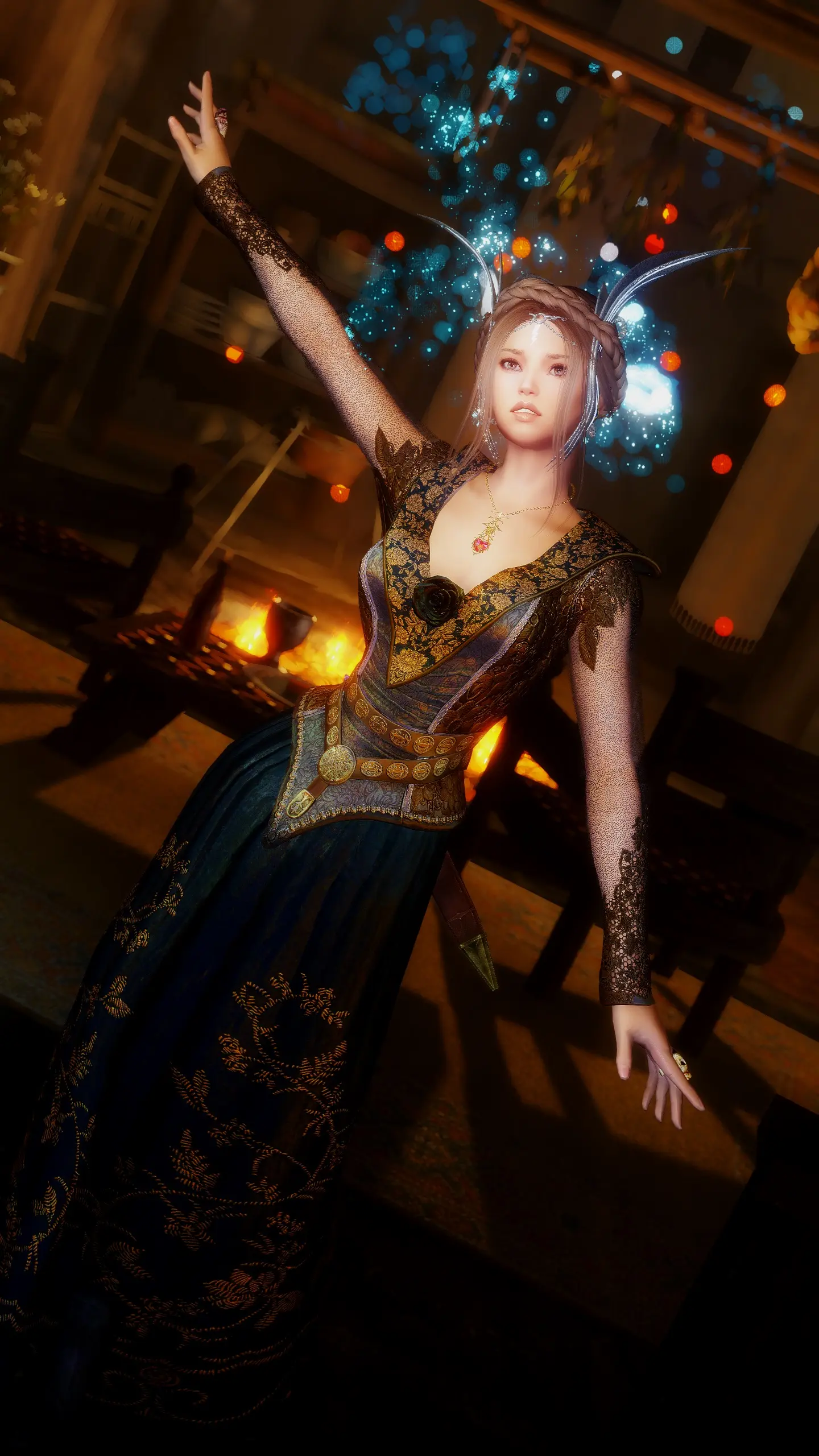 And if she is in the mood to have a little extra fun...