"CHARACTER"
[kar-ik-ter]
noun
a
:
one of the attributes or features that make up and distinguish an individual
b
:
a feature used to separate distinguishable things into categories
c : the complex of mental and ethical traits marking and often individualizing
a person, group, or nation
d
:
main or essential nature especially as strongly marked and serving to distinguish
-
Merriam-Webster Dictionary
DESCRIPTION 
The Skyrim Character Developer is a role-play oriented character sheet utility, formatted inside a dynamic LibreOffice Calc Spreadsheet file, and allows you to plan and create clear and distinctive profiles for your characters' personalities, motivations, social identities, and backgrounds. It is not a game mod, but a resource for noting down information about your characters' personal identities for role-play purposes.
Many ideas, concepts and terms used in this spreadsheet draw from a number of online sources which I have compiled into a convenient profiling system. This can be used for either in-game or out-of-game character development. Whether you run a YouTube role-play series or participate in any other form of role play or fan fiction, you should be able to find this character sheet useful for establishing crystal clear ideas for who/what you want your characters to be and how you want to role play them!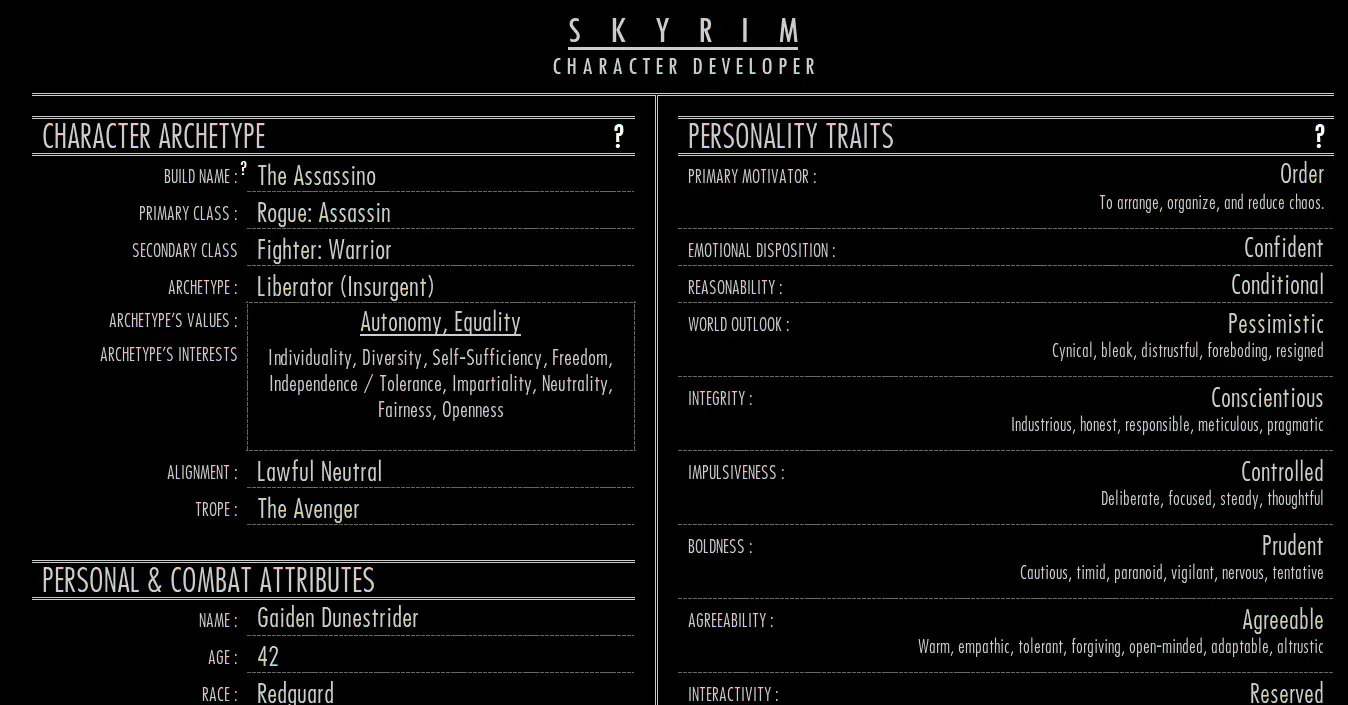 The layout and order of sections reflects an intended approach to developing a good overall idea of your character. Generalised attributes such as
archetype
,
class
, and
trope
are put at the top of the sheet rather than character name, age, gender, appearance, etc. This was influenced by the fact that much of the time I come up with ideas for a character, it is often these generalised ideas that I start with before I get to names and other specifics. Although you can fill it out in whatever way you'd like, this order of presentation is intended to encourage you to develop a character in just this way.
NEW IN 0.8.5!
PROFILE SHEET TAB:
An organized character profile display tab has been added which auto-fills information as you build your character, which includes a character portrait area to add your own image to. Excellent for exporting as an image or pdf to share with others!

TO USE
Download (Manually) and extract the zip to any folder you wish
Open "Skyrim Character Developer Template.ods" with either LibreOffice Calc, Microsoft Excel, or any other spreadsheet program that supports ods formatting.
Take note of what the Welcome tab says, and after, switch to the Character Gen tab
Fill out the fields in whatever order you wish and as complete or incomplete as you'd like, using drop-down selection lists which provide you with assortments of ideas, or typing in your own
When you're finished, "Save As..." or "Save as Copy..." to save your character to any folder (optionally into the character folder provided) under any name you'd like (build name / character name / etc).

REQUIREMENTS
This character sheet system was created in the free and open source LibreOffice suite using Calc, therefore
LibreOffice (or Microsoft Excel) is the one and only requirement to use this.

KNOWN ISSUES 
As of the lastest version, there are none I can think of, but if you run into any, feel free to share them in the posts section.
IF USING MICROSOFT EXCEL:
According to most comments by those who have tried, this spreadsheet should work fine with Microsoft Excel given you are using a recent version. I don't own Excel myself, so if you get errors, feel free to report them on the posts page for others to help with.
TIP: ADDING A CONVENIENT SHORTCUT IN MOD ORGANIZER
If you would like to have convenient access from within Mod Organizer to either a new blank sheet or an already edited sheet, you can do so by the following steps:
Click the gear icon at the top to open the executables configurator
Fill in the title - "Character Developer" (if starting from blank), or your character name if linking to an already edited file.
In the Binary section, click the [...] button to browse to the LibreOffice Calc executable (or the exe to whatever spreadsheet program you are using).
In the Start In section, click the [...] and point it toward the folder that the Character Developer Template (or edited sheet file) is located.
In the Arguments section, put in the name of the template file itself, surrounded by quotations. (ex. "Skyrim Character Developer Template.ods")
Click the Add button, and close. Your shortcut should now appear in the list of Run options. Feel free to add it as a toolbar shortcut by selecting it in the Run options and clicking the "Shortcut" button and selecting "Toolbar".
Clicking it should now run the spreadsheet program and call the file to be opened. If there is an error, make sure you followed the above steps correctly, particularly putting quotations around the file name in the Arguments section and making sure the file name is spelled correctly!




CREDIT
Most of the ideas and concepts in this character sheet are not mine, but draws from several online sources I have spent time researching. These sources have been given credit within the first tab of the file! Please give them your support and thanks! 
SHARE YOUR FEEDBACK
I would love to hear your feedback in the discussions! Please hop in and let me know what you think! 
- Proteus