File information
Created by
opusGlass
About this mod
This mod remodels Karstaag, restoring him to his former glory in the Morrowind: Bloodmoon DLC.

No longer will the five-eyed king of the Rieklings, one of the strongest enemies in Skyrim, be an invisible copy of the generic frost giant!
Requirements

Permissions and credits

Translations

Donations
"Arak. Ayrag ga. Garag."
-Karstaag, 4th era year 201
This mod remodels Karstaag, restoring him to his former glory in the Morrowind: Bloodmoon DLC.
He was once the five-eyed King of Rieklings, revered by the Skaal for his great power, but also respected and living alongside them peacefully. That changed when he was captured by Hircine to participate in his Hunt, dying at the hands of the Nerevarine. Now, more than 200 years later, he is resurrected by the Last Dragonborn, and turns out to be one of the greatest foes (and allies) he has ever encountered.
But wait. Now you're wondering where his fifth eye went. You held his skull 5 minutes ago, it clearly had five eye sockets. And what about that cone-head? And the skulls on his loincloth? Now that you think about it, this just looks like a regular Frost Giant with an invisibility effect.
That's because it is.
...well, it
was
! With this mod, Karstaag is once again the great and unique king that he should be.
Features:
A new model to restore Karstaag's TES3: Bloodmoon appearance
A new model for Karstaag's Skull
(Optional) Reduce the invisibility effect to make the new model more visible (thanks to fadingsignal for his help with this!)
(Optional) Remove the 3-time summon limit for Karstaag and replace it with a balanced once-per-week limit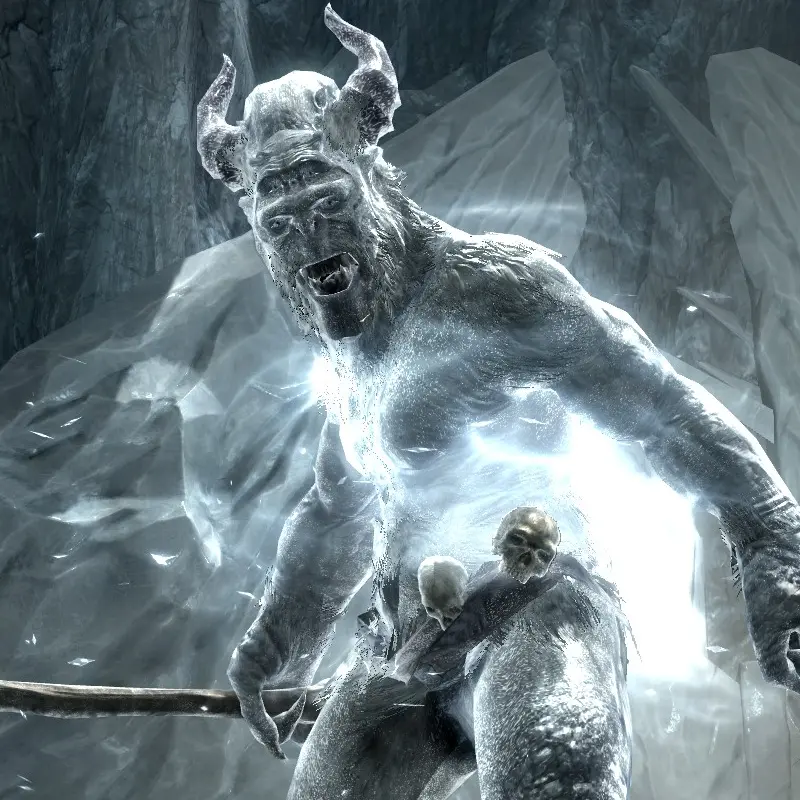 Technical:
Install: Use a mod manager and choose your options, then enable the plugin if you installed one. 
If you're using the infinite summons option but you've already used the Summon Karstaag power before installing, see the FAQ for additional instructions.
(If you don't use a mod manager, copy the Meshes folder into your Data directory, and optionally copy the contents of one of the Plugin versions too.)
Requirements: Dragonborn (of course).
Uninstall is completely safe if you don't use a plugin. If you do use a plugin, it's still relatively safe -- you might get one orphaned script (ogkr_DelayNextKarstaagSummon) but it doesn't contain any loops or anything.
Compatiblity: Very compatible, though you might get minor conflicts if you have mods that edit Karstaag.
Design Decisions
FAQs
Credits
Thanks to fadingsignal for helping me with the optional transparency reduction plugin!
Also available on
Special Edition!