Maggthara Har zhul - Tough Female Orc
Skyrim » Save Games
Added: 21/11/2011 - 01:02AM
Updated: 21/11/2011 - 01:20AM
Description
Last updated at 1:20, 21 Nov 2011 Uploaded at 1:02, 21 Nov 2011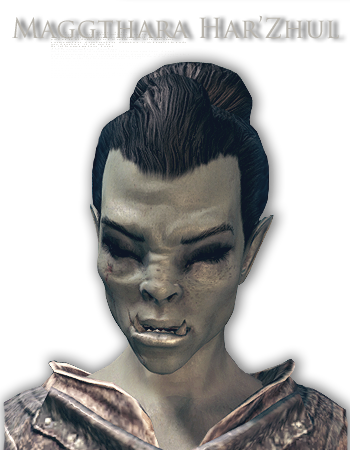 Maggthara is rather a young Orc woman, but that doesn't mean she has a short past. It's been a long, tough journey to get to where she is now, but she's starting fresh. All of the horror and despair from her past will not hold her back, it will make her stronger. Her future is yours to lead, so lead it well.

There are 2 save files for Maggthara. One is just after coming out of the tutorial dungeon at level 1 and another is just after exiting the nearest mine, activating the warrior stone and reaching level 2 with 1 point in the two-handed skill perk tree. Oh yeah, and she also chose to go with Rolaf (the Stormcloaks) at the start (if you'd rather pick the Imperials, I think I still have a save file from before choosing a side - just tell me if you want it). Pick whichever one you prefer.
All you need to do is plop the save file into your Saves folder and load it up in-game. Enjoy.

Recommended Mods
;
Detailed Faces
Detailed Lips
High Quality Eyes
Detailed Bodies
Freckles for Females

Credits;
Xenius
realadry
Bethesda for making an amazing game <3