Description
Last updated at 20:43, 13 Aug 2017 Uploaded at 14:23, 10 Jul 2017
UPDATE HISTORY:
Update v1.3.1:
~Bug fixes
Update v1.3:
~Two handed version added.
Update v1.2.4:
~Runes Improved see new screenshots
Update v1.2.3:
~I tweaked the mesh in blender to have shorter guards: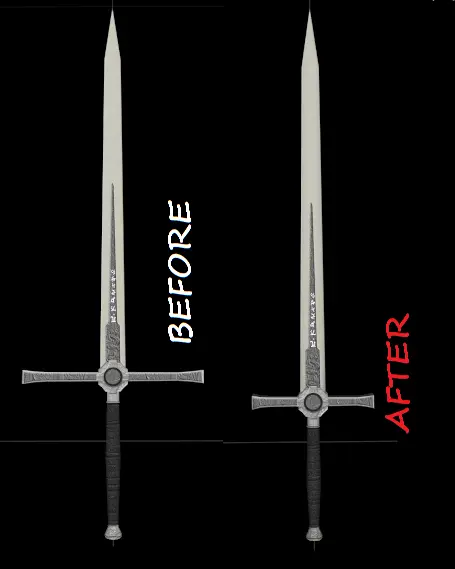 Update v1.2.2:
~Balanced the speed of the sword and improved the normal map texture
Update v1.2.1:
~minor improvements
Update v1.2:
~The sword swings twice as fast now
~The critical damage was increased by 14
Update v1.1:
~Added the sword to an location called "Rebels cairn" where you will find it in the stone at the entrance.
This mod adds the excalibur sword to the game.One handed and two handed
Weapon info:
ONE HANDED:
Damage: 45
Wieght: 13
Value: 1000
TWO HANDED:
Damage: 55
Wieght: 17
Value: 1500
It is unenchanted so you can put your own enchantments on it and can also be improved at a grindstone.
Thank you
Boxofbeer
for your video!
Q&A:
Q: Where is it?
A: Find the one handed sword outside the rebels cairn south of solitude and the two handed sword in eldergleam sanctuary. I provided an image above.
Q: Can it be crafted?
A: Yes. Craft it under ebony at any blacksmith forge with the ebony smithing perk.
Q: What is the ID?
A: The ID depends on your game so to see the ID you must type in console: help "Excalibur"
CLICK HERE FOR SKYRIM SPECIAL EDITION VERSION