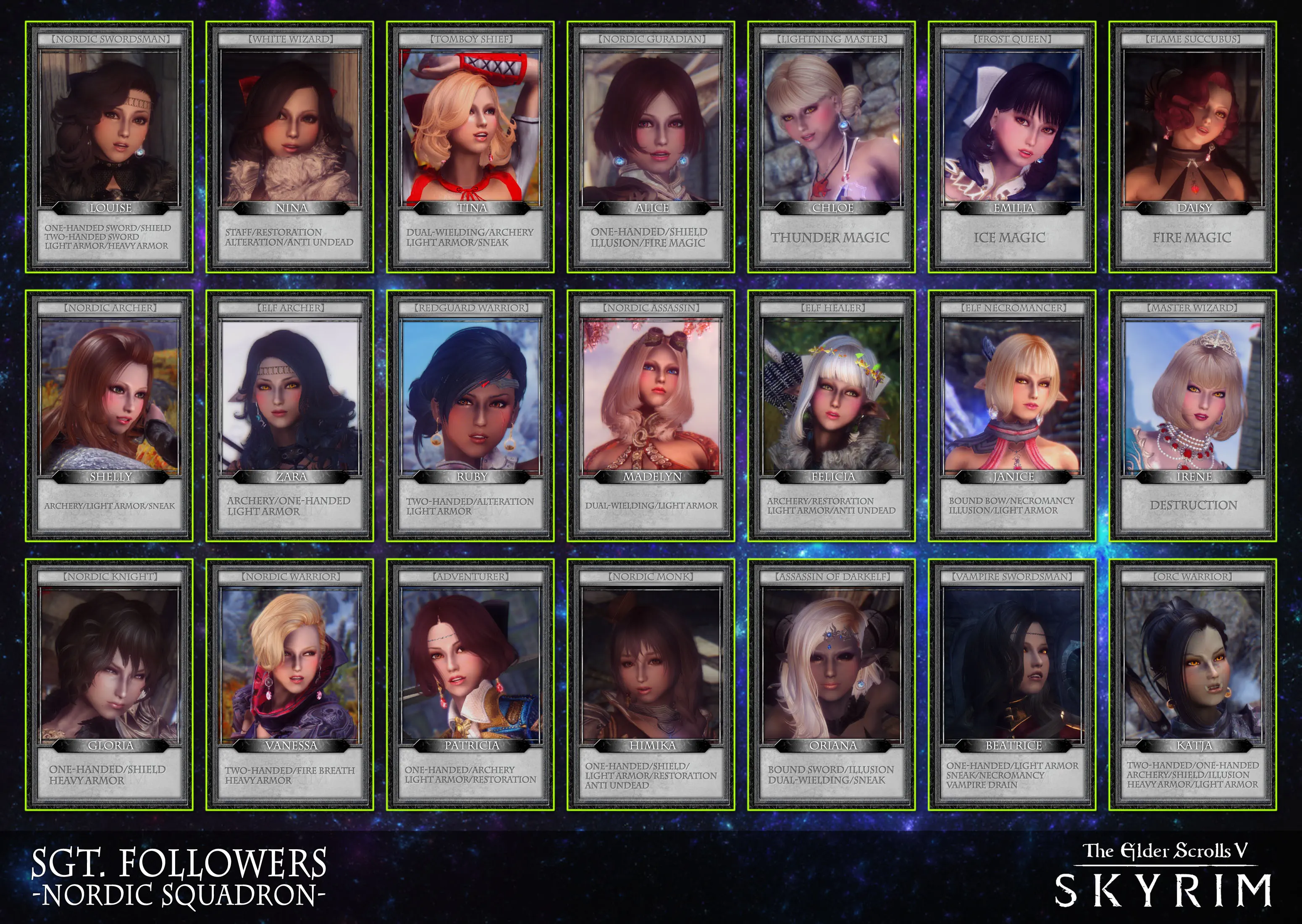 Thank you for view this mod!About
This MOD is addition follower for 21 people.
It's a summary of the player character I used for the past.
Requirement

Skyrim 1.9.32+
Recommended
XP32 Maximum Skeleton Extended - XPMSE
by.Groovtama
(
XP32 Maximum Skeleton - XPMS
by. xp32)
HDT Physics Extensions
by. HydrogensaysHDT
Install
Please install MOD with NMM or MO.
Bodytype

SeveNBase TBBP
Guide
Followers is in "Whiterun Hideout".
It's accses is the back to by "Warmaiden'sWarmaiden's".
Underground is Player's home. Please use it freely.
(House inventry is Not respawn)
*for some follower inventry is in HDT Wigs (Test).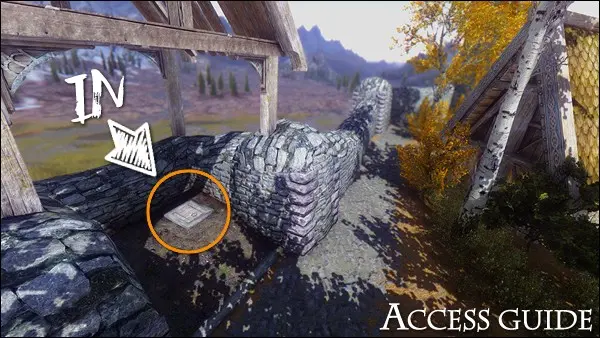 Character List


*ALL Essential, MAXLv100

Other
NPC's appearance may change in each update, because some of them really need to improve.
If you found those NPCs got a neck gap, please do the following steps:
1. Open your console.
2. Click on the NPC.
3. Enter "setnpcweight XX". ( XX means NPC's weight that I list above. )
4. Use command "disable" and "enable", and the neck gap should be deal with.
(basically is Weight:100)

+Option File - KUROGYARU patch
Change brown skin. After introduction, some characters change.
If you want to introduce it for each character, please remove the character you do not want to apply from esp after manually adding mesh or texture.
+Option File - Makeup patch
The face texture becomes make-up specification.
Log
v.1.4.1 - Many fix. new bodyskin. add to option patch. Textures miss fix.
v.1.4.0 - Add new NPC's and remastered face, Fixed a problem that cheeks red.
v.1.3.0 - Add new NPC's and Existing remastered.
v.1.2.0 - Add new a Nina's staff and HDT hairwig. other Fix.
v.1.1.0 - bug fix
v.1.0.0 - Release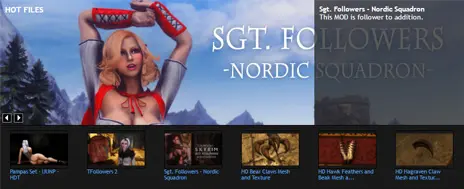 Thank you for HOTFILES!Credits
Enhanced Character Edit by. ECE team
XP32 Maximum Skeleton Extended - XPMSE by. Groovtama
HDT Physics Extensions by. HydrogensaysHDT
SeveNBase a custom FemaleBodyReplacer by. Wast1980
KS Hairdos - Renewal by. Kalilies
SG Hair Pack 268 Edition by. HelloSanta 
SG Female Textures Renewal by. hellosanta
SG Female Eyebrows by. hellosanta
Covereyes by. mrLenski
Pure Skin Texture by.regenbot03
MOD used in Screenshot
TERA Armor by. asianboy345
The Amazing World of Bikini Armor by. NiseTanaka
Northgirl Armor UNP and the Retexture from clethcleth and Gamwich by. anka01
Northgirl Armor - 7B SeveNBase BBP Conversion by. Shockero
Fox 31 Armor bt. fox6000
Rogue Outfits by. Turbosnowy
Fairytale by. ???
Dark Lilith Sexy Armor by. selobl
Succubus Armor by Hentai 1dot2 by. zotman12
Gwelda (Little) Red Riding Hood Outfit by. Deserter X
Flower Power by. Regn
Wa Ribbon by. higeyoshi
KS Jewelry by. Stealthic Khaos
Newmiller's compillation draped dress - jewellery by. newmiller
Ultimate Assortment by FavoredSoul by. Favoredsoul
LeanWolf's Better-Shaped Weapons by. LeanWolf and masterofshadows
aMidianBorn Book of Silence by. CaBaL120
Katana Crafting by. lautasantenni
Pretty Combat Animations by. dualsun
Female Animation Pack by. NonokuraSan
Halo's Poser 6.5  by. Halofarm
HN66s Long Eye Lashes by. humannature66
Grass Field by. tamu75
Bless RB 3004 by.Nini
thank you very much.
and, Thank you for the bug report, everyone!
Other MODs
Graphic is differs depending on the user and ENB.
Unauthorized copying and replication of the contents of this site, text and images are strictly prohibited. All Rights Reserved.
(C)Elder Scrolls V:Skyrim / Bethesda Softworks