About this mod
Adds necromancer-themed camp gear, weapons, and spells for Campfire - Complete Camping System. Compatible with Frostfall.
Requirements

Permissions and credits

Mirrors

Changelogs
SE conjurers, see:
Necromancer's Camp for Special Edition
New to Campfire?
In a nutshell, craft tents, bedrolls, and other gear at tanning rack or using Campfire's Resourcefulness - Craft Item, and go camping! Pitch a tent by selecting it from your Misc inventory and position using colored reference marker. See
Campfire - Complete Camping System
for details.
Tip: Drop multiple tents and followers use whichever tent has an open spare bed roll.
Requirements
Dawnguard
Dragonborn
Hearthfire (version 3+)
Version 1.5 does not require Hearthfire.
_________________________________________________________________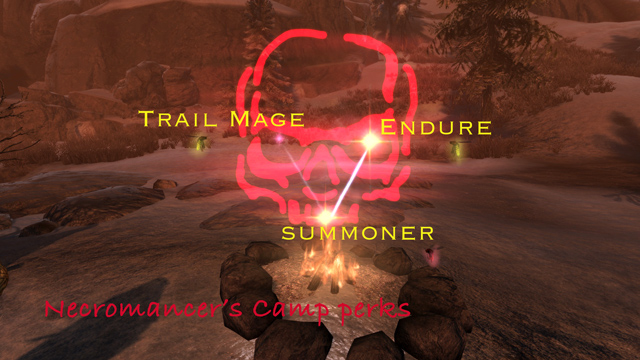 Version 3.0 adds perks to improve potency of study book blessings and walking stick. Access using campfire.
~ Features ~
Upgrade tents and huts to include Study Books granting extra powers
Includes bedroll-only (and twin for follower) to camp under stars or in a cave
New summoned minions gain bonus from Campfire's Uplifted or Inspired bonus
Unenchanted Necromancer's Staff to enchant at Neloth's place
2 conjured shelters plus 2 conjured study bedrolls with shared safe-storage chests
Frostfall compatible
Version 3.0
perks via Campfire system
summon Dark Familiar
Alchemy Set, Alchemy Set with study books
Necromancer Walking Stick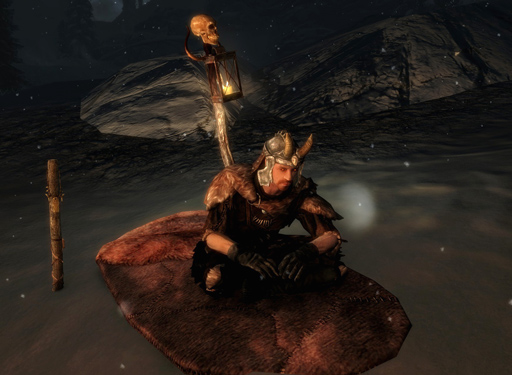 _____________________________________________________________________________
Known Issues
The blue placement indicator for the large canvas tent is a little high, but the tent lands on the ground.
When pitching a tent in a cave, Campfire automatically hides the tent making the lantern appear to float in air. Set Necromancer's Bedroll inside a cave instead.
Bed rolls may sometimes appear to float over ground to compensate for rough terrain clipping bed.
When sit/lie in tent the Necromancer Walking Stick may appear at odd angle. Campfire handles its walking stick internally.
_____________________________________________________________________________
Complimentary / suggested mods
Credits