Vero Darke the Virtuous Vampire - Standalone Follower
Skyrim » Companions
Added: 30/04/2017 - 01:44PM
Updated: 11/09/2017 - 03:51PM
Description
Last updated at 15:51, 11 Sep 2017 Uploaded at 13:44, 30 Apr 2017
NO I WILL NEVER UPLOAD THE PRESET
IM NO LONGER UPDATE THIS MOD , THE NEW VOICE & QUEST & SPELL SET WILL COME TOGETHER IN A NEW MOD WITH NEW STORY
THX ALOT FOR SUPPORTING ME ALL THIS TIME, THIS IS THE FIRST TIME MY FILE IS HOT FILE AND HAVE A CHANCE TO STAND IN FILE OF THE MONTH SO I WONT LET U GUYS DOWN , BUT THIS GONNA TAKE QUITE SOME TIME SO BE PATIENT

BACK STORY

Strange things have been happening in Whiterun's Hall of the Dead. Fresh corpses have been drained of their blood. Bite marks in the throat seem to indicate the obvious. Andurs, the resident priest of Arkay that cares for these corpses hasn't reported these happenings to the Jarl, however. He is quite aware of the reason behind these drainings.An ancient vampire going by the name of Vero Darke has found refuge in these halls, feeding on the stale blood of corpses to keep him on his feet.

Vero had been making Tamriel unsafe for centuries, and would have continued to do so if it weren't for the Dawnguard, who hunted him down and wounded him gravely.
He had been forced to retreat and hide in the catacombs of the Hall of the Dead in Whiterun, where he fed on low-grade blood to keep him from succumbing to his wounds.
Andurs found him one day, defiling the corpse of a young woman he had just given her last rites.

Instead of reporting him, however, Andurs took him in and allowed Vero to continue his acts. He helped him as he understood that Vero was trying to better his ways. No longer did the vampire seek to feed from the living, and instead settled for older blood.

As time passed, the vampire recovered, but the seclusion of his new way of life cared for it that his great skill in combat ended up in disuse.
More than that, Vero became bored. He is more than ready to head out for adventure once more to rekindle his spirits and his skills, and will consider following anyone that he would deem worthy of his presence.
Are you ready to find out if you are?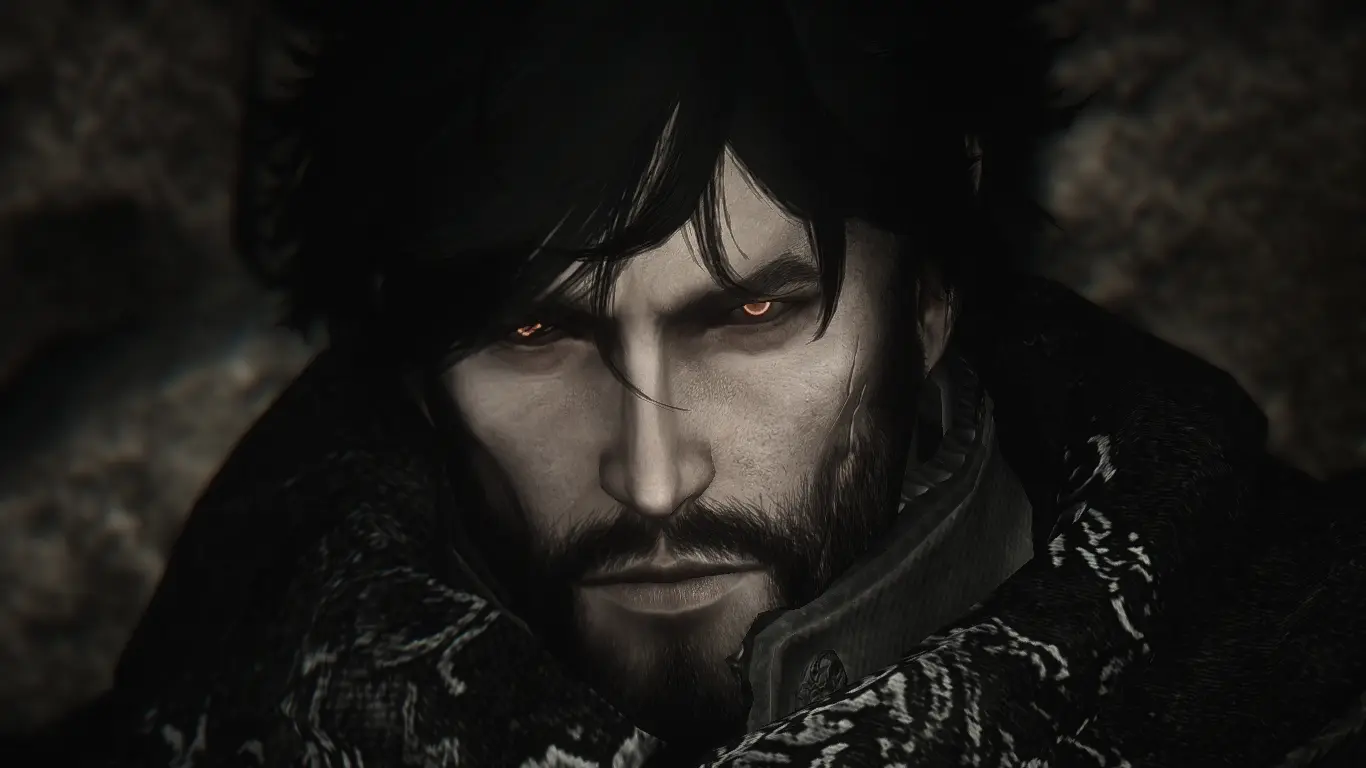 [left]
+ Require Dawnguard
+
LOCATION
: Read LORE
+He have another armor style in his inventory look it up+
+ INFO :
-Normal even toned voice ( like wood elf or someshort )
-Level scale with player
-Main skill : Destruction/illusion > Onehand ( no dual wield ) > alteration/restoration > bla bla
-Perk : pretty much like the player with spell and onehand sword build
-Spell : Spark/Bolt/Chain ; Life Drain/harkon ; Ward ; Flesh ( Oak etc ) ; fear ; calm ; heal/fast/grand/other ; bats ; waterwalking (  some of them  are leveled so u dont have to give him higher tier spell )
        -Immune to posion/disease/force shout/disarm/paralyze
-He will get into adrenaline mode when HP hit 50% small HP / magicka buff and hp / magicka regen , he will also emit black smoke.
SHOWCASE FROM FACEMAN

SHOWCASE BY FLEDFLED :


SHOWCASE BY SINITAR ( my follower is more of a magic user now )
+
CREDITS
:
Eyes - Me - no permission will be given
Hair - KS Hairdos Renewal
SkySight Skins
 - Fading Signal
High Res Face Maps for Men
- Geonox
Brows
/
Beards
- 
Hvergelmir

Armor Models/textures - From Software and Ubisoft :)))
+ PERMISSION : NEIN but u can upload to other site
[/left]