img 3 loading...
img 4 loading...
img 5 loading...
img 6 loading...
img 7 loading...
img 8 loading...
img 9 loading...
img 10 loading...
img 11 loading...
img 12 loading...
img 13 loading...
img 14 loading...
img 15 loading...
img 16 loading...
img 17 loading...
img 18 loading...
img 19 loading...
img 20 loading...
img 21 loading...
img 22 loading...
Description
Last updated at 15:43, 14 Apr 2017 Uploaded at 0:13, 20 Mar 2017
SIGYN - The Lady in Black

Sigyn Lauren Raven Manor was born to a wealthy war lord and a young skaal woman near Windhelm. Sigyn's mother was her father's second wife, and Sigyn had a rather ambivalent relationship to her unpredictable father. Sigyn got a lot of training in all combat skills, but she wanted to focus on two-handed swords. For hour after hour she was slicing apples which a servant threw towards her.
    Sigyn joined the companions in a very early age. She befriended Aela, but got an enemy too quite soon. Kodlak paid a lot of attention to her, and Njada Stonearm did not like it. She behaved rudely towards Sigyn, called her names and let her know, that she is not one of them. One day Sigyn got enough, and She and Njada ended up in a fistfight. Njada played dirty, and poked her fingers to Sigyn's eyes. That was something she should not have done. A cold rage rushed through the young lady, and she gave Njada a proper beating and even broke her nose. How ever, she was a newbie, and her deed was not looked upon lightly in the Companions. She decided to leave.
    Now Sigyn wanders around Skyrim. She has a dark fire burning inside her. Can You tame the Lady in Black?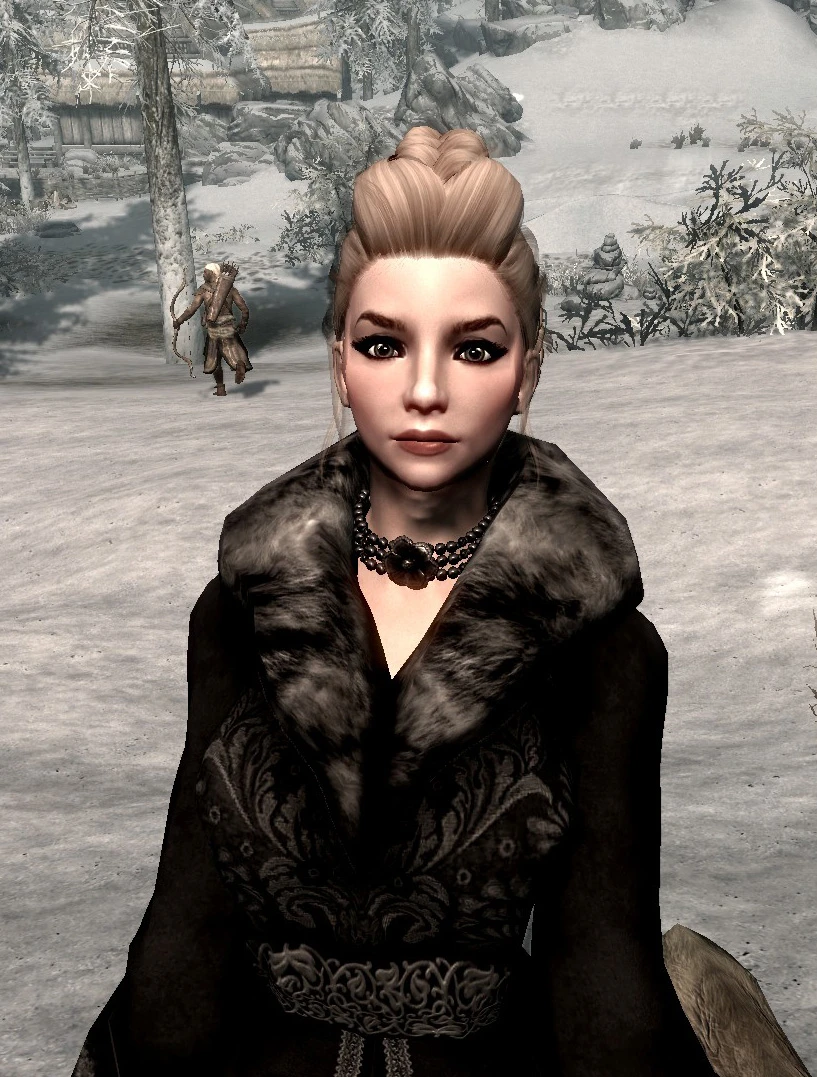 Race: Nord (custom)
Class: Combat Rogue
Marriable: Yes
Body: CBBE Lauren (custom), weight 50
Level: Levels with player
Stealth meter: Does not affect
Spells: Healing and muffle
Perks: Mostly two-handed related
Where: Silverblood Inn in Markarth

Requirements:
Skyrim

Changelog
1.1 Changed the default hairstyle

About


Sigyn is my tribute to film noir and specially Lauren Bacall. In my opinion she is still quite lorefriendly - if You don't put too much weight on her push up -breasts. She has one custom outfit. Unfortunately there might be some clipping in some postures. I haven't touched ankles this time, so almost anything CBBE-based and vanilla should work fine. There is an
optional hairstyle
available in the optional files section. Sigyn's voice type is female dark elf - with which I have played around a little...
If You notice something that does not work, so please report about it.
The hairstyle-options:
New Main 1.2
Default (OLD)
Default oldest version


Used Mods/Credits/Thanks
Face/Head/Skin/Eyebrows
-
Soft Face Textures for Females
by Mitzi

-Smile in HD by zzjay and normal map by Urshi
-CBBE skin texture V2 V3 plus Thepal and UNP compatible by navetsea
-Character Mod Resource Pack by nuska
-Maevan2's eye brows by Maevan2
-RANs HeadMesh Variants by RAN46

Eyes
-
Eye Normal Map Fix
by Mr Dave
-
Improved EyeReflections and Cube Map
by
fadingsignal
Body
-
Caliente's Beautiful Bodies Edition -CBBE-
by
Ousnius and Caliente

 -
BodySlide and Outfit Studio
by
Ousnius andCaliente
- Caliente's Texture Blender by Caliente
- CBBE skin texture V2 V3 plus Thepal and UNP compatible by navetsea

Hands
 -
Feminine Hands CBBE UNP
by
Sunspot2

Hair
-KS Hairdos - Renewal by Kalilies Stealthic Khaos and Shocky

Outfits/armour/jewelry
-Witcher 3 Female Armors by zzjay and CDprojektRED
-KS Jewelry by Stealthic and Kalilies

Recommended Mods:
-Apachii Divine Elegance Store by Apachii and Urshi

Special thanks:
-
How to Make a Custom Hireling in Skyrim
by j-u-i-c-e
-Bethesda for Skyrim
-This community for all its great features
If someone feels that his/her rights have been violated by not giving proper credit or asking for permissions etc.so please contact me. I would never do such a things with purpose. This community and great works of other modders form a great fountain of inspiration for me.PermissionsAsk me. This mod is nexus exclusive, and its assets can't be used in paid mods.

My other mods