Lysanna Racemenu preset
As requested by
Lorenzini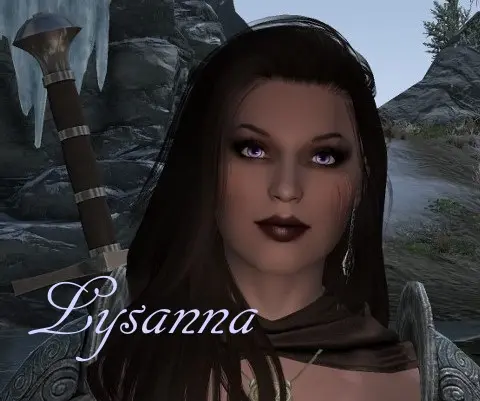 This mod is a preset for Lysanna, my Skyrim Character. 
All the mods mentioned below are required to give Lysanna the same look as in
The picture above.

Requirements:
MAKE SURE YOU INSTALL THE REQUIRED MODS IN THIS ORDER!

My apologies for the long list of requirements but I didn't feel fancy enough to ask big authors for their permission :3
Alright here we go:
1. Racemenu:   
Racemenu

2. Preferred skin texture and the one used in the screenshots: (I used Silky skin)
Fair Skin Complexion 

3. Eyebrows: (I used 'feminine brows darker from the manual installation')
Caliente's Beautiful Bodies Edition

4. Hair:
KS Hairdos - Renewal

5. Lips: (I used V2)
Pretty Lips

6. Eyes:
Lind's Human Eyes

7. Warpaint/Tattoo:
Kj Tattoos - Overlay plugins for Racemenu

8. Scars:
Northborn Scars


9. Head Mesh:
Enhanced Character Edit
This one is a little tricky if you are inexperienced. 
You need to find the "femalehead.nif" file in ECE.
Once you've found it, place it under "character assets"
(in the "meshes folder" of your Skyrim installation).
10. Preset
Download the file under "files"
SHAMELESS SELF ADVERTISING:
This mod goes together very well with the 
Lysanna CBBE Bodyslide Preset
Final Steps:You made it this far :3 

drop the file on this page in your Skyrim folder.

The following steps have to be done in game:
1. Type "Showracemenu" in the console (without quotation marks)
2. Make sure you select a female character and the Breton race
3. Click "Presets" in top-right corner
4. hit F9 to load a preset
5. select one of the presets from this mod
6. hit "R" to get back to your game
Special thanks:
All the mod authors for the mods mentioned above
Bethesda for Skyrim
Lustrianna for 
Sovngarde Steel Armor
Billyro for 
Mordant Sword

Ashara for the
Earrings
Lorenzini for coming up with idea