File information
Created by
triptherift - marmotte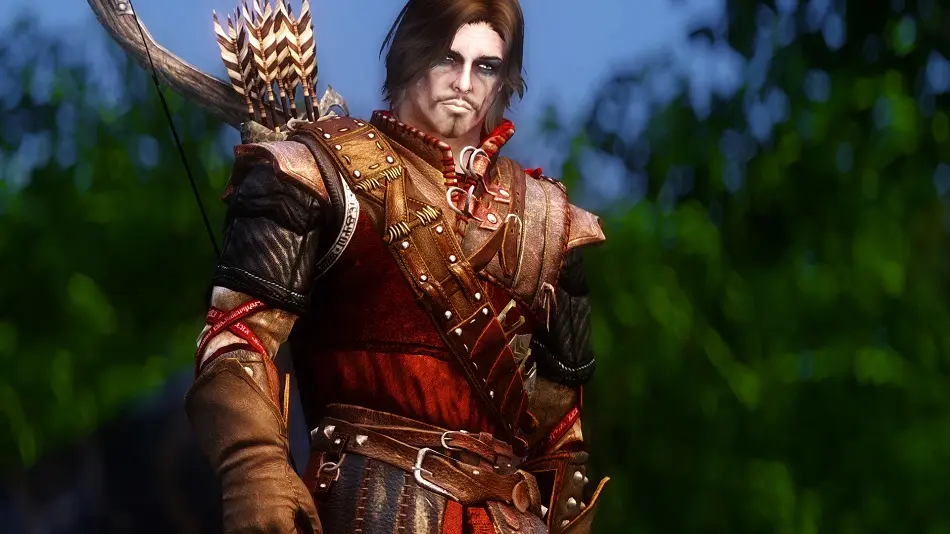 His Story
This mod adds a rugged male companion to Skyrim. It's Him - The Man With No Name. A man without a past or a name, he is simply known as "Him". He is a wanderer, one who looks like he has had a rough life. You can tell by his eyes and face that he has known the horrors of war or worse. He ekes out a living by game and bounty hunting. He is tough, unafraid of anybody or anything. As such, he makes an ideal companion in the harsh world of Skyrim.
About The Mod
I've had a lot of requests to make a male companion. A good one, not like my
Bamm Bamm Rubble
or
Konker The Drunken Robot
. I held off because I wanted to make something I considered special. And so when my good friend marmotte happened to make a devilishly handsome
preset
that he wanted help with to make into a follower for himself - I knew this was the look I wanted to work with, and he was kind enough to allow this to be uploaded for others to have as well. So give him the kudos. This is a simple follower mod, made for a specific need and purpose. He has no custom voice or quests. If you get no joy unless you have those things, then you should just move on.
Stats:
Race: Nord
Voice Type: Male Nord
Height: 1.03
Weight: 75
Body type: Whatever you have installed
Outfit: patobek's excellent Crimson Ranger Armor is included, along with the retexture by Pfuscher (thank you both)
Class: Combat Ranger
Skills: Marksman, One Handed, Light Armor
Weapons: Nord Hero Bow and arrows, Nord Hero Sword
Perks: Overdraw, Bullseye, Armsman, Bladesman, Critical Charge, Fighting Stance, Paralyzing Strike, Light Foot, more
Leveling: Levels with player @ 1.0, minimum 10
Location: Cliffside Retreat
Packages: Sandbox (current location), Sleep
Other: Marriageable
Installation:
I highly recommend using NMM. For manual installation, just copy the bsa and esp files into the Data directory and don't forget to enable the mod in the launcher. For removal, just remove the two files.
FAQ:
Q: Why didn't you give this guy a name?
A: He has a name. Him. It suits Him fine.
Q: How come he doesn't look like Clint Eastwood then?
A: We just liked the name. No relation at all to the excellent series of movies. Him would just look silly with a cowboy hat and a six shooter. Not that I'm not known for silly mods or anything.
Q: What a man! What does he have under those clothes?
A: Whatever you have installed in your game. If you want him to have a big swinging Johnson, that is up to you.
Q: Can you modders stop uploading followers that don't have fully-voiced, custom quest bottom-wiping capabilities?
A: <in ridiculous French accent> No. I don't want to talk to you no more, you empty-headed animal food trough wiper! I fart in your general direction! Your mother was a hamster and your father smelt of elderberries!
Q: Is there someone else I can talk to? Like marmotte? He seems nice.
A: <dat accent> No. Now go away or I shall taunt you a second time.
Credits:
Him - The Man With No Name - ECE and RACEMENU preset by Marmotte
KS Hairdos - Renewal by Kalilies Stealthic Khaos and Shocky
Beards by Hvergelmir
True Brows by JimtownIrish
Crimson Ranger Armor by patobek
Crimson Ranger Retexture HD 4K by Pfuscher
The Eyes Of Beauty by Gabriel Mailhot as LogRaam
Warpaints by Misu
Screenshots by marmotte
Permissions:
This mod has open permissions, credit would be nice. If you drop me a pm, I'll promote your port/modification/translation below.