Description
Last updated at 19:13, 14 Sep 2017 Uploaded at 20:44, 1 May 2016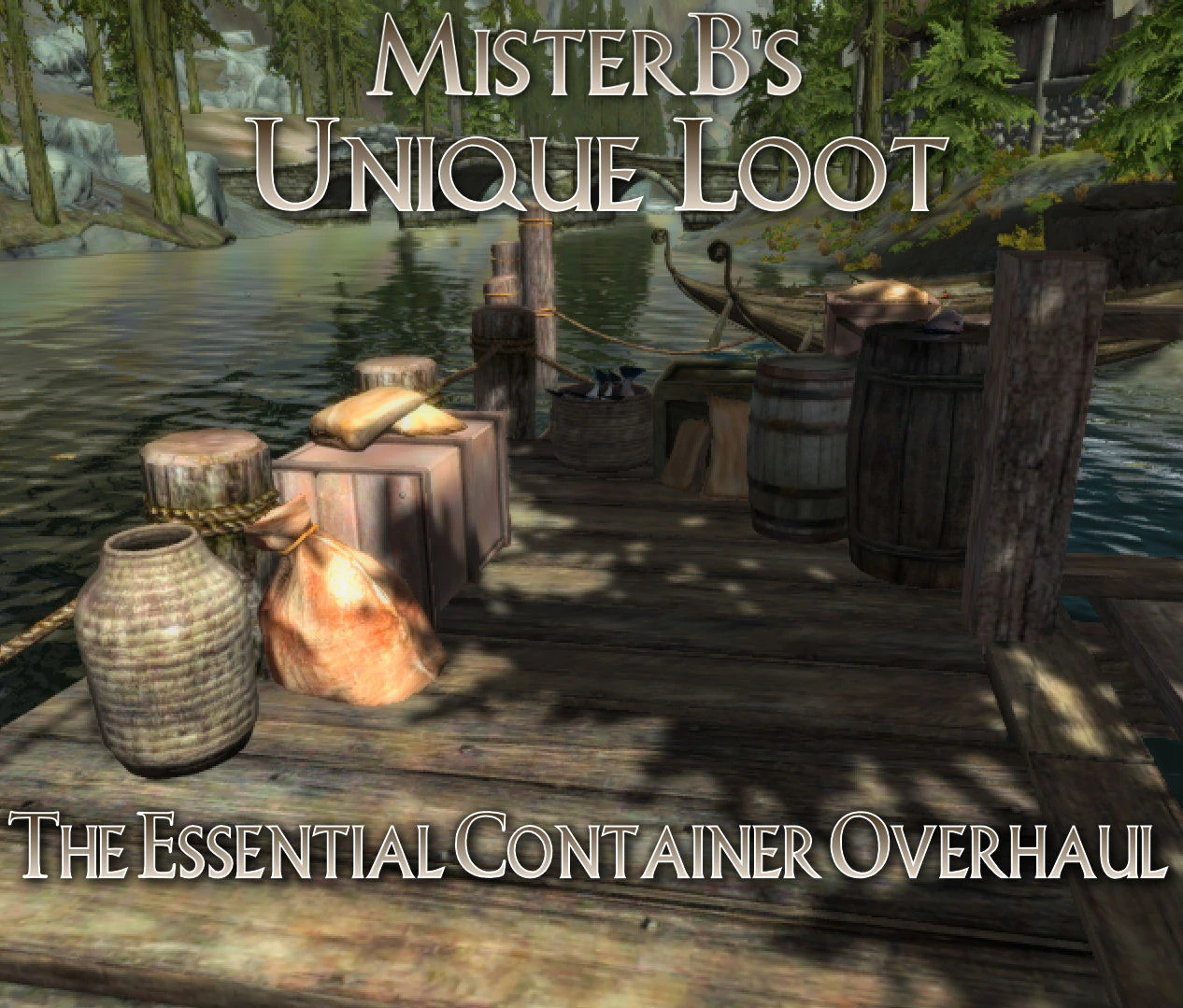 Do you get bored looting sacks, urns, and barrels ? What about cabinets and dresser drawers, or maybe even those static corpses ?  Always seeing the same kind of loot ? If your like me, I think the only time you looted a sack is when you wanted to look for cooking materials. And urns.. were just BORING as hell.. Maybe find a few gold and that was it. Especially if you were a thief, its almost pointless to go looting houses in the night. Well now here's Mister B's Unique Loot!! This mod will improve the kind of loot you find in all those kind of containers.  Find more unique items, from normal house-hold goods, to ore. Now you can go back to searching all those things to  find something worth-while.





What does this mod do?
This mod improves the kind of loot you can find in most containers, save chests in an immersive manner. What constitutes a Container? Barrels, Sacks, Urns, Dressers, Drawers, End Tables, Coffins, and most static corpses such as Drueger, spider, and otherwise. These drop lists have been injected with new stuff for your looting experience!



Killing is not your only option!  More food, crafting materials, alchemy, and cooking ingredients are available. As well as Hearthfire housing supplies.  You will even find Junk, that's right, junk! Not everything has to be valuable!
Salt is no longer hard to find.   Cook to your heart's content! Also, you should be able to find eggs with vendors now. And Hunters should also sell more kinds of pelts, eggs, and feathers.
Urns are worth looting!  Improved loot includes flowers, small enchanted items, potions, and expanded jewelry and coin lists.
Coffins. Improved the kind of loot you can find in coffins, to make looting them worth it and interesting.
Draugr. Draugr drop more interesting things, they seemed so dull in the kinds of things they drop. So I added some variety.
Falmer. Falmer have food to find, and a more eclictic list of random loot so they actually feel like scavangers.
Bandits & Forsworn. Bandits and Forsworn have expanded drop lists, ranging from jewelry to unique drinks. You can find some of the harder alchemical supplies, that are often gained from animals. Like teeth, claws, or feathers. Some bandits might even have skooma on them.
Hunters. Hunters now have more stuff you can purchase off of them, ranging from pelts and furs to alchemical plant ingredients. Or even eggs.
Now adding Solsthiem support. This mod now supports the urns you find in solsthiem and windhelm, for a greater variety of morrowind items to find.
Improved Alchemist Satchels. Alchemist Stachels have a wider variety of alchemy loot to find. More rare and obscure items possible.



Support and Compatibility

USLEEP
Clothing and CLutter Fixes
Requiem
Realistic Needs and Diseases.
Additional Mods
part of this series

Use
Unique Harvest
to be able to loot more than 1 of any kind of item or ingredient.
for better values of pelts, gems, ores/ingots, jewelry, horses, houses, radiant quest rewards, Room Rental,  try my mod 
Rebalanced Economy
.
Unique Artifacts
, for custom magic items of my own creation.
Suggested Mods
To effect chests, I have two suggestions for your persual.  
More Interesting Loot
by Ghengisbob. or 
Rebalanced Leveled lists
by Alex.  
To help control how much money you make at vendors, I suggest
Trade & Barter
by Kryptopyr.
Improved quest rewards , try
Notice Board
by MannyGT.
Complete Fast Travel Overhaul, by
Kinaga
for improved travel costs.
Realistic Room Rental by
Perseid
for just what it says!
For easy access to the items in this mod,
AddItemMenu
by Towawat.
Clothing and Clutter Fixes
by Kryptopyr.
For Improved Prices that make sense in Skyrim, Try
Morrowind Miscellania
.
I highly recommend Dynamic Things
for even more immersion!.
Try
Unique Coins
, there is a patch for Unique Loot.



Credits & Permissions
Credit goes to SRWO for making the new coin textures for this mod! Visit his Flickr to see the textures he is working on for this mod.


Special Thanks
Kelsenellenelvian, for helping to create the changes necessary for USLEEP .


Questions and Answers
Q) Can I use this mod mid game ?
A) Yes, but you should probably give at least 10 days of game time, for the changes to take. An easy way to get this done, is fine a low fps hitting zone, and open up the Console command window. Type "Set timescale to 10000", and just stand around till 10 days have passed, set "timescale to 20".

Q) Bashed Patch ?
A) Yes creating a bashed patch should be a necessity with any mod that touches leveled lists. This helps keep both mods intact, and useable.


Q) Compatiblity Isssues ?
A) This mod will conflict with mods that alter leveled lists.

Altered Leveled Lists Mods -Load after Unique Loot.
This mod does conflict in OBIS, make sure Unique Loot loads after it.