- UndressSpell -   var 1.3
                                                                                         By TESVOsaru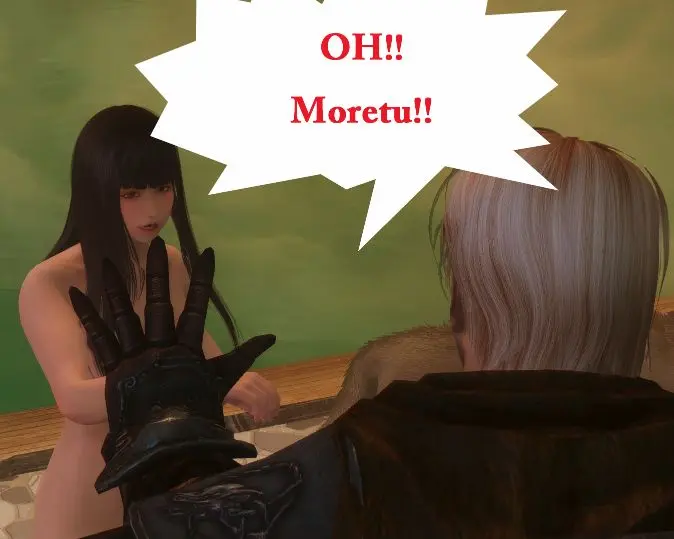 ------------------------------------------- Description -------------------------------------------
v1.3 new features "HDTFix"
Overview: NPC you are using the HDT corresponding hair, such as
IMO Follower
is stretched or hair and sandwich the load, becomes transparent
Add the magic to fix the phenomenon automatically.After the introduction, to get the magic (Lesser power) that "HDTFixSpell (Target)" automatically.
● How to usePlease multiplied by the magic to the subject of the NPC, the message I get when you succeed. It will be applied up to 12 people.Fires automatically when the character is loaded and sandwich the load at the time of cell movement.If you want to cancel, please over the same magic again.
v1.2
At v1.2, it has been added the effect of dressing up your favorite clothes to any of the NPC.Obtain the magic that "RemoveOutfit (Target)" automatically after the introduction.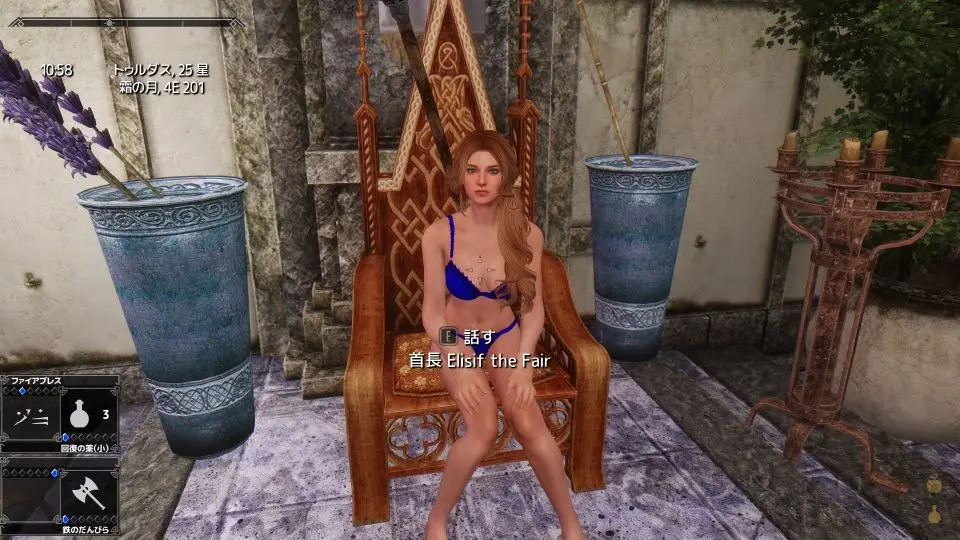 -Dress setting change method-
①Please multiplied by the magic of RemoveOutfit to Npc. Originally of clothes set release, will be naked (Although they may not be, clothes set has been released). Magical effect is controlled by the alias of the quest, it will be applied up to 24 people.
②When talking to the effect has been applied NPC, dialog for item replacement will appear. Please pass the equipment you want to dress. If order and the NPC have something more powerful equipment you want to dress there would be priority, please pick up the equipment.
③If you want to cancel the effect, should be multiplied by the RemoveOutfit again.Effect expires, because the dialog for exchange and deviate from the alias disappear, such as valuables should be collected in advance.
v1.11
Add the fear effect to Undress Enchant
Add the effect description of Undress enchantment
v1.1:
Add Undress Enchant
It will activate when the health of the opponent is less than the 30%
You will get a sword with  this enchant in Warmaidens
The MOD is or is undressing instantly yourself and the subject of the NPC, is a simple MOD to add the magic or dressed.The latest version of SKSE is required
I made in order to enter along with the followers in East march of hot spring in about 30 minutes
SS shooting and, such as to check the whole body when you own a stand-alone followers, was to be published so quietly goes to the role.
spells
1:UndressSpell(self)
2:UndressSpell(target)
3:UndressSpell(area)
You learn these spells automatically after install this MOD
These spells are toggle key
first hit:Undress target's equipment all
second hit:Dress target's equipment (Items Target has) 
- Installation and uninstall -
Recommend Use Mod Organizer or NMM 
-------------------------------------------Uesed in SS--------------------------------------------
Toccata Follower
 by 
rxkx22 and Kasprutz
amk Border Lace Lingerie CBBEv3M and UNP
 by 
amesake
Imo Follower by hangakin 
MashiraFollowers by TESVOsaru 
 ----------------------------------------- Description --------------------------------------------
v1.3新機能"HDTFix"
概要:
IMO Follower
などのHDT対応ヘアーを使っているNPCがロードを挟むと髪が伸びたり、透明になってしまう現象を自動で直す魔法を追加します。
導入後、自動で"HDTFixSpell(Target)"という魔法(レッサーパワー)を入手します。
●使い方
対象のNPCに魔法を掛けて下さい、成功するとメッセージが出ます。12人まで適用されます。
セル移動時にロードを挟むとキャラが読み込まれた時に自動で発動します。
解除したい時はもう一度同じ魔法をかけて下さい。
v1.2にて、任意のNPCに好きな服を着せる効果を追加しました。
導入後自動で"RemoveOutfit(Target)"という魔法(レッサーパワー)を入手します。
●服装設定の変更方法
①RemoveOutfitをNpcに掛けてください。元々の服装設定が解除され、裸になります(ならない場合もありますが、服装設定は解除されています)。魔法の効果はクエストのエイリアスで制御され、24人まで適用されます。
②効果が適用されたNPCに話しかけると、アイテム交換用のダイアログが出現します。着せたい装備を渡して下さい。もしNPCが着せたい装備より強力なものを持っているとそちらが優先されてしまうため、回収して下さい。
③効果を解除したい場合、RemoveOutfitをもう一度掛けて下さい。
効果が切れ、エイリアスから外れると交換用のダイアログが消えてしまうので、貴重品などは事前に回収して下さい。
v1.11にて付呪の効果説明を追加。
付呪の効果が発動した時に(服が脱げた時に)相手が逃げ惑う効果を追加
v1.1でUndress Enchantを追加しました。
付呪付きの武器で体力が最大の30%以下の相手を殴った時に発動します(脱がすだけです)
付呪付きの武器が戦乙女の炉のどこかにあるので手に入れて下さい
このMODは自分や対象のNPCを瞬時に脱衣させたり、服を着せたりする魔法を追加するシンプルなMODです。 SKSEの最新版が必要です
イーストマーチの温泉にフォロワーと一緒に入る為に30分くらいで作りました
SS撮影や、スタンドアローンフォロワーを自作した時に全身をチェックするなど、地味に役に経つので公開することにしました。   
●導入後自動で3つの呪文が手にはいります(レッサーパワー扱いです)
効果範囲で分かれています。
1:UndressSpell(self)
2:UndressSpell(target)
3:UndressSpell(area)
各呪文はトグルスイッチみたいになっていて、一度当てると服を脱ぎ、もう一度当てると服を着ます。当てなおさなくても10分経つと呪文の効果が切れ、勝手に服を着ます。
自分自身に当てた場合は自動で服を着てくれないので、手動で装備し直して下さい。
- Installation and uninstall -
MOかNMMの使用をおすすめします