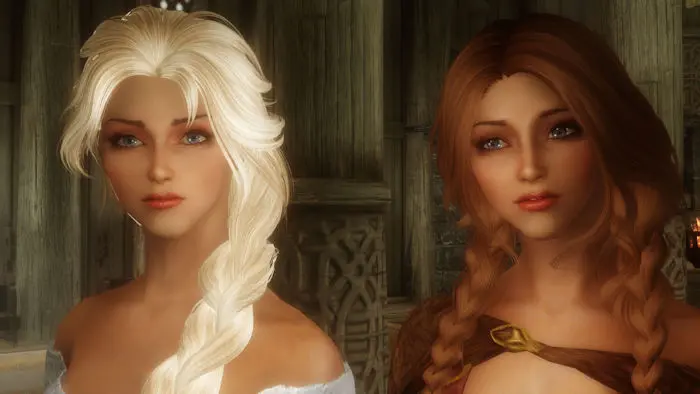 By request, my Elsa and Anna.
They are given vanilla default outfit, you can find the Ice Robe for Elsa else where.
Elsa
Frost magic, self healing spells.
weight:100 Height:0.97
Anna
Tank melee or dual sword
Weight:100 Height:0.97
Body type: UNP
Both marriable, voice=Young and Eager
Location: Dragonsreach
Screenshot taken with Vanilla Icecream ENB, feel free to submit yours.
Give it an endorsement if you like.
UNP HDT Version requires HDT Physics Extensions by
HydrogensaysHDT
Credits:
XP32 Maximum Skeleton -XPMS by xp32
SG Female Textures Renewalby Hello Santa
True Brows by JimtownIrish
The Eyes Of Beauty by Gabriel Mailhot
DIMONIZED UNP female body 
UNP HDT-PE BBP TBBP by
Turbosundance
KSHairdos
Eye Normal Map Fix by
Mr Dave
Skysim Hair
Ice Robe by JackGa
Anna's dress from UNP Minidresses Collection by
Tiwa44
Shoes from Elven Dresses by Naihaan by
Naihaan Kragnaidael
PLUS the modding community which provides many tools and resources for free.