This MOD adds a cakes and baked sweets.
Please refer to the following headline for added items.
This MOD is also provided as Modder's Resources.
Please use it freely for your MOD.
Example to use:
An object for pose MOD (and making screenshot!).
The decoration of the house of your Skyrim.
Food for hard core MOD which you use.
Substitution of the food for vanilla.
You can modify this MOD freely, if necessary.
I provide this MOD as a collection of materials. When you want to connect it with other MOD, please make a patch by yourself.
Please enjoy!
- 
How to install and location
Please install using the MOD manager, such as NMM or MO and Vortex.
Please go to "Dragonsreach" of "Whiterun". You can go up the stairs and enter the large room on the left side, you can find the sample displayed.

- 
Items added with this MOD (all "FOOD" category)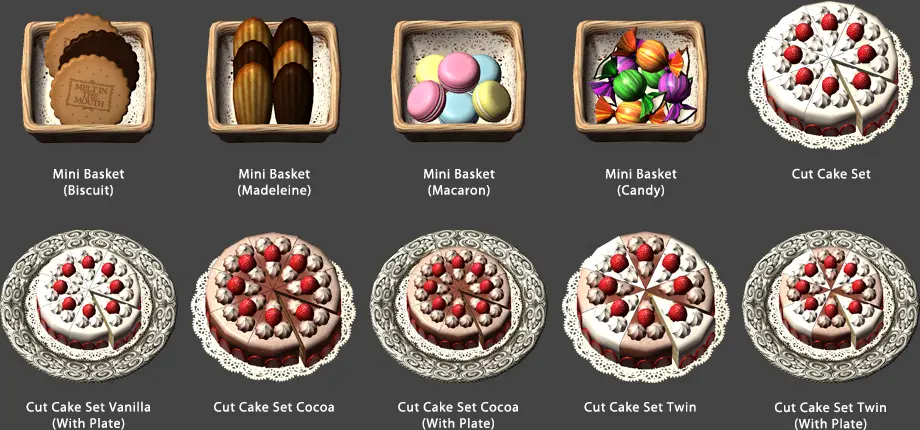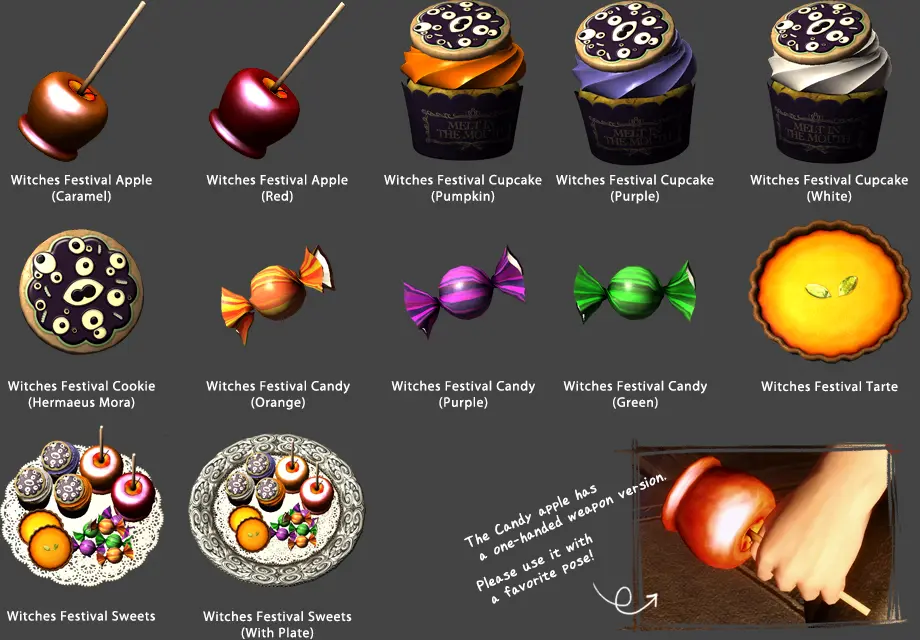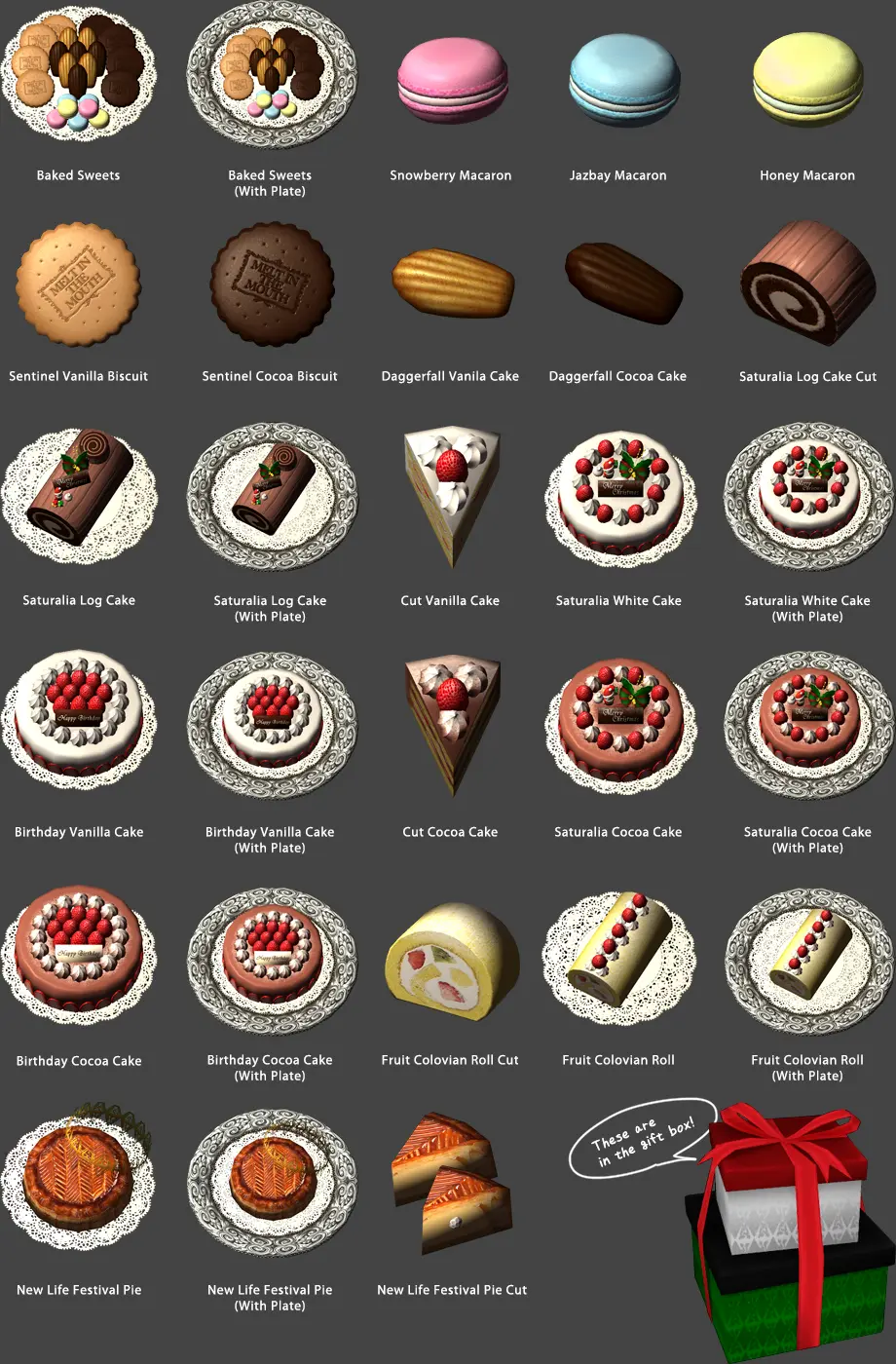 For big sweets I also made a version with dishes removed to accommodate various arrangements.
All items can be obtained from "Gift Box" located near the table with the sample.
- About Optional Files
- Decoration plate PSD

Decoration plate is possible to edit!
The PSD file to re-texture a plate was prepared.
If necessary, please download it from OPTIONAL FILES.
Overwrite file path:
Data/textures/Clutter/food/MeltInTheMouth/Parts
- Recommended other MOD
Superior Silverware - HD Textures
 by 
skyrimaguas

If You want beautiful silverware, please install this re-texture MOD. This is very great work!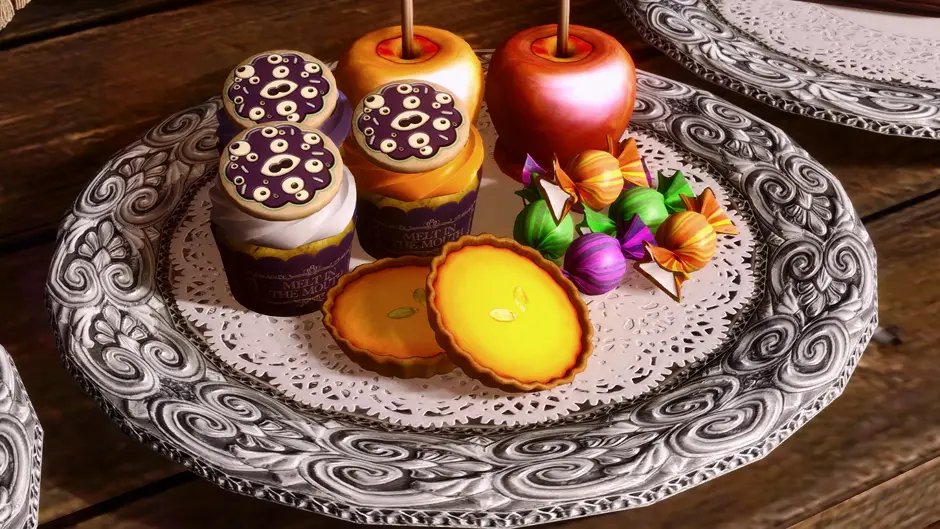 - MOD review videos  Thank you!by Devix1996by vatiwah
- Changelog
- Ver1.5
- Ver1.4
Add new 10 items.
SSE version release.
- Ver1.3
- Ver1.2
Add new 10(+1) items.
Add Patch for RND (OPTIONAL FILES).
Item-names was changed to the lore-friendly name.
- Ver1.1 Texture path fix.
- Ver1.0 Release.
- Credit and Special Thanks