This mod is no longer supported.
 
The new Palaces and Castles Enhanced is the latest version which offers much better Mistveil Keep and it completely overhauls 4 other palaces in Skyrim.



Notice of Update: Renewed Look of Laila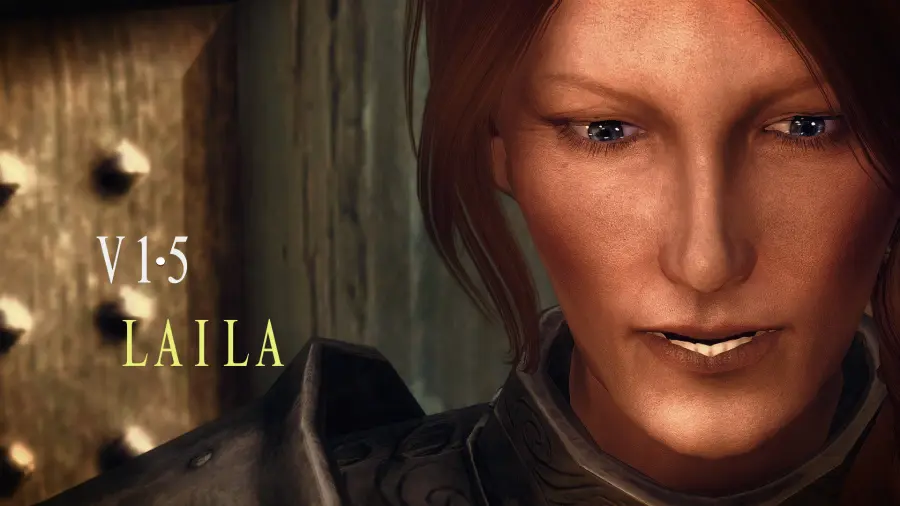 Jarl Laila Replacer versions have been updated to make her actually look like in this SS, I assure you, and hope you like.

What this mod offers:
・Improved Mistveil Keep & Mistveil Keep Jarl's Chamber interior cells that were lacking the sense of luxuriousness and functionality.
・Modified AI packages for the several NPCs who mostly spends their time inside Keep.
・Some changes from USKP have been implemented.
・Several new NPCs.
・Optional file to replace Jarl Laila's appearance.
・Fully compatible with Civil War Overhaul and readied patches for several other popular mods.
・Polished with TES5Edit.
・Support for my fellow Japanese users!
☆Requirements
The latest Skyrim
Dawnguard
Hearthfires


☆Highly Recommended FIles
Horse Cloaks by Hypno
・・・Install this(either HDT/Non HDT) if you want the horses added at the courtyard to wear a nice purple cloak. All you need is its meshes and textures so you don't have to activate .esp of Horse Cloaks.
Civil War Overhaul
by Apollo Down
・・・The dramatic scene in Mistveil Keep during the Battle for Riften is one of the most memorable moments throughout the civil war quest line.
Lind's Green Wizard Robes Revamp - Texture Replacer  by Lind001 
・・・As a new feature in Version 1.2, the court wizard Wylandriah will be wearing green wizard robe. I've made this change particularly having this retexture mod by Lind001 in mind, for Wylandriah is a Bosmer woman and she'd look perfect in this Bosmeric-themed green wizard robe.
☆Backgrounds & Concepts
This is the 2nd of my attempts to enhance the noble livings in Skyrim by giving them a little more of a life they deserve. So, an enriched Mistveil Keep!
Mistveil Keep as a monumental architecture shows an interesting contrast when compared to Blue Palace in Solitude. Mistveil is nothing like a palace with flowers and paintings but a fortification, designed and built strong to hold against any possible threats.
The concept of the redesigning has a focus to revive Mistveil Keep by retaining its uniqueness as a massive and old structure and make it more "glorious" as a
medieval fortification
.
☆A Cook...Where the hell have you been all the time?
The people of Mistveil Keep finally decided to hire a cook, for all of the other big palaces in Skyrim have always had one.
The new NPC named Padma is the cook who works at Mistveil Keep. Everyday she works at the newly-added kitchen inside Keep and also goes out to the city to purchase some foods.

☆ A Secret Passage that Leads to Outside the City
For every military fortress has secrets, there is an old, secret tunnel which can be used in emergency for the escape that leads to outside the city wall of Riften. You may find it useful when sneaking into the Keep to blackmail Anuriel (steward) as an Imperial soldier during the civil war quest line!



☆About the New/Refined AI Packages
The Jarl of Riften (Laila or Maven), the steward (Anuriel or Hemming), the housecarl (Unmid or Maul) and the court wizard (Wylandriah) had their AI Packages renewed.
Their NPC records are left untouched
, for the new AI packages are assigned for their quest aliases in the quest, "DIalogueRiften" so it does not cause any conflicts with the mods that alter these people such as Lords of Skyrim, Etherial Elven Overhaul etc.
Harrald and Saerlund, the sons of Laila were given the new AI packages as well,
by tweaking their NPC records
.
The changes that were made to their AI Packages were to make them look more lively instead of acting like a robot. Harrald will now practice riding one of the newly-added horses at the courtyard, Wylandriah will go out to the city to browse some shops on weekends and so on.
They will now take a bath once a day. There are two bath halls, one for the stewards/housecarls/courtwizard and another for the Jarl and her family. When they bathe, they will strip their equipments to store them inside the baskets near the bath hall temporary, which gives you the opportunity to steal their belongings if you fancy yourself a sneaky type.
☆(Optional) A New Looking for Jarl Laila!
You may choose a version comes with the Jarl Laila replacer.
In this version Laila's status has been buffed and she's certainly more powerful, but not as highly overpowered.
There is also a version that changes her appearance and also her outfit, that makes her wear a set of steel plate armor (without gauntlets, with a circlet) because more options are always better!
☆About Civil War Changes
There are portrait pictures of the current Jarl and her family in the Keep. When Riften is claimed by Imperials and the Jarl Laila resigns, these pictures will be removed and the new Jarl & her family's pictures will take their places.
Also, the new Jarl will properly get dressed to be recognized as one. This is the similar feature introduced in "Appropriately Attired Jarls" mod. 
☆About the USKP/USLEEP Stuff
There had been some bugs around Mistveil Keep in Vanilla Skyrim, that are:
Issue#1
Saerlund (Laila's youngest son) will not go to sleep simply because he had no daily schedule to do so.
Issue#2
Harrald (Laila's elder son) & Saerlund will remain inside Mistveil Keep even after the rest of his family has moved to Palace of the Kings in Windhelm after Riften falls into hands of Imperials.
They are fixed by USKP (=Unofficial Skyrim Patch) team already. However, since my plugin can overwrite these changes I have included my approach to fix these issues.
I also implemented the crucial changes made to the quest "DIalogueRiften" by USKP to avoid any conflicts.
My file does not require USKP or USLEEP as a master file, and it's completely safe to overwrite it.
☆Compatible with...?
This mod is fully compatible and therefore strongly recommended to be used with the following:
・Civil War Overhaul ・・・ Battle for Riften runs smoothly in my new Misveil settings.
・Interesting NPCs
・Inconsequential NPCs
・Dawn of Riften (or) JK's Riften
This mod is
NOT
compatible with the following:
・Riften - Thief Edition
If you're using any of these mods bellow be sure to download the compatibility patch from the optional files section!
A proper installer will be ready, but for now you need to manually install your patch as they're just packed in one archive.
・Enhanced Lights and FX
・Realistic Lighting Overhaul
・Relighting Skyrim
・Shadows
・Skyrim Project Optimization
Also, if you're using Ultimate NPC Overhaul by reindeer51 (It's currently hidden by the author)
you have a compatibility patch:
Ultimate NPC Overhaul Patches by SirJesto
<Credits>
Thank you, Unofficial Skyrim Patch Project Team for
Unofficial Skyrim Patch
(http://www.nexusmods.com/skyrim/mods/19)
Thank you, ECE Team for
Enhanced Character Edit
(http://www.nexusmods.com/skyrim/mods/12951/?)
Thank you, Maevan2 for 
Mature skin texture and body
(http://www.nexusmods.com/skyrim/mods/32986/)
Thank you, Gabriel Mailhot for your
The Eyes Of Beauty
(http://www.nexusmods.com/skyrim/mods/13722)
Thank you, Kalilies Stealthic Khaos and Shocky for your
KS Hairdos - Renewal
(http://www.nexusmods.com/skyrim/mods/68311/?)
Thank you, Malo for your
Malo Statue
(http://www.nexusmods.com/skyrim/mods/54152)
Thank you, Garnet for your and 
Riften Fish Market
(http://www.nexusmods.com/skyrim/mods/63764), 
Wicker Set
(http://www.nexusmods.com/skyrim/mods/66282) and
Orient Set
(http://www.nexusmods.com/skyrim/mods/62396)
Thank you, Moraelin for your
Axes And Halberds 1_09
(http://www.nexusmods.com/skyrim/mods/11646)
Thank you, Drunkzealot  for your
Drunkzealot's somewhat historically accurate weapons
(http://www.nexusmods.com/skyrim/mods/65814)
Thank you, stoverjm, for your
Open Books Library
(http://www.nexusmods.com/skyrim/mods/42362)
Thank you, InsanitySorrow, for your Curtains, Food Stuffs,  Insanity's Rugs 1.0, Insanity's TableCloths 1.0, Clutter Stuffs, Static Armour Stands, Bath Towels, paintings & Junk Yard
Thank you, lilith, for your Ready Clutter and Furnishings & Catering
Thank you, Elianora for your
Elianora's Extra Resources
(http://www.nexusmods.com/skyrim/mods/53192)
Thank you, yourenotsupposedtobeinhere, for your
Rug resource
(http://www.nexusmods.com/skyrim/mods/17303)
Thank you, Jokerine, for your
Jokerine's Misc Resources
(http://www.nexusmods.com/skyrim/mods/53022/)
Thank you, LOLICEPT, for your
Lolicept Resources
(http://www.nexusmods.com/skyrim/mods/62733)
Thank you, mrpdean, for your
Lakeview Manor Evolution - Modders Resource Version
(http://www.nexusmods.com/skyrim/mods/41645)
Thank you, ps46183 and Galadreal for your
Goblets Cups With Wine And Orange Juice Resources
(http://www.nexusmods.com/skyrim/mods/65303)
Thank you, Autan Waspeez for your
Celtick Enchanting Table
(http://www.nexusmods.com/skyrim/mods/53918) and
Celtick Alchemy Lab
(http://www.nexusmods.com/skyrim/mods/54109)
Thank you, Blary, for your
Ingredients Wall Art Resource
(http://www.nexusmods.com/skyrim/mods/30602)
Thank you, Stroti, for your Castle Furniture Resource, Ovens Resource & Stroti Resource Pack II
and Tamira for conversion
Thank you, mr_siika and Kraeten, for your
Griffon Fortress Resource
(http://www.nexusmods.com/skyrim/mods/41036)
Thank you, berticus0001 for your
Berts Bits And Bobs Resources For Modders
(http://www.nexusmods.com/skyrim/mods/36756)
Thank you, Oaristys and Tony67 for your
Modder's Resource Pack
(http://www.nexusmods.com/skyrim/mods/16525)
Thank you, Runspect for your
Resources for Modders
(http://www.nexusmods.com/skyrim/mods/26132/?)