Description
Last updated at 11:05, 26 May 2017 Uploaded at 19:20, 3 Jul 2015
BEYOND REACH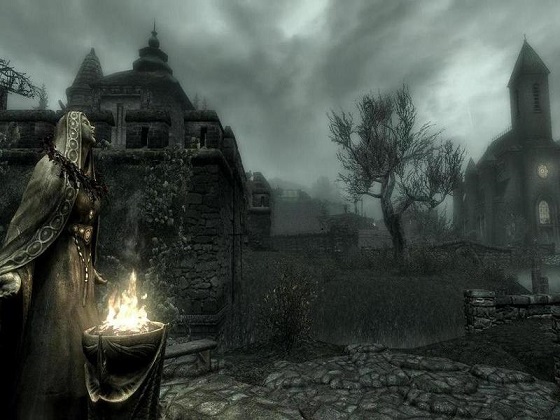 Reach, ein Land dunklen Himmels ohne einer Lücke dazwischen. Wo die Erde von den Tränen Kynareths getränkt und die Liebe Maras nur wenig Zuflucht bietet.
Wo eine Seuche den Westen des Landes heimsucht und damit droht sich auf ganz Tamriel auszubreiten.
Nehmt Euer Abenteuer jenseits Markarth auf und entdeckt ein neues, tückisches Reich, voller Gefahren und sicheres Versteck möge nicht vor den Gefahren dieses Reich beschützen.
Haben die Menschen diese Verzweiflung zu verantworten? Oder einer Macht, welche jenseits des Äthers lauert? Handeln die Hexer durch ihren eigenen Willen? Oder sind sie lediglich nur das Werkzeug eines viel größerem Übels?
Die Antworten auf diese Fragen werdet Ihr auf Euren Reisen durch Morast, rauen Küsten, dichten Wäldern und bitterer Kälte ergründen.
Beyond Reach ist eine Mod von der Größe eines DLCs, welches sich im Osten von Hochfels abspielt, besser bekannt als das Reach. Ihr werdet eine Geschichte voller Intrigien, Verschwörungen bedingt durch Menschen als auch den Göttern und dem erbarmungslosen Kampf in so manchen schmutzigen Situationen erleben.
Das eigenständige Erkunden ist eine Schlüsselfunktion der Mod, mit unzähligen Abkürzungen, welche Euch auf neuen berauschenden aber aber noch gefährlicheren Wegen führen wird.
Eine hochwertige Vertonung und eine fesselnde Storyline werden Euch tief in die grauenvolle Geschichte eines unterdrückten Landes und seiner Bewohner führen.
INHALTE
Einem großen Worldspace vom Ausmaße dreier Fürstentümer
Einem detaillierten Worldspace an welchem keine Ecke unberührt, akribisch und mit Tiefe gearbeitet wurde
Neue Fraktionen; Trefft die Einwohner von Ewigheim, welche auf einer Brücke leben und Handel betreiben
Arnima, die Leute von Arnima sind grimm, aber ihrer Situation wegen kann ihnen dies auch nicht verübelt werden
Immerfort die Perle des Ostens, schimmernd und beständig mit all den Übeln dahinter und grünen Hügeln jenseits
Die Hexer, die Verderbten von Reach, einst nur wenige blieben sie unter sich, wurden sie immer zahlreicher und gefährlicher
Orsiniums Söhne, Orkische Invasoren der zerschlagenen Stämme der Orsimer versuchen sie ein zerschlagenes Land durch großflächige Eroberungen zu retten
Söldner von Drachenstern, Deserteure aus Hammerfell welche sich oberhalb von Arnima niederließen. Der gegenwärtigen Flut sei es zu verdanken das die Verteidigung der Stadt geschwächt wurde, versuchen sie alles an Wert der Stadt zu entreißen
Die Verbannten, vertrieben aus den Mauern sämtlicher Städte Hochfels, sie fanden Schutz in den dichten Wäldern und Klippen des Landes. Diebe, Mörder, Vergewaltiger und vieles mehr tummelt sich unter ihnen. Ebenso verbündeteten sie sich mit den Bettlern, welche unterhalb der Stadt hausen
Die Befallenen, eine Seuche die keinen Mann verschone, außer jene im guten Alter. Die Seuche scheint nicht der Natur zu entstammen, möglicherweise hat dies keinen natürlichen Ursprung?
Neue Rüstungen, neue Modelle für die Wachen von Immerfort, Arnima und den Inquisitoren von Immerfort
Neue Waffen; entdeckt neue Modelle und mächtige neue Waffen basierend auf vorhandenen Meshes
28 Quests inklusive einer robusten Storyline; findet die Nachfahren von Mados, der Mann der einst die orkischen Invasoren vor dreißig Jahren bei Grau Belmor zurückschlug und findet seine Rüstung. Euer Weg wird Euch Bestienbauten, Dwemerfabriken und eisigen Gräbern führen
Einzigartige Dialoge für mehr als 50 NPCs
Neue Zauber; diese werdet Ihr auf Euren Reisen durch die Welt als auch als Questbelohnungen erhalten
Über 25 Dungeons; dies reicht von Minen, Wäldern, unterirdischen Fabriken, eisigen Gräbern & Höhlen, über Felsnadeln bis zu diversen Spinnenhöhlen
Start des Spiels
Eilet nach Markarth, ein Mann wird nebst einem Wagen warten, sprecht mit ihm und begebt euch zu der neuen Ortschaft.
Installation:
Download mit dem NMM ist empfehlenswert. Für manuelle Vorgehensweise:
Enpackt die ZIP Datei in euren Data Ordner eures Skyrim Verzeichnisses, BITTE LÖSCHT NICHT DIE ORDNER MUSIC UND SCRIPTS, diese müssen ebenfalls mit installiert werden.
Start des Spiels

Eilet nach Markarth, ein Mann wird nebst einem Wagen warten, sprecht mit ihm und begebt euch zu der neuen Ortschaft.

Diese Mod ist nicht vertont, also aktiviert bitte eure Untertitel.
Credits
Vielen Dank an die Community und die Ressourcen innerhalb der Mod, die Autoren sind großartig und ohne ihnen wäre diese Mod nicht vollständig
DAVID RUDDOCK - DEMONIC VOICES
DAVID RUDDOCK - BRUTE VOICES
DAVID RUDDOCK - COMMONER VOICES
JAMES MILNE -OLD MALE VOICE AND COMMER
AMBER - FEMALE CONDESCENDING ROLE
MATEO Goicochea - KHAJIIT VOICES, ORC LINES, WOOD ELF LINES
CARY REESE - MALE COMMANDER
NICK KENT - SOLDIER LINES
PLAGUEHUSH - JACKOS
PLAGUEHUSH - SOLDIER DIALOGUE
PLAGUEHUSH - PRIEST OF THE NINE
PLAGUEHUSH - MORTIFAYNE
PLAGUEHUSH - MALE EVEN TONED DIALOGUE
STROTI- For all the meshes and textures he provided to the community, the mod wouldn't have been done without him
Insanity - Again, many models and textures used from him
Monster Mod
HOTHTROOPER 44 - ARMORS
Credo - Excellent work on the armors, highly detailed and functional.
DarkRider - Beautiful art and pictures
Griffon fortress author - Contact me for credits
MEO - For the awesome tents
Tamira - For a great statue
URW - Good weapons
Oblivion gate author - contact for credits
LoneArchitect -Breton houses meshes, Part of the Beyond Skyrim project
Vicn - For creature meshes.

BUGS/SOLUTIONS:

MEROSA WON'T TALK TO ME:
You probably have old files from previous versions of my mod, do a clean install and try again. If you still can't get her to talk, reinstalll skyrim with no mods.

JACKOS WON'T GO THROUGH THE VOID FORT:
Wait a couple of hours and his AI may pick up again, enabling him to move through the interior.

SCENES STOP PLAYING:
Normally because one of the actors hasn't arrived yet, please wait 1 hour in game.


Besonderen Dank an das Team von Beyond Skyrim

Für die Benutzung einiger Assets ihrer talentierten Moddern.