File information
Created by
Kajuan
About this mod
Horncandles lore-friendly texture overhaul.
Permissions and credits

Changelogs

Donations

This is a HD (mainly) horncandles texture  you can find in "textures\clutter\candles" folder. There are still other lighter options anyway in the download section.
These candles with their different support appear - everywhere - inside the games and I didn't found around an HD version that satisfied me enough, so I tried to make it by myself. The bigger difficulty on this texture were the seams.
Finally... horncandles won..., there were by default and still some less evident slight seams, it depend on reflections too, at least in my screen.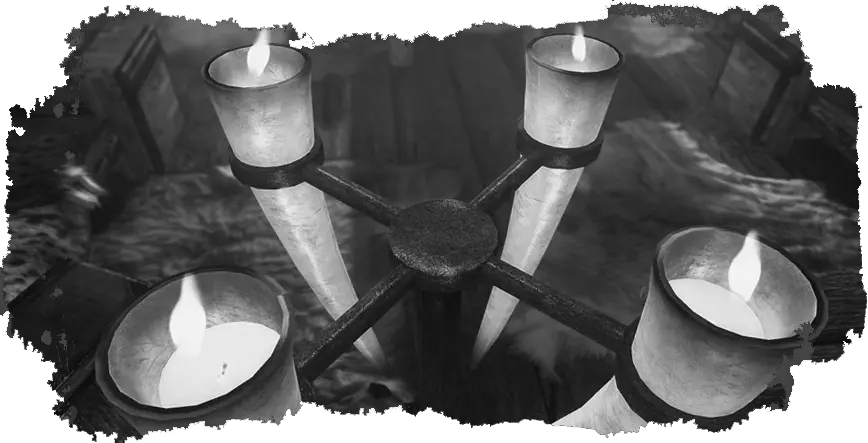 The package contains just two files, the diffuse map horncandles01.dds and the normal map horncandles01_n.dds. In that folder there was the vanilla glow map horncandles01_g.dds too, that I left, as it worked fine by default, so I haven't included it inside the package.You have it installed with the game.
Both files have been raised and worked at 2048x4096 (they were 512x1024). They are not full 4k in the heaviest package because they have a rectangular shape, so just a side meets the 4k.
I like to stay as lore as possible, but they had to come out a bit different, I used a free horn photography to take a real color and texture. Inside the game, being a glowing thing, it look different in any case, it depends on your setup. I don't use any light mod right now, if not "Shadows" (very beautiful mod by
HHaleyy
) and "RealVision ENB" (by
SkyrimTuner
) but without the suggested/essential light mod companion.
Meshes haven't be touched and they are not inside the packages.
This is a very "small" work (not really as time I spent doing it) I did some time ago, I thought it could be dusted and released. As little as they can be, I think, I will do a single release for each contribute of mine, for a couple reasons: first because I don't have a great upload connection speed and, if I will ever have the time to update one of these files, I wouldn't spent to much time to pack and upload a heavy package just due to a single file. Second because I do prefer a full installation files to be well-ordered, not separated updates, and this turn me to the first point. Sorry about that. Maybe I will use a unique page to merge them all, when and if they will ever become numerous or, maybe, I will make a full release when I will be sure I wouldn't update them anymore. Thanks to understand.
You can preview the results by looking at the screenshot. They refer to the "not full" 4k version.
Comments and suggestions are always very welcome. Thanks to all those who have suggested, commented, downloaded and endorsed my first released mod,
Draugr
. Feedback are essential.
Have fun!
Kajuan
Video by
Hodilton
.
DOWNLOAD:
This mod come in three packages. The smaller format just didn't appeared good to me, not even that much better then the default vanilla texture (Vanilla were 512x1024) being sincere. Just in high definition they get a very noticeable better aspect to me:
2048x4096 compressed diffuse and 2048x4096 compressed normal maps.
2048x4096 compressed diffuse and 1024x2048 compressed normal maps.
Added by request: 1024x2048 compressed diffuse maps and 512x1024 compressed normal map.
INSTALL and UNINSTALL:
As usal, they are 7zipped fomod installers.
COMPATIBILITY:
Textures haven't any compatibility issues. They could not work as intended if you installed some different meshes then the vanilla ones. It works with the great and well known "SMIM" mod (by
Brumbek
) as well, the author changed just the Chandeliers meshes, those instead refer to others five meshes within their supports inside meshes\clutter\candles, named candlehorn*.nif, and were not touched by his mod.
CREDITS and THANKS:
Bethesda.
Nexusmods.
The whole modding community.
Hodilton for the video.
TOOLS USED:
DDSopt to extract files.
Adobe Photoshop to work on textures.
Nifskope to quick preview the textures over the meshes.
PERMISSION NOTES:
If you show in same way my assets in public places you must and should always credit the author.
These files are Nexusmod exclusive right now. My files follow the Nexusmods rules.
Users cannot upload my files to other sites, any type of sites, included file sharing host (unless I give specific permission and instructions). Users cannot modify my file; including releasing bug fixes or improving on the features my file adds to the game, and upload it as a separate file. Users cannot use my assets in any mods/files that are being sold, for money, on Steam Workshop or other platforms. Users cannot use assets contained in my files in their own files without my permission.
I saw someone breaking every rule. So if I'll give the permission now on, I'll report bottom here the site name that had my permission, about each mod, for real, automatically all the others have to be considered cheating and will be reported:
gamer-mods.ru
modgames.net
MY RELEASES: