File information
Created by
Kajuan
About this mod
Draugr bodies and Draugr armors lore-friendly textures overhaul.
Permissions and credits

Changelogs

Donations

This is a Draugr bodies and a Draugr armors re-texture. I started to work on vanilla files (with the High Texture Pack installed) that were 2k (512 the hair). This mod consist in textures it doesn't take any slot in your load order.
For references the files were taken here:
textures\actors\draugr (12 file)
textures\actors\dlc02\hulkingdraugr (4 file)
textures\dlc01\clutter\vampireremains (1 file)
I tried more to improve then to change. The skins have been revisited, they appear more slimy. Everything has been redone, the teeth, ears, lips. Still the fact that the vanilla draugr meshes are really cornered, they have fewer polygons to be a sort of human bodies and the lights reflecting over those heavy corners make things worst, showing, in some occasions, sort of seams caused right by this. Meshes also, clips one with another, stretching, there is nothing that can be done about in my opinion, if not to create new models.
The draugr armors (Ancient Nord) in the same draugr folder (both female and male) have been worked too, they appear now more rugged, the fur and pelt inserts have been redone too.
Do notice
, these armor are used also by the Skeleton Warriors and they are not shared with the player. The ancient north armor that the player can wear it is indeed in another folder that is not included. The female veil contained in the same female draugr skin file has been enhanced, within the skin itself of course, the fabric should appear more detailed now.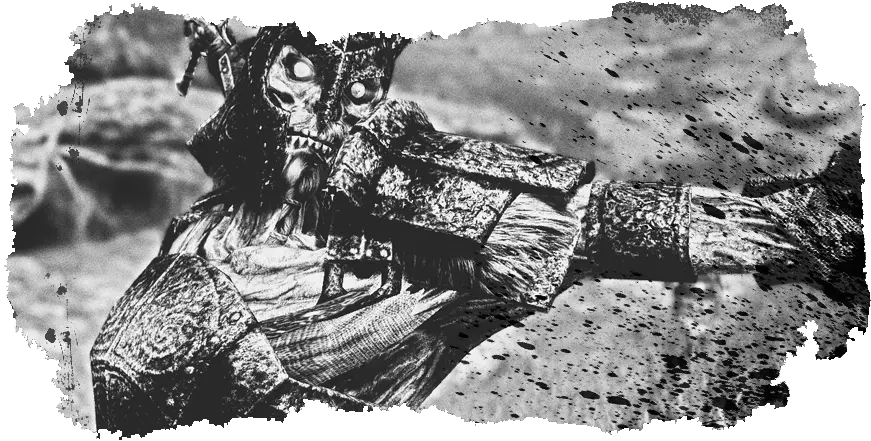 Meshes haven't been touched and they are not inside the packages
, those of mine are not models, just textures. To let you know, glowing eyes effect have separated meshes and texture, I could adjust the textures, but really they were not visible in the game, so I left it, also because the glowing eyes are essentially made by the meshes and some light setting over them, and they are very squared as well. Texture are secondary in this case.  Hair and their color have been changed as
well, the male version is whitish now.
Textures aren't always easy, in fact, if you make a little change to a diffuse map, you have to bring the same change at least to other (more or less) three layers in two files: the alpha channel contained in the diffuse map if it has one (and they had all one...), the normal map file and its own alpha channel.
Just to say, I'm never satisfied while working on the graphic, so I had to pack this thing and release it, or I could never do it, that's because every time I see something of mine I think I could always make it better and it's true in most cases. So, there is a moment when I have to say to myself to stop. Some .psd files had hundred layers.
That's it. I did what I could right now, just for fun, you can see the result from the images. I tried to stay lore, as I'm a sort of purist. The Bethesda concept art is great to me. Making things a bit better is a lot more simple than invent and create them from zero with no references. Bethesda created beautiful things in this game to me, with very good taste.
Sorry but I hadn't the time to test everything inside the game, in every resolution and setup.
Just try it, judge by yourself, keep or delete them, it's upon you, they are free.
This is my first contribute, I'm a sort of graphic not really a modder but I
did some homework, this is not really an improvisation, but I could still have
more to learn, so if there is something wrong (always could be), I do
apologize, and if you have some suggestions just let me know.
Sorry for my English, it's not my native language.
Have fun!
Kajuan
Video by
AbsoluteAesthetic
(youtube channel:
Absolute Aesthetic
).
Video on the left side by
FeuerTin
. Video on the right side by
Hodilton
.
DOWNLOAD:
This mod come in different packages with a fomod installer but I advise you, as I said, I just tried the big ones:


The big one: 4k compressed diffuse maps and 4K compressed normal map (2k the hairs). The only one I saw inside the game just like they appear in the screenshot. I do guess you need a good graphic card to handle these or the game could crash due to the Vram limit. Really don't know, I'm using a 3GB 780ti with a mix of high and ultra resolution and they work.


The middle one: 4k compressed diffuse maps and 2K compressed normal map (2k the hairs). (Not tested!)


The lower one: 2K compressed diffuse maps and 2K compressed normal map (2k the hairs) - Just like the vanilla with the official HD pack installed, but the hairs. (Not tested!)


The lowest one: 1K compressed diffuse maps and 1K compressed normal map (512 the hairs) - (Not tested!)


In the Miscellaneous section, to improve performances a bit more you can try to install and overwrite the hairs with a 1K version. (Vanilla were 512, mine in the main mods 2k). Don't know how they will look. (Not tested!)
INSTALL and UNINSTALL:
Those are 7zipped fomod installers, you can use what you want or unpack and do it manually. I'm using Mod Organizer 1.2.18, I did found it safe, clean and versatile ones you get used to. Look a bit scaring at the start but then everything is a lot more easy to manage. "Virtualizing" the Data folder could sounds weird but it leave you the possibility to try, undo, change anything, by just clicking, checking, unchecking, dragging without even touching the real game folder or even creating copies of the files. It just doesn't overwrite anything for real. The author, Tannin, that I can't thank enough, has been pure genius doing it.
COMPATIBILITY:
Textures don't affect anything (performance a part, depend on your rig). Those armors are not inside the armor folder, they are inside the draugr folder by default.
They could not work as intended if you installed some different draugr meshes (body, armor) then vanilla one.
Of course don't install the 4K version if you haven't a powerful graphic card, in 4k those textures, are about 5Mb-10Mb-20Mb each.
TOOLS USED:
DDSopt to extract files.
Adobe Photoshop with the dds plugin to work on textures.
Nifskope just to quick preview the textures over the meshes.
Notepad for the xml fomod packages.
CREDITS and THANKS:
Bethesda.
Nexusmods.
The whole modding community.
FuerTin and Hodilton for the videos.
PERMISSION NOTES:
If you show in same way my assets in public places you must and should always credit the author.
These files are Nexusmod exclusive unless I give specific permission and instructions. My files follow the Nexusmods rules.
Users cannot upload my files to other sites, any type of sites, included file sharing host. Users cannot modify my file; including releasing bug fixes or improving on the features my file adds to the game, and upload it as a separate file. Users cannot use my assets in any mods/files that are being sold, for money, on Steam Workshop or other platforms. Users cannot use assets contained in my files in their own files without my permission.
I saw someone breaking every rule. So if I'll give the permission now on, I'll report bottom here the site name that had my permission, about each mod, for real, automatically all the others have to be considered cheating and will be reported:
gamer-mods.ru
modgames.net
MY RELEASES: