1st
Place Winner

Boss Battles Competition 







Description

Head into a custom built Dwarven Ruin to retrieve an elder scroll. 
A mod with 5 Dark Souls inspired Bossfights with new music by Alex Roe.



This is a demo for Apotheosis.

Follow the links to learn more. 

Links
Moddb
 VA Forums
Youtube


Requirements
Bethesda's Official DLC's 
(Dawnguard, Dragonborn, Hearthfires)

Artifacts
- The legendary hammer Sunder from TES III: Morrowind 
- The Guardian Staff: Summon a Dwemer Gatekeeper for 60 seconds. 



How to start the quest? 
Head over to Windhelm before the bridge crossing on the way from Whiterun. Look for a corpse laying by a dead horse.  A note on the body will show you the way. 
ConflictsNone reported
(Verified for ITM/UDR records and Error checked)
Installation
Manually extract the files into Skyrim/Data 
or
Install using Mod Organizer or Nexus Mod Manager

Highly RecommendedTk-Dodge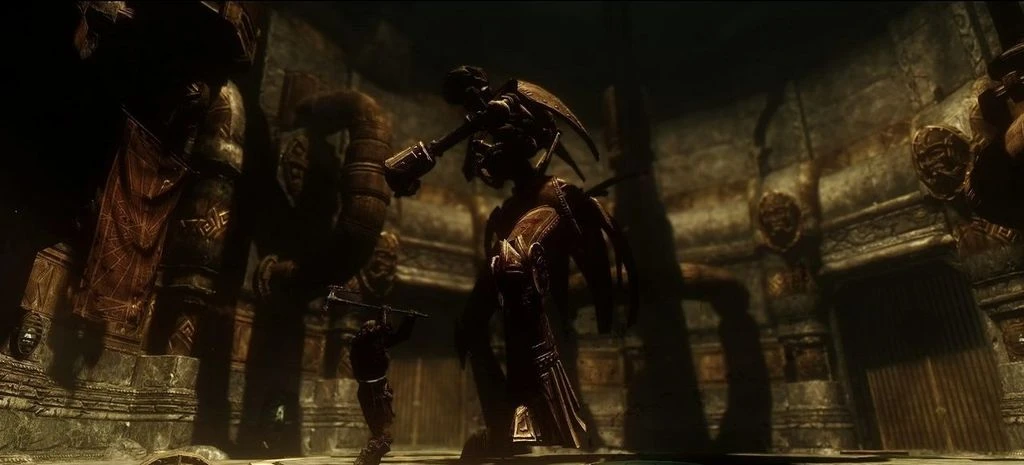 (Credits: Nightskia)

Translations

Japanese 日本人
(Skyrim2Game)
Updated to (2.0.0)

Russian русский язык
(TesAll)
Updated to (2.0.0)

Credits

Model Resources

Vicn Creature Resource 
by Vicn

T67 - Statue Dwarven 
by Tony67

Insanity's Dwemer Weapons

by InsanitySorrow


Combat Script Base
by Jimboom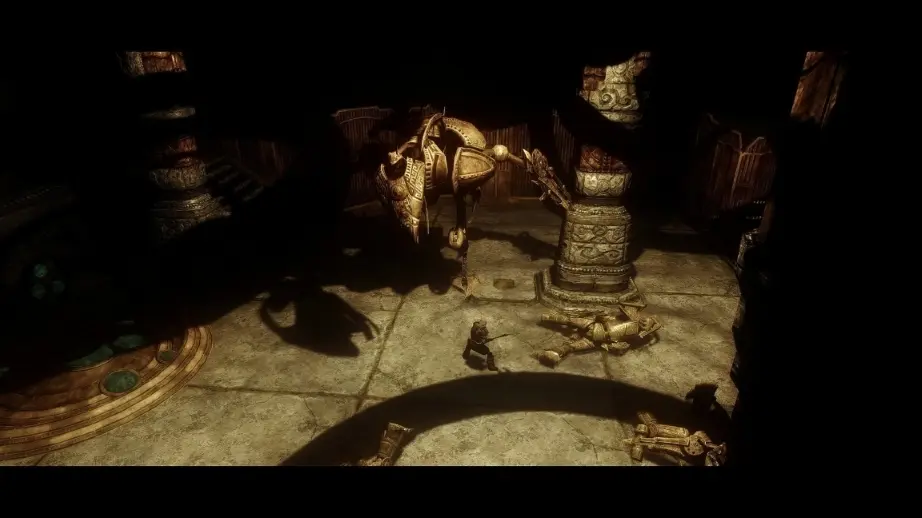 (Credits: Nightskia)Music 
Bloodborne "Airborne Assault" (Original song inspired by Bloodborne)by Alex Roe Borne in Blood "Forsake All Hope" (Original Bloodborne inspired album)by Alex RoeBorne in Blood "The Second Coming" (Original song inspired by Bloodborne)by Alex RoeBloodborne "Beckon a Foul Beast" (Original song inspired by Bloodborne)by Alex RoePatch Notes 
2.0.0 -  27 February 2016 (Latest)
- Added Sunder with enchantment equivalent to it's Morrowind counterpart.
- Added the Guardian Staff which summons a Giant Gatekeeper for 60 seconds. 
- Fixed minor lighting issues. 
- Adjusted Boss AI
- Adjusted Dwarven Gatekeeper model
- Various tweaks to music system
- Added shortcut to end area facilitating dungeon flow
- Various other minor tweaks
1.7.5 - 5 August 8/5/2015 
Hotfix for one Mesh path error
(fixes missing model for second boss)
1.7.0 - 1 August 8/1/2015
Added lever for elevator access in main entry room
Edited loot placement/ added loot in certain areas
Slight edits to enemy placement
Minor edits to 2nd Boss Room
Added enemies to 2nd Bossfight 
1.6.0 - Sunday 6/28/2015
Overhauled Type II Boss Room.
Reworked elevator in final area.
Reworked navmesh scheme in Scroll chamber. 
Added new loot in inner vaults.
Reworked scaling in several NPC's.
Cleaned for ITM's and error-checked with TESVedit.
1.5.0 - 6/13/2015 
Reworked two bosses, edited Boss room layout.
Reworked enemy placement.
Reworked loot placement.
Added enemies in final section of dungeon.
Added ambushes in final location. 
Fixed lava placement errors.
Addressed issue where some users didn't have music playing in Boss Battles. 
All gates now open when required (after boss death).
1.4.2b - 6/5/2015 
Created optional version for low level characters.
1.4.2 - 6/4/2015 
Added Quest and Quest entries. 
Added new dungeon section. 
Added new Boss.
Added Dragon NPC in ruin vicinity.
Fixed minor errors in ESP. 
Slight rewrite of quest notes. 
1.2.0 - 5/31/2015
Minor bugfixes.
Slight changes to music control scheme.
Addressed UDR records and disabled them. 
1.0.5 - 5/20/2015
Minor fixes and balance updates.
Released version with scaling for low-level players.
1.0.1 - 5/19/2015 - 
Mod is in Release State. 
General polish and minor bug fixes. 
Added a Mechanical Dragon Guardian next to ruin. 
Overhauled lighting in 1 interior cell.
Changed location of final Quest objective.
0.9.0 - 5/19/2015 - 
Addressed lighting and optimization issues. 
Resized overall download by 80% from initial release (mostly WAV to XWM format switch). 
Addressed balance issues. 
Addressed manikin not abiding by Ai Packages. 
Rectified random loot on enemies. 
Added traps.
Added Elevator Area. 
Added new Boss. 
0.8.0 - 5/17/2015 -  Preliminary Alpha version Uploaded.