Description
Last updated at 6:58, 21 Jul 2015 Uploaded at 0:43, 18 Feb 2015
RUSTIC COOKING STATION
is a retexture of the cooking apparatus in its three versions: fire spit, stand, and pedestal versions. Includes retextures for the stew, cooked beef, cooked venison, and cooked goat.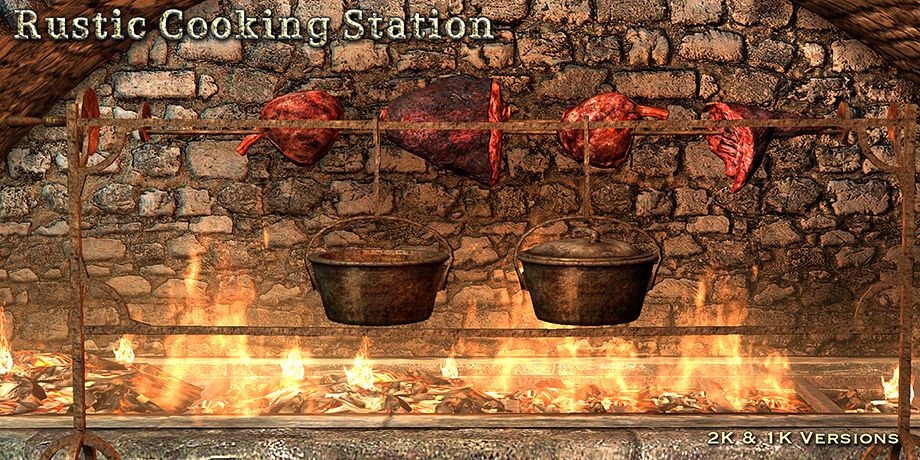 After doing the retextures for the alchemy and enchanting stations, it occurred to me that the cooking station (for a lack of a better name) could also use some attention. Bethesda didn't explore the cooking aspect of the game very much, but mod authors have since created quality mods that open up the possibilities of cooking as a useful skill set for Skyrim.
It always seemed odd to me that in a land with farms growing fresh vegetables and a teeming population of wildlife that everyone would be cooking the same unappetizing pot of stew that looked more like baked beans. Hardly the hearty stew you'd expect from hard living Nords. If you're using a mod like Immersive First Person View, then I'm sure you're tired of staring into that unappealing mess.
I spent a good bit of effort on the stew texture since it's the one food that's used in all three versions. The roasted meats are only used on the large rotisserie version, like the one you'll see in Dragonsreach in front of the fireplace. The stand version has a hanging pot for cooking over campfires, and it is often seen outdoors like the one in front of Valtheim Towers. The pedestal version is what you'll commonly see in dwellings, such as Breezehome.
2K and 1K versions are available, so choose the one that's appropriate for your setup. In most cases, you'll be dealing with a version with only two sets of textures, so it shouldn't be a big performance hit regardless. The fire spit version (with the roasted meats) comes at a greater VRAM cost, but is not so prevalent in the game.
I hope people enjoy this little addition to my Rustic series of retextures.
Cheers,
Gamwich
UPDATE 1.1: Added the cooking stone stone texture that's found with the outdoor stand version of the cooking station. Nothing special, just a higher resolution grey granite stone in place of the blurry vanilla texture.