File information
Created by
Gamwich
About this mod
Potions and Poisons get a Rustic overall to bring a greater level of detail to these commonly used items. 2K and 1K versions available.
Permissions and credits

Changelogs

Donations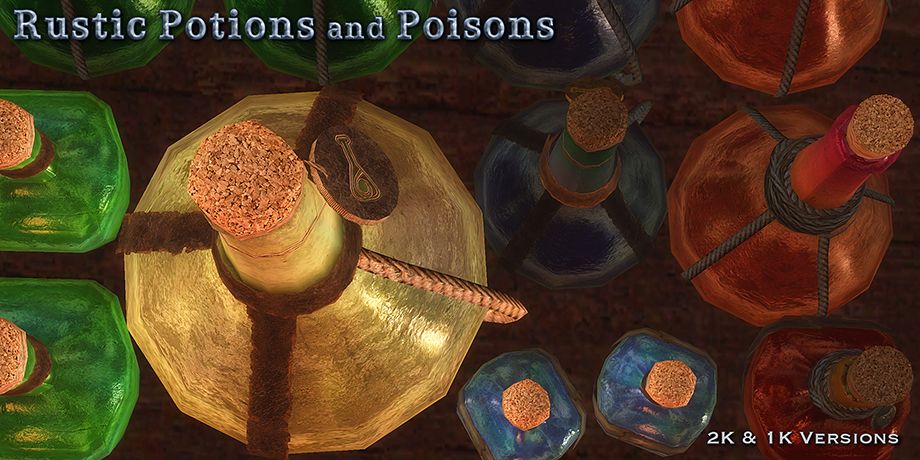 RUSTIC POTIONS and POISONS
is the latest entry in my Rustic series of texture overhauls. This is my attempt to bring some sexy back into these commonly used items, which Bethesda didn't give much love (or detail to). The potions were included in the high resolution packs, but they were still a bit wanting as far as detail goes. The poisons were the neglected orphans, and languished in their vanilla and fuzzy state. To say that the poison textures were poorly done would not be unfair. They are for the most part a blurry mess.
UPDATE:
Version 1.1 adds ambient occlusion to the diffuse textures to give more depth to the shading. A subtle, but still noticeable addition, especially with ENB.
My goal with this texture overhaul was to pack as much detail into these items as possible. Even in closeup view, you will see small details that were totally lacking in the original textures. Cork, rope, and leather all have relief and dimension. You can see this in the gallery screenshots.
Not much else needs to be said really. I made these as lore-friendly as possible. I merely tried to bring more realism and detail to the textures. The only "liberty" I took was with the labels, but I still tried to derive the images from the game whenever possible. The potions have a tag with the alchemy symbol, and the snake on the poison bottles was taken from the original Serpent art. Since I crammed as much into these textures as possible, they should look quite detailed at the 1K resolution. For those who can handled it, the 2K version will offer greater detail at high resolutions and closeup viewing.
I hope people enjoy this new addition to my Rustic series of retextures.
Cheers,
Gamwich