Description
Last updated at 18:40, 3 Apr 2015 Uploaded at 7:00, 31 Jan 2015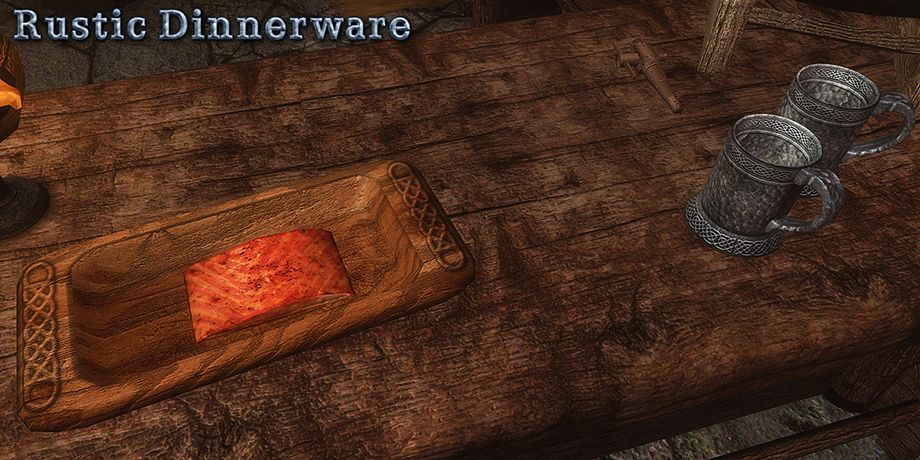 RUSTIC DINNERWARE
is a retexture of the basic plate, wooden platter, bowl, and cutlery, as well as the tankard and flagon.
This mod consists of three different sets of textures. The dining set textures are asked to do a lot in the game. Frankly, I'd say too much. This single texture set (diffuse, emittance, and normal map) has the tankard, wooden platter, wooden bowl, basic cutlery, and basic plate all crammed into it. Even at 2K resolution, there's only so much detail you can get into that many pieces. Something has to suffer, and the item that's harmed the most is the tankard.
Because the default tankard mesh is so poor, and only 1/4 of the dining set texture is devoted to it, there's no way to make the default tankard look decent in game. Therefore, I got permission from Brumbek to make a retexture of the Static Mesh Improvement Mod tankard. I have made SMIM a requirement of this mod for that reason.
Unlike the tankard, Bethesda wisely put the flagon onto it's own texture, so there's no sharing of space. Therefore, even at 1K resolution, you'll see a good amount of detail.
The textures are available in 2K and 1K versions, so choose the one that is appropriate for your setup. I've added a 2K/1K version now, which gives the extra detail of a 2K texture for the diffuse (color) texture, while saving VRAM by having the other textures (normal and emittance) at 1K resolution.
My aim was to bring these everyday items more detail and interest, while remaining lore-friendly. Since the wooden platters, tankards, and flagons are used daily in all the inns and taverns, I tried to give them a worn and used appearance. The flagon, for instance, really looks ragged. The wooden platter exhibits scrapes and scratches from the rough cutlery. These are the rustic everyday items of a people who work hard and enjoy the simple things in life... good food, and good drink.
I hope people enjoy my little addition to Skyrim.
Cheers,
Gamwich
UPDATE 2/1/15:
Per request, I added a non-SMIM version for people who don't use the Static Mesh Improvement Mod, but still want to use the other textures. You'll get the tankard that's part of the dining set texture instead.
UPDATE 2/5/15: Per request, I've added a texture patch for Hoamaii's Wine and Beer in Tankards mod. This gives the appearance of the SMIM tankards being filled with a hearty beverage. This patch is just for the beer version.