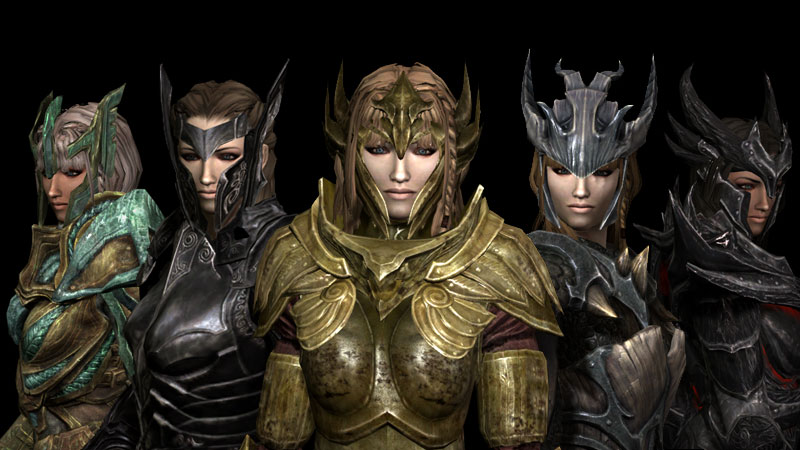 Single ESP and beast race compatibility by CyrusFyre -->
http://skyrim.nexusmods.com/mods/35080/?
[size="4"]Crown Helmets[/size]
-Adds to the game craftable crown-like helmets of various armors.
-Beast races are not compatible.
-All of the crowns are craftable and temperable standalone helms.
-Modular install, each crown is a separate ESP so you can choose which you like and which you don't.
-Uninstall first any previous versions of the mod.
-Any problems or bugs let me know.
2.5A
-male version added for all crowns
-fixed some clipping issues in some crowns
2.4A
-added glass crown, dragonplate crown,daedric mask/crown and ebony crown.
-all are craftable and temperable standalone crowns.
-dragonplate crown based on the jagged crown mesh
2.3A
-added female only glass crown, dragonplate crown and daedric mask, all beta replacers far from final release, just a test, male helms wont show correctly using this beta replacers.
2.2A
-the crown its now craftable under the "Dragon" category in the forge.
2.1A
-removed male version.
-complete remodeling of the crown.
-no clipping with vanilla hair.
-does not replace vanilla dragonscale helm (standalone version).
2.1
-Now works in all male human races, male elves and orcs.
2.0
-fixed floating horns when seen from behind.
-cleaned mesh.
-adjusted mesh to be more close to the face (not recommended for "big" hair styles see pics).
1.1
-Now works in all female human races, female elves and orcs.
Bugs
-Texture problems when seen from behind in version 1.0, not noticeable if using a big hairstyle.
Recommended Mods:
Somewhat Skimpy DragonScale Armour by Ketwaroo D Yaasir
CBBE Daedric Female by Laxi2610
A sexy glass Armor for CBBE - NKT by Nikitaa
Killer Keos Skimpy CBBE V2 Armor Set
Credits.
Special thanks to
mlandstreet
for making the crown craftable, kudos for you!!!
Thanks to Ketwaroo D Yaasir for inspiring me to do this.
Thanks Dragonporn for the saint seiya style pic lol.
Thanks Bethestha and stuff.