Description
Last updated at 3:34, 23 Apr 2016 Uploaded at 0:51, 20 May 2014
VERSION 2 HAS RESUMED ACTIVE DEVELOPMENT!

After a few months of having to move and such, I have resumed active development of Torvus, as well as it's companion applications, Torvus: Fallout, and Torvus: Obvlivion. I am preparing this application for the next Elder Scrolls game when it comes out. 
SKYRIM MODDERS! I am adding the following mods to the Torvus Item Lists. I will be expanding the list by the day! If you are a modder who would like one of your mods in Torvus, see below.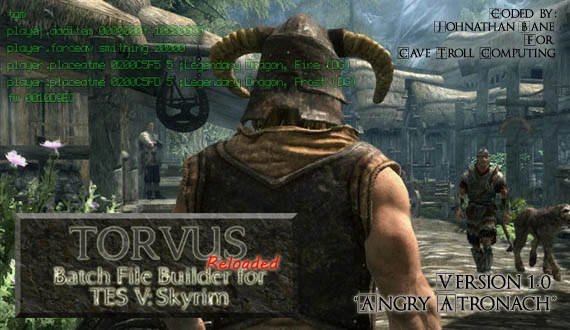 MOD DEVELOPERS READ HERE
If you're a modder who would like your mod's items in the next Torvus Release, here's what I'll need.
Shoot me an email at
[email protected]
, with the subject line "Torvus Addon Include: -the name of your mod-". In the email I'll need the following.
The URL of your add-on, Steam is alright as well.
The names.TXT file, containing all of the entities for your add-on, attached to the email. (Don't worry about sorting and making it purty, I'll parse it myself, see below.)
I need to know what the actual plugin filename is, so that Torvus can search for it at runtime to check if it exists.
Anything else I need to know about it.
WHAT WILL HAPPEN TO THE INFO YOU GIVE ME?
The download link will be included in the program itself and you will be given credit for the addon (obviously).
I will use a program I wrote called TRICPPT (TrickPuppet, or the Torvus Reloaded Integrated Custom Plugin Processing Tool) that will rip your names.TXT file to s**t and parse it to a configuration that Torvus can use. 
It will be added to a special custom folder within Torvus' main data folder. 
HOW DO I PREPARE THE NAMES.TXT FILE?
Open Creation Kit.
Load your plugin, and any other needed plugins. (TRICPPT will strip away the stock Skyrim Data, so now worries.)
Go to File > Export > Names.
Save the file it spits out, I usually name all of mine 'names.TXT'. Provided it's obvious what it is, I don't need any standard name. 
Send me that file. 
Any questions, shoot me an email, or post on this page. 
Cheers,
Bane
ABOUT TORVUS RELOADED BATCH FILE BUILDER FOR TES V: SKYRIM
Torvus is THE batch file builder for Skyrim. Supporting targeted scripts and a whole bunch else, you'll spit out a batch file capable of putting any mod to the test. As of 4/21/16, Torvus has been renamed Torvus Reloaded, as it is far better and far better designed than its predecessor. Along with the newly designed interface, TR contains support for better targeted scripts as well as more commands. IncPcs command is selectable in the menu and just general fixes. Also included is a logging subroutine that records just about everything the program does in case of a bug. There is an option to view the log in the Help menu.
PLEASE DL AND ENDORSE! :) Thanx!
ABOUT TORVUS CONSOLE INCPCS UTILITY

So, I',m debating on tinkering with a console (command line) version of Torvus. I dunno. But, I did do this one. Although useless, it did make me think that it might be a neat idea. click spoiler to find out how much of a waste of time it was. lol
Update Entries, click Spoiler...
In order to accomplish the new release, Torvus is going to be completely redesigned from the ground up, and I have a few more surprises in addition to what I've already listed here for new features.
Would be nice to develop this application professionally for Bethesda Softworks to be incorporated into the next Creation Kit... Todd Howard, I'm looking at you, good sir... As always, bug reports and suggestions on the forum below or hit me up at
[email protected]
Breath and Focus,
Bane


------------------------------------------------------------------

Can YOU think of a feature that Torvus lacks?
Shoot me an email at
[email protected]
or leave a post on the discussion below. I really want to make this program better.
The current version has a custom list editor, searchable lists as well as other bells and whistles. Any bugs post in the discussion threads or send me an email.
[email protected]