About this mod
My first mod, 3 containers in Helgen keep (The room where poor Gunjar has died) that contains equipment sets for Rangers (sneaks) and Spellcasters to better be equipped. Ranger (Thief), Mage and some potions. Now taking requests for additions...
Permissions and credits

Changelogs

Donations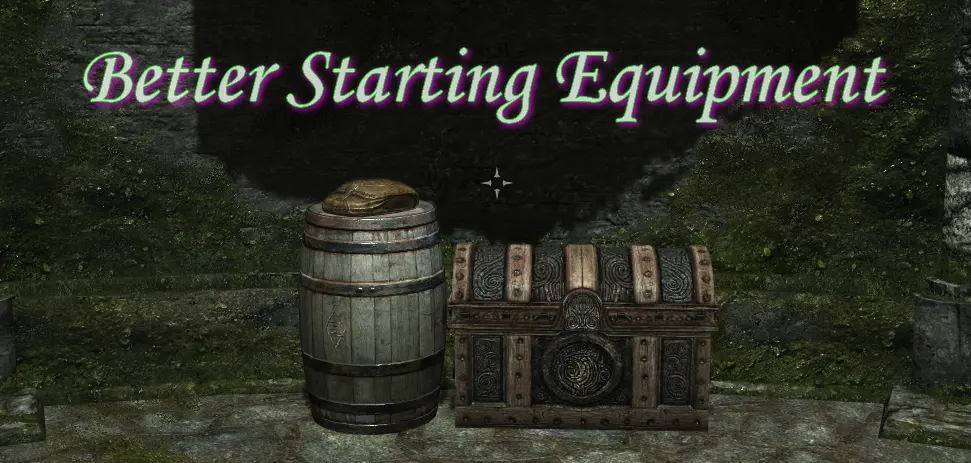 I will take requests for other versions of these and upload them!
This is my first mod. I wasn't very happy with the starter sets out there (although there are a couple of very good ones) so I thought I would get my feet wet by making a starter set of chests.

They are in Helgen keep in the room where poor Gunjar died so either way you go (Stormcloak or Imperial) you will gain access to them.

Please by all means make suggestions or offer hints and tips.
On to the contents:
Rangers Stash:
2 Steel Daggers
Long Bow
40 Iron Arrows
Leather armor set
10 Lockpicks
Rangers Stash:
 <--
(Dawnguard Edition)
2 Steel Daggers
Steel Crossbow
40 Steel Bolts
Leather armor set
10 Lockpicks
Mages Chest:
Novice Robes of Destruction
Staff of Flames (Super basic model only does 8 damage)
A Novice Spell Tome from each school:
Candlelight
Clairvoyance
Frostbite
Lesser Ward
Raise Zombie
Potions Satchel:
4 Potions of Minor restore Health
4 Potions of Minor restore Magicka
4 Potions of Minor restore Stamina
2 Weak Poisons
(This file was tested with TES5Edit and has no issues) Also will merge nicely with almost any other mod!
Kelsenellenelvians' Mods
<---- Check my mods list!