Description
Last updated at 11:40, 2 Apr 2016 Uploaded at 7:49, 1 May 2014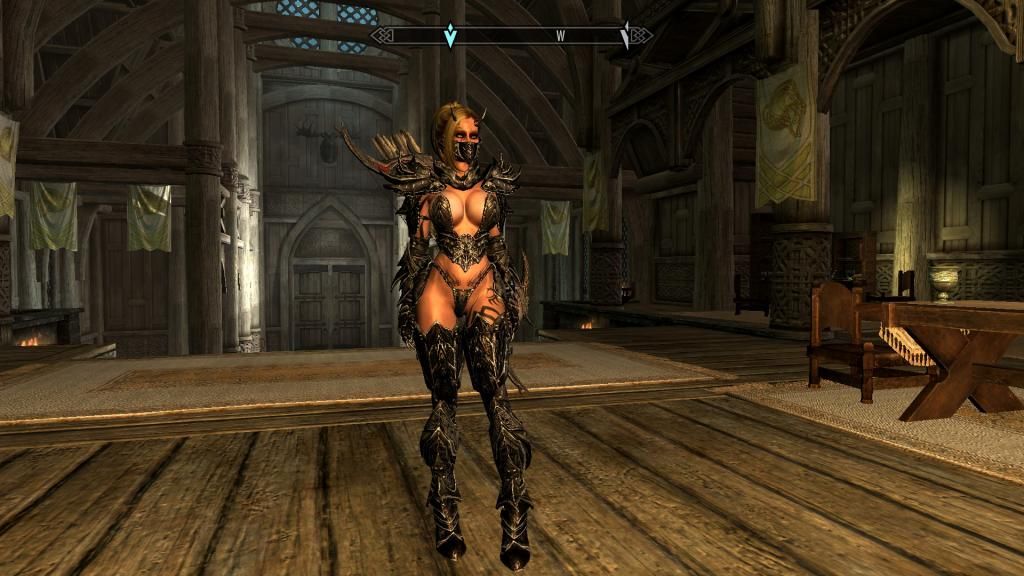 The armor is now craftable, upgradable, and enchantable. The craft materials are the same as the vanilla daedric armor.
=======
important
=========
The Face mask may look a bit off depending on the position of your nose.The mask was designed around my characters face, so the results may vary.
Another thing i feel that i should mention is the similarity between my mask and the one created by pnkrd at
Crown Helmets
are 2 different models...same idea just different meshes. Should i be crediting him for the idea or am i safe?
Added a new set of standalone light armor for sevenbase bombshell
Its somewhat skimpy but not too skimpy and Its fitted to sevenbase bombshell.Including some remodeled daedric boots for use with HDT high heels.The armor has the same stats as dragonscale.
Go easy on me=P...this is my 1st armor edit.All vanilla assets with the exception of the foot model and a few things created in blender.
This is a rough remodel and FAR from perfect. I did my best to hide clipping and gaps.
==========
Installation
==========
1. Extract the meshes and texture folders to SkyrimData folder.
activate the esp
=============
Requirements:
=============
UNP compatible skin textures
HDT High heels
is the only requirement otherwise your feet will be below ground level.Hdt is not directly tied to my mod but its still
needed to set the height. Anything between 6-8 looks fine, I use 7.5
XP32 Maximum Skeleton -XPMS
for the BBP/TBBP animations to work or XP32 Maximum Skeleton Extended, google it. This is the one i use.
==============
Recommended
==============
The textures that i used in the screens.Some retexture might not look good with the design.
Daedric Reborn by RedDaimyo
============
Where to find?
============
The Armor is inside a chest in the Qasmoke instance. Type coc qasmoke in the console
If anyone wants to make them craftable/upgradable...feel free.
They can be crafted aswell.
BIG thanks to Johnnyred at LL for making the armor weight slider compatible...without his help, i would have broken my keyboard and it would only be one size=D
========
Credits:
========
If i missed anyone, please let me know
Crosscrusade DeMoNhUnTeR1986 Sevennity for the sevenbase body
Sevenbase Body replacer
Petrovich at
UNP Boots 03 by Petrovich
for the foot model used for the boots. Open permission given on the front page.
sunhawken for the chainmail texture
Daedric UNPB BBP and BBPx
lati100 for the lava texture
Lava Textures
zzjay at
KDCirclets Redone by zzjay
for the Headband mesh. Open permission given.
Bethesda soft for making skyrim and the models and textures used