Pets Kingdom Version 3.5 (Wild animals + Companions)
Rats, Cats, Dogs, Rabbits, Turtles, Beavers and Raccoons invaded Skyrim !
DLC Dawnguard Required for the versions 3.1.1 and 3.5 (NO DLC for the "old" version 3.0.1)
This mod is a merging of my mods:
Beavers and Raccoons of Skyrim
Rabbits Kingdom
Dogs Kingdom
Rats Kingdom
Cats Kingdom
WARNING: If you install Pets Kingdom, you must uninstall these mods !
In the Miscellaneous files, you have an "Esp for Pets Kingdom 3.5 without Turtles"
If you want to be accompanied by SEVERAL companions, it is possible with the mod
Amazing Follower Tweaks by Dheuster
With
Sokco's Guild Starter
you can recruited up to 10 guild members in your home (aka headquarters)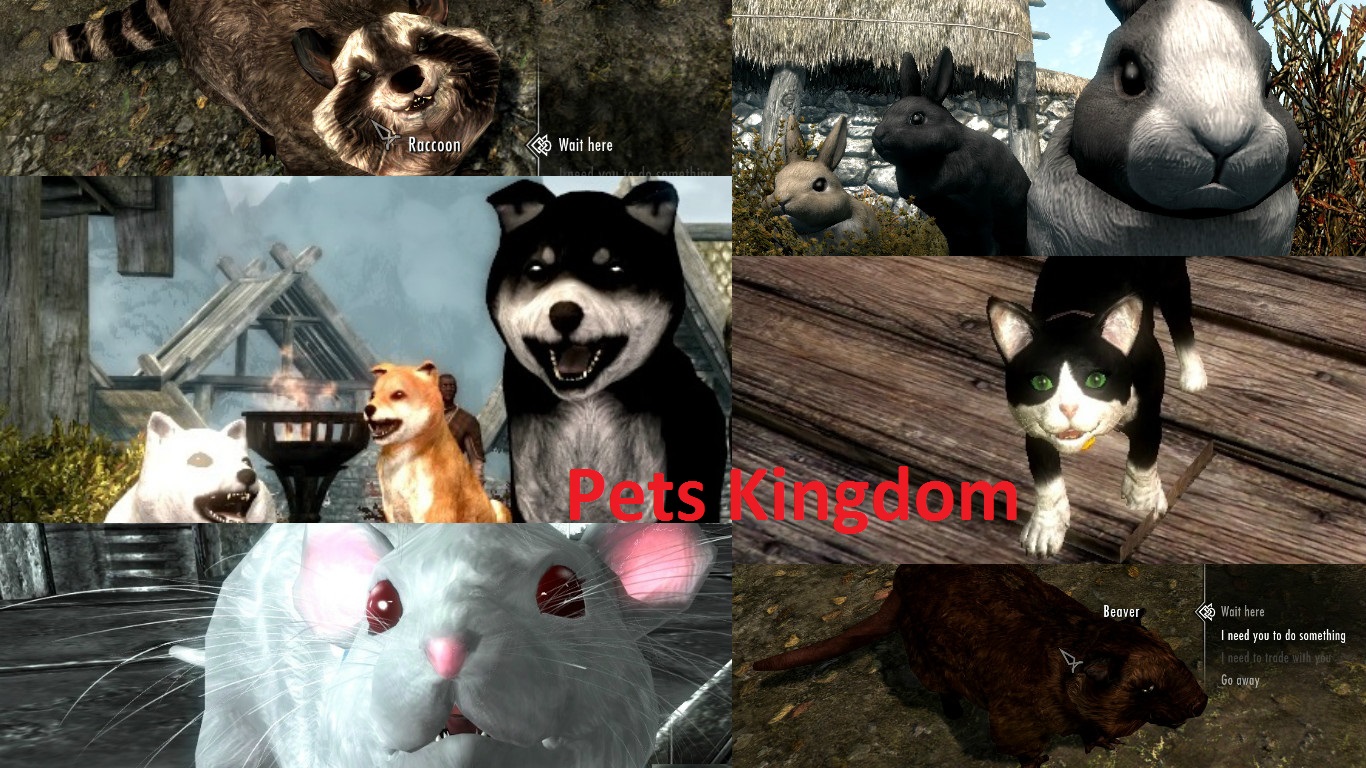 BUGS or PROBLEMS
You must put this mod at the bottom of the list, when you launch the game for that the cats don't walk with sounds like mammoths or elephants
No Favor option (in the conversation box) with the dogs (not the Huskies or the German Shepherds)
You can only have one Follower at a time: if you want a different one, you need to dismiss the first one before you recruit them.
If telling the follower to return at home (With message: "Your companion heads home") doesn't dismiss him, or if you have lost the active Follower, you can try this:
Type "²" or "`" or "~" key to get into console, and type:
set playeranimalcount to 0
With Amazing Follower Tweaks, or other mod with followers, if problem to dismiss the followers, you can uncheck this mod (AFT or other) when you launch the game
If problem with the Dialog Box of the followers/ companions (Wait - Follow - Trade - Favor - Dismiss) you can also enter / exit a house or make a fast travel
The turtle has its lower jaw that advances slightly, and moves making a sound of ... mammoth !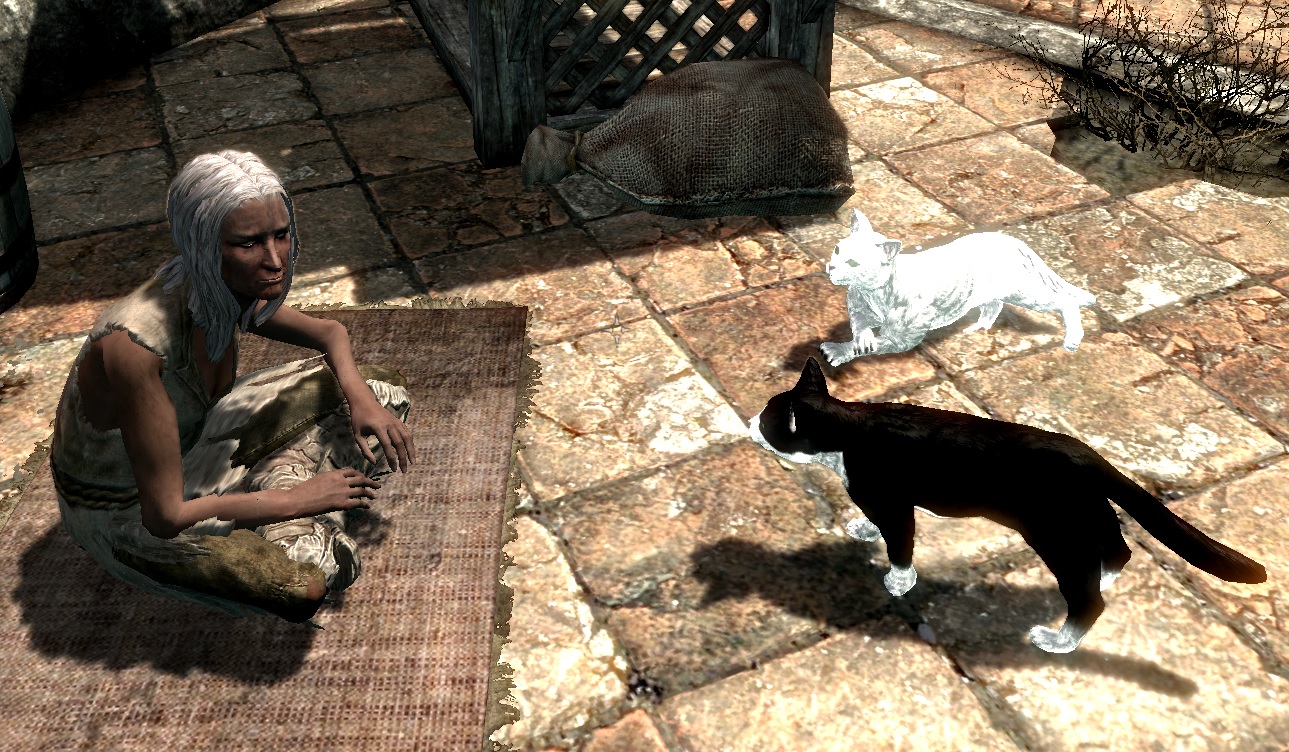 CATS
Wild (non hostile) cats and Companions invaded Whiterun, Solitude and Riften
New House Cats (Companions) in Breezehome (1), Honeyside (1) and Proudspire Manor (2)
DOGS
Wild dogs (34) and Companions (21) invaded Morthal, Dragon Bridge, Dawnstar, Karthwasten and Helgen (surroundings)
New Huskies (13) and German Shepherds (3) near Solitude (also in the Blue Palace), Markath (also in the Understone Keep), Riften (also in the Mistveil Keep), Windhelm (also in the Palace of the Kings), Whiterun (also in the Dragonsreach Great porch and Breezehome)
RATS
Wild (non hostile) rats (298), Companions (32) invaded Markath with the Grey Breed (Also in the Cidhna Mine), Windhelm with the Albinos Breed (Also in the Hall of the Dead), Ivarstead with the Brown Breed (Also in Shroud Hearth Barrow -Nordic Ruin-), Shor's Stone with the Light Brown Breed (Also in Redbelly Mine), and Riften with the Black Breed (Essentially in the Ratway)
RABBITS
Wild rabbits (72) and Companions (18) invaded Falkreath and Rorikstead
You have also the Kanra's followers (23) IN (Alvor and Sigrid's House - Sven and Hilde's House - Sleeping Giant Inn) and NEAR Riverwood
And 5 Bunny Toys in Riverwood (Merchants: Lucan Valerius - Orgnar + in the Alvor and Sigrid's House + in the Sven and Hilde's House + in the Sleeping Giant Inn)
RACCOONS and BEAVERS
Adds Beavers and Raccoons along the Streams/Rivers/Lakes of Skyrim, and around: Wild (38 Beavers + 24 Raccoons) + Companions/Followers (16 Beavers + 12 Raccoons)
TURTLE
(ARMIES of TURTLES)
This mod adds the ability to quickly incubate eggs of Turtles with the fire of the forge, and quickly create a horde of Turtles (5, 15, 50, 100 ...MORE ?...ATTENTION with the freezes in your computer !) that are following you as if you were their mother !
To obtain these Turtles eggs, simply bring any " Turtle Egg " (found with some Merchants in Falkreath :
Volga Vinicia of the Dead Man's Drink, Solaf of the Gray Pine Goods, Zaria of the Grave Concoctions
) to a forge and create the "Incubated Turtle Egg" in the "misc" section. Now open up your inventory, navigate to "Scrolls" and there they are. You throw them and when they hit the ground they hatch into Turtle . The Turtle follow you.
When your creatures die, remember to loot their corpses for more eggs
You have also (7) Wild Turtles in Falkreath
CREDITS
HISSSSA for the Meshes/textures of these cats (with some sounds) in his mod
hs-cat
Blog of Hissssa
Testiger2 and XP32 for the mod:
Sabrecat Idle Animation Fix
("Permission : Free according to original tweaker/modder -testiger2-")
gothic2392/ 530gothic25 for the meshes/textures of Beaver, Raccoon, in his mod
Skyrim Wildlife Overhaul
("give me credit at least")
KANRAx2 with his Mod:
yurufuwa rabbit
("Modders resources and tutorials") for the meshes and the textures of the rabbits, and the mod
Kanra Follower
+
kanrafollower_addon
;
Blog of Kanra/Sala mitzha
Garnet/flintone for the
Bunny Toys
HISSSSA for the Meshes/textures of these dogs in his mod
hs-dog
Aenkill for the textures of the different colors of Huskies (Brown,Grey,Alternative Grey,Pale Brown,Dark Brown,Black) in his mod
Husky HD Recolor - Bran and Sceolang replacer
("You are allowed to use the assets in this file without permission as long as you credit me") (+ the team: MangoMonkey "Unique Huskies Patch" and fix for "No Armors" mod; Edg3k tongue texture; Proxe -blenderartists.org- eye texture base). PlagueHush for the retexture of the mod of Aenkill
Husky 2k Variants - An Automatic Variants Package
"With Aenkill's permission I've repaired the alpha channel holes in the original textures, darkened the glowing white of the husky undercoat to something a little more realistic (and that works better with ENBs)" ("Just give us both credit")
cansu for the texture of the German Shepherd in his mod
GermanShepherd
("you can use it anyway you like")
The mesh of the new German Shepherd is from kgleaton01 in his mod
Judah Working Dog
tumbajamba for the mesh of the New Armored Husky (« i decided to upload all my unreleased mount models as a modder resources ») in his mod
Armored SabreCat Mount
HISSSSA for the Meshes/textures of these rats in his mod
hs-rat
with a
patch
SpikeDragonLord and jboyd4 for the Turtle in the mod
Beasts of Tamriel
(« you can use it but only if its in one of your pre-existing mods »)
Mihail Romanov for the House Cat in
House Cats- Mihail Monsters and Animals (mihail immersive add-ons - pets- witcher)
(Also CD PROJEKT RED for the Witcher and LorSakyamuni to convert the cat)
Free sounds :
universal-soundbank
-
Sound Fishing
-
lasonotheque
-
soundbible
-
freesfx
-
xeno-canto
Video with Pets Kingdom SE
(Mod 1): (Thanks to S.Silin/Ikari)
->->->->->->->->->->->->->->->-><-<-<-<-<-<-<-<-<-<-<-<-<-<-<-
Video with Pets Kingdom SE
(Mod 2: 7'08''): (Thanks to Cam Robinson and Seb Ford)
->->->->->->->->->->->->->->->-><-<-<-<-<-<-<-<-<-<-<-<-<-<-<-
Video with the Pets
(Cats/Rats/Dogs/Rabbits - Kingdom):
->->->->->->->->->->->->->->->-><-<-<-<-<-<-<-<-<-<-<-<-<-<-<-
The pets of my mod are beautiful in this video from 2'53'' to 4'23'' (Thanks to laiilaiiheii /Just Call Me Frosty)
->->->->->->->->->->->->->->->-><-<-<-<-<-<-<-<-<-<-<-<-<-<-<-