File information
Created by
Gamwich Lycanthrops Saerileth
About this mod
This mod adds precious engagement rings to Skyrim, which can be purchased from Madesi, the Argonian jeweler in Riften. The default rings have tiny stones, that are unworthy of an engagement ring. Version 2.0 with all new meshes and textures.
Permissions and credits

Donations

REAL ENGAGEMENT RINGS adds precious engagement rings to Skyrim, which can be purchased from Madesi, the Argonian jeweler in Riften.
Version 2.0 is a complete overhaul, with new meshes (courtesy of the amazing Saerileth), new textures and a new placement of the ring. It is know worn on the ring finger of the left hand as is traditional. These gemstones are truly reflective and transparent now. You need to see them move in game to fully appreciate the effect.


It's bad enough that Skyrim has this silly amulet of Mara custom to hang out an advertisement that one is "available" for marriage, but there is no proper engagement ring for your intended either. Sure, you could always use one of the standard gemstone rings, but lets be frank, they make terrible engagement rings with those tiny stones that don't even look like a gemstone.
This mod was originally inspired by the Vilja in Skyrim mod... my all time favorite companion (and favorite Skyrim mod period). Vilja now has the option to marry, so Emma added purchasable engagement rings to her mod. I felt that the default rings just didn't do justice to the idea of a true engagement ring. It should be something more beautiful and valuable than the run of the mill gemstone rings.
I found that the unused Ring of Khajiit would be a good staring point to craft a worthy Engagement ring for Vilja. I created new ring textures for 4 versions of the engagement ring, diamond, emerald, ruby, and sapphire. The only problem, was that I don't have any experience working with meshes or the CK, so I enlisted the help of Saerileth and Lycanthrops, who were kind enough to pair my textures with a revised mesh and esp. I wouldn't have been able to bring this mod to light without his invaluable assistance.
Though this mod was originally intended for the Vilja in Skyrim mod, I realized that other people would like to be able to have an engagement ring as a standalone item. So, that's what I decided to do. I hope everyone enjoys this little addition to Skyrim.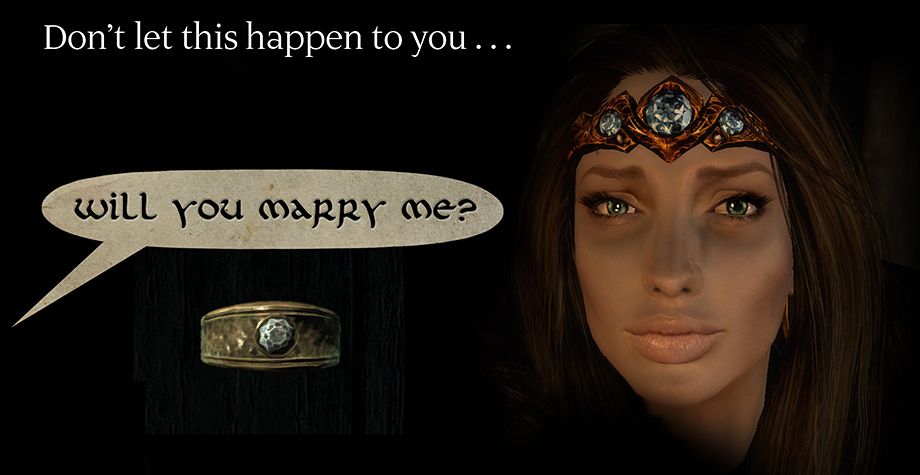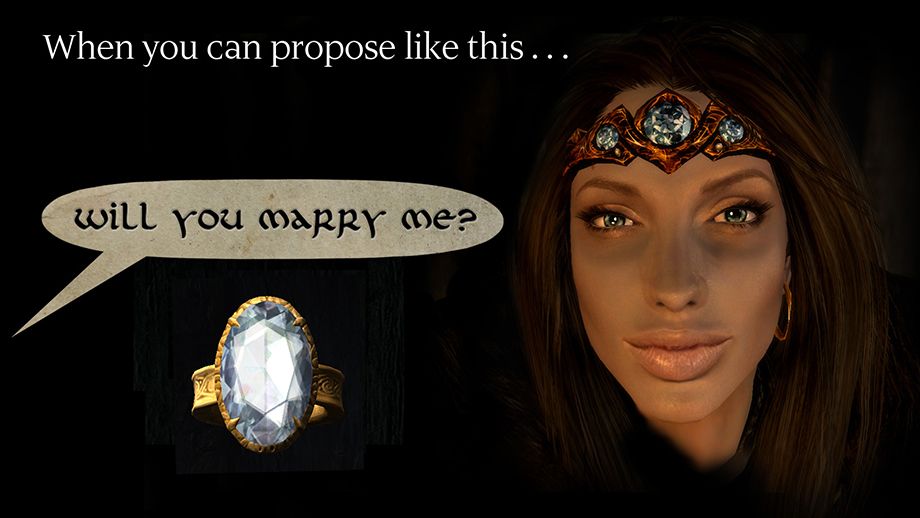 If you're one of those people who just gets married for the sleeping bonus, a home cooked meal, and somebody to sell a few trinkets for you, then you'll probably not have use for a mod like this.
For people who felt the whole Skyrim concept of marriage was a bit lacking, you may appreciate what this mod is about. Marriage is a big commitment, and the engagement ring is a symbol of that. It's expensive for a reason, it shows the seriousness of the proposal. Likewise, these engagement rings are pricey, as the large gemstones would be rare and very expensive in Skyrim.
If you really want to show you care, then enchant the engagement ring with heath regeneration (or other suitable enchantment) for your intended spouse.
Installation: Use NMM, or to do manually, merely unzip the file and install it into your Data folder in your Skyrim game folder.
The file path is [C]Windows > Programs Files or Program Files (x86) > Steam > SteamApps > common > Skyrim > Data.
Uninstall: Deactivate with NMM, or just manually delete the mesh and texture folders, along with the .esp file.
Enjoy!
This mod may not be posted to others sites, or used for other mods without my permission.