Description
Last updated at 10:32, 16 Aug 2013 Uploaded at 10:32, 16 Aug 2013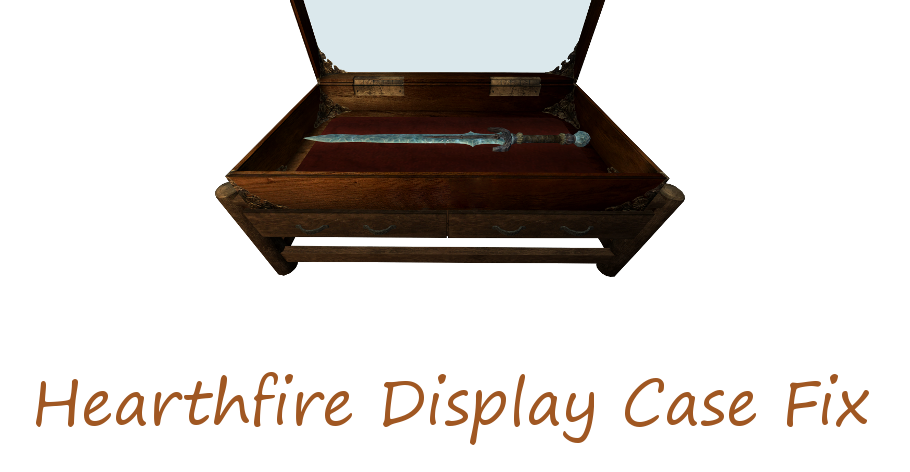 Description
If you are like me you probably hate how you have to drop your weapons in the Display Cases. Then you have to fiddle with getting them to look right and half the time they don't even stay. Here we are, the Dragonborn, we kill Dragons, werewolves, bandits and we look cool doing it. We get the hottest girls or we are one, yet placing weapons in the Display Cases has crippled us. Well I say no more. Now you can display your weapons with ease and style.
All cases have been fixed in all three homes. Does not matter which wing you choose on which house.
Obviously it requires Hearthfire so don't download if you don't have it. I would recommend getting your weapons out of the ping pong pits before you add this file. I am not responsible if the cases gobble up your weapons by not following directions.
Enjoy
Known Issues
Nothing is broken and nothing was touched other than the Display Cases. So no worries, this mod is 100% clean.
Conflicts
Could conflict with other mods that add or change Hearthfire Homes.
Load Order
I load it right after the Unofficial Patches.
Install/Un-install
Use Nexus Mod Manger (Recommend).
To manually install unpack to your data directory, located in your steam directory.
To uninstall just reverse.
Current Version =1.0
1.0 - File Uploaded.