File information
Created by
Anduniel
About this mod
Vanilla voiced creature followers: Spriggan, Flame Atronach, Wolf, Giant, Wisp/Shade, Dragon
Permissions and credits

Changelogs

Donations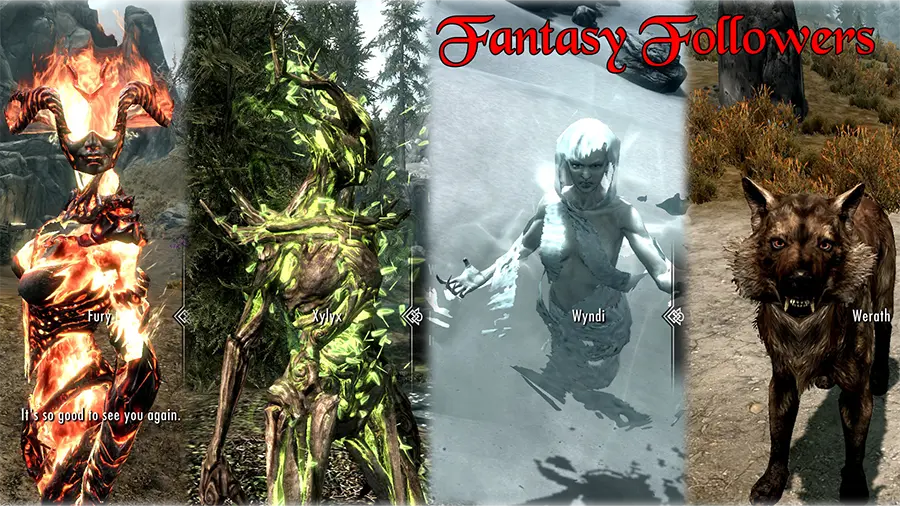 ENDORSE if you like it!! :) Rated 5-STAR ***** on Steam.
Steam version here
Always TES5Edit-cleaned before each upload - no dirty edits!
Purely vanilla, so should have no conflicts
Requires only Skyrim & Update esms."Fury" the Flame Atronach
- Fellglow Keep
FelloglowKeepExterior02 (map marker)
Voice type: Female Sultry
Spells: Flame Atronach and fire magic
"Dark Shade" the Necro Priest
- Skytemple Ruins (behind locked door)
SkytempleRuinsExterior01 (map marker)
"Dez-Ahmit" the mini-Dragon
- Bonestrewn Crest
BonestrewnCrestExterior06 (map marker)
Voice type: Male Drunk
Spells: all dragon shouts
"Data" the Dwemer Spider
- Deep Folk Crossing
DeepFolkCrossingExterior01 (map marker)
"Grawp" the Giant
- Sleeping Tree Camp
SleepingTreeCampExterior01 (map marker)
Voice type: Male Brute
"Xylyx" the Spriggan
- Clearpine Pond
ClearpinePondExterior01 (map marker)
Voice: Female Dark Elf
Spells: All the Spriggan spells and abilities, plus specializes in Frost and Poison magick.
Perks: Stealth, Lightfoot (will not set off traps, will not affect Stealth meter)
I removed the annoying buzzing sound that other spriggans have (no swarm of flies following you around!)
"Wyndi" the Wisp
- Frostflow Lighthouse
FrostflowLighthouseExterior01 (map marker)
Voice type: Female Young Eager
Spells: Wisp magic, Frost magic, Conjure Frost Atronach, Healing
"Werath" the Wolf
- some Nord puzzle ruins west of Whiterun
POITundra14 (map marker)
Voice type: Male Argonian
Interiors:
"Scout" the Chaurus
- Cold Rock Pass
ColdRockPass01
"Mummy" the Draugr Overlord
- Silent Moons Camp
Last room, next to exit ladder
SilentMoonsCamp01
Completely Vanilla
Works with AFT, UFO, EFF, FCO... ad nauseum!
No scripts, no bsa, no loose files.
Safe to Install/Uninstall as you please.
No, not marriageable. That's just weird.
My other mods:
Anna NPCs
Anna's Riverwood Cabin
Become A Bard: Anduniel Expansion
Druid Conjuration
New Cooking Recipes
(regular and Heathfire options)
Silver Falls Lodge: A Hunter's Retreat
Simple Divorce
Marlin King: Player Boathouse
Modding Tutorial: Adding Unique Voices to Characters
If you enjoy my mods, please consider supporting me on Patreon!