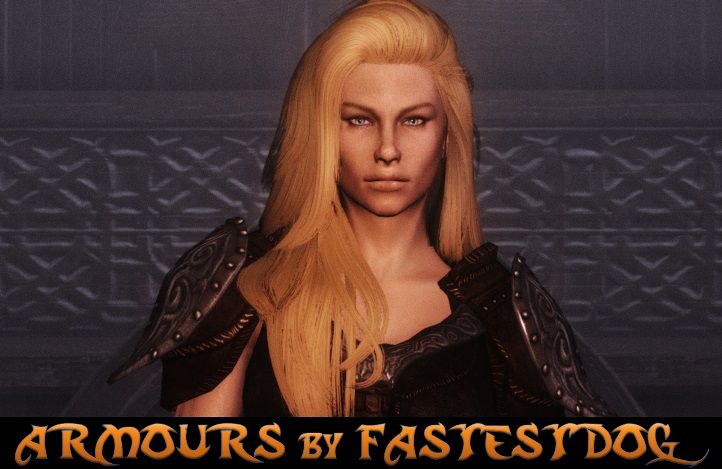 Welcome to ARMOURS BY FASTESTDOG for the excellent SeveNBase body mod!
This is my very FIRST armour mod - so I'm sure you'll understand if it's a little rough around the edges! Over time, more armour items will be uploaded here, so be sure to check back regularly for updates - there's sure to be a few of them!

These armours are made using the
SeveNBase
Original and Cleavage meshes. The earlier individual releases (mainly 2013) are also BBP-compatible if you use the SeveNBase TBBP meshes, or even just a BBP skeleton (*see SeveNBase main page for recommended skeletons). Where possible, I use the Vanilla skeleton, but I am converting these armours (slowly) over to
GROOVTAMA's XPMS EXTENDED
.
For best results, I really do recommend you choose
GROOVTAMA's XPMS EXTENDED
. Later individual releases, and the combined packs, are not breast-weighted & will not bounce (UNLESS YOU USE HDT. DON'T WANT BOUNCE? DON'T USE HDT). I do not recommend standard (obsolete) XPMS or Skulltyrant's skeletons for use with any of my armours.

Just click the NMM button. For manual install, download & then follow the file path.

- SEVENNITY for creating the awesome SeveNBase mod!
- DeMoNhUnTeR for all his help & patience in dealing with my ceaseless queries!
- Wast for likewise being unfailingly helpful!
- A BIG thanks goes to all the other members of the SeveNBase crew, along with many, many others who helped me learn how to begin modding armours!! Thank-you!!
- The Almighty Vioxsis, whose help with 3dsMax has been INVALUABLE! Without Vioxsis, quite a few of these armours would not exist.
- MAK07 for allowing us the use of his materials!
- Groovtama, for putting up with my inane queries!
- Brokefoot for not (yet) breaking my feet!
- MissLexi for uploading so many awesome images to my galleries, and for her encouragement! :)

Q: "How did you make that character who is modelling the armour?"
A: Y'know, I'm glad you asked! All models shown in my pics are made using my PRESETS MODS! Just click on the banners below, and check out my profile gallery for more! :)
Q: "Are you REALLY the head of the Kwik-e-Mart?"
A: No.
Q: "Really?"
A: No.
Q: "No?"
A: No. I hope this has been enlightening... :)