The Cosmos - Lite
Skyrim » Environmental
Added: 15/05/2013 - 02:29AM
Updated: 15/05/2013 - 12:52AM
Description
Last updated at 0:52, 15 May 2013 Uploaded at 2:29, 15 May 2013

The Cosmos replaces the default Skyrim galaxy with a a new hi-res texture that is compromised of galaxy photographs taken by the Hubble telescope. I combined them together to create a more interesting replacement for the Skyrim default galaxy, to make nights more beautiful.
Note: The Cosmos - Lite will vary in appearance, according to your lighting conditions. Any ENB or lighting mods will affect how the night sky appears on your system.
Recommended: For an even more beautiful night sky, pair my mod with Vibrant Auroras by SparrowPrince.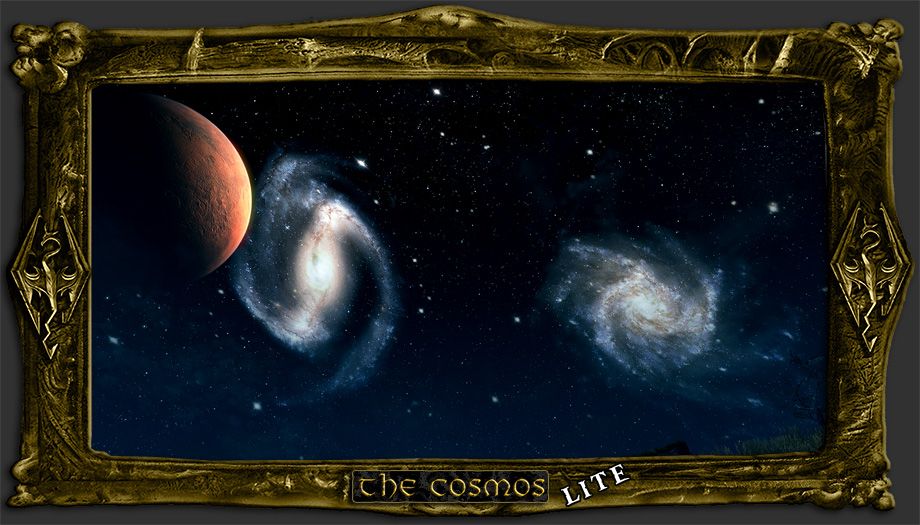 If you found the original The Cosmos mod too much eye candy for your taste, then this more retrained version may be to your liking. Give it a try and see if you like it.
Installation: Use NMM, or to do manually, merely unzip the file and install it into your Data folder in your Skyrim game folder.
The file path is [C]Windows > Programs Files or Program Files (x86) > Steam > SteamApps > common > Skyrim > Data > Textures > Sky
Uninstall: Deactivate with NMM, or just manually delete (or overwrite) the skyrimgalaxy.dds file.
Enjoy!........ and don't forget to endorse, if you like the mod. It helps me to know if my efforts were successful (or not).
This mod may not be posted to others sites, or used for other mods without my permission.