Description
Last updated at 21:26, 18 Jan 2013 Uploaded at 10:49, 18 Jan 2013
Wuuthrad | 1h | 3 versions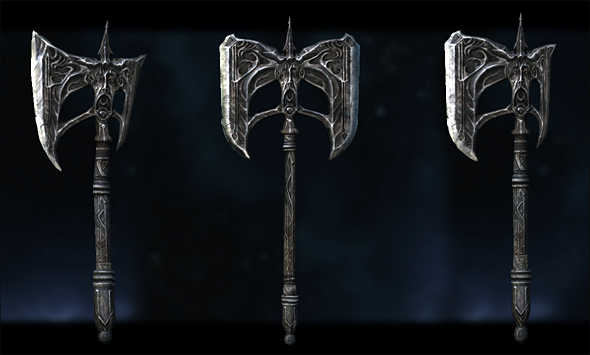 Skyrim 1.8+
This mod is based on an user request:
http://forums.nexusmods.com/index.php?/topic/889203-one-handed-wuuthrad/
INSTALLATION
Download file, open archive, drag&drop both folders and Ghosu - Wuuthrad1h.esp to ...Skyrimdata
This mod adds new one-handed versions of the vanilla 2h Wuuthrad axe to the game, based on the original textures with adjusted meshes. Craftable at forge (steel items) OR open console,
HELP WUUTHRAD
, this command will show you 3 versions (A&B&C) with an item code,
PLAYER.ADDITEM code 1
to add it to your inventory - dmg based on Daedric weapons.
I'm taking a break from my own mod projects, just picking up small requests like this from time to time when i'm in the right mood so pls don't flood my mailbox. This mod is based on a single user's request, he is happy with the mod - i won't change or add anything by request, but share it just in case someone else wants to use this version as well.
greetings
Ghosu