Nord Follower - SarLia
Skyrim » Companions
Added: 26/12/2012 - 11:09PM
Updated: 26/12/2012 - 11:15PM
Description
Last updated at 23:15, 26 Dec 2012 Uploaded at 23:09, 26 Dec 2012
This is my first posted mod although I have a few that I use myself.
I created Sar'Lia as a complement follower to Lydia, one that is more range combat oriented and mostly stays out of the way, given Lydia just dives right in. Sar'Lia is that follower for me.
Sar'Lia is a Nord available in the Sleeping Giant Inn in Riverwood at no cost. Her combat preference will veer towards the Arcane, but not until higher levels. Until then, she will tend to favor the Bow but can (and will) also mix it up close and personal if required.
Full stats and changes made by this mod are listed below. Nothing has been overridden (checked with Tes5Edit). I have been using Sar'Lia as a follower for a few months and have not noticed any quirks, errors or inconsistencies. However, this is with my mods and my mod order therefore there is no guarantee the same can be said for your particular setup. Its always advisable to make a backup save prior to applying any mod and this one is no different.
Installation:
Place Sarlia.esp and Sarlia.bsa files into your skyrim data folder, enable mod in plugins file. Load order should not be an issue given this mod does not change (override) any of the base esm files. If in doubt or if problems are experienced, try loading at bottom of order.
Hair
In order to save memory space, I manually replaced
HairFemaleNord03
with the one from an Apachii pack. If you wish for your Sar'Lia to sport the same hair (as in the screenshots), the procedure is as follows (she will otherwise revert to the Vanilla Hair 3 model):
1. Download
ApachiiSkyHairFemale_v_1_1
2. Extract the following meshes from the archive data\meshes\ApachiiHairFemale\Human\
hair03.nif
hair03.tri
hairline03.nif
hairline03.tri
3. Place above mesh files into
\data\meshes\actors\character\character assets\hair\female\
4. Extract the following textures from the archive data\textures\ApachiiSkyHairFemale\Newsea\
LongBraids_blonde.dds
LongBraids_n.dds
5. Place above textures into the same folder structure as in the archive
\data\textures\ApachiiSkyHairFemale\Newsea\
If you have already installed ApachiiSkyHair and are actively using it, then simply copy the applicable meshes as noted in step (3) above.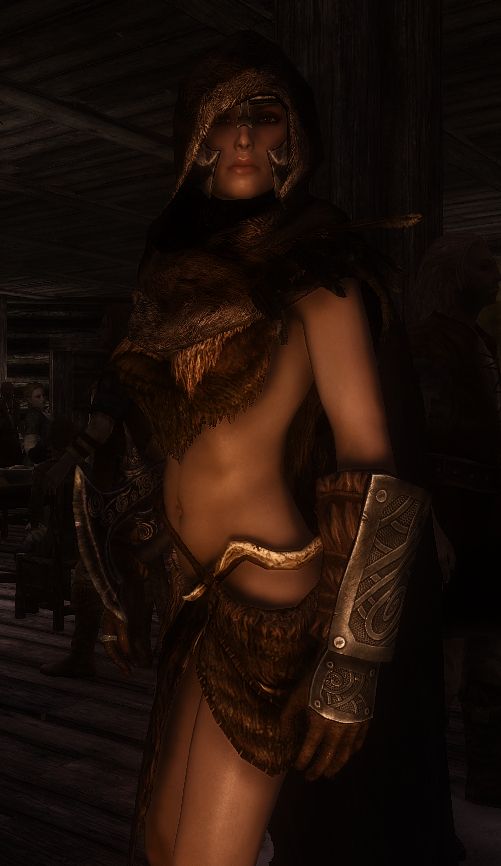 Compatibility:
Mod has been tested with and actively used with
UFO - Ultimate Follower Overhaul
since day 1. Use of any other follower Augmentation mods has not been tested.
Place Sarlia.esp prior to the UFO esps in your plugins file. I believe that I am currently using UFO 1.2g but I cannot attest to that as fact. Follow instructions provided by fLokii when installing and upgrading UFO. Sar'Lia will Sandbox in the current location when dismissed and is not likely to return to the Sleeping Giant Inn, be aware of that given it is often required to dismiss all followers prior to upgrading UFO.
Sar'Lia Stats and Style Summary:
- favors ranged combat (Bow and Destruction Magic)
- will tend to default to Destruction magic at higher player levels. Not exactly sure when the transition from Bow occurs but believe it to be around Level 10
- will heal herself although this is spotty, she has yet to heal me at any time
- prefers Light Armor and will switch to it even if more protective Heavy Armor is in her inventory (seems as though she will switch to heavy armor if the change in protection is drastic enough). She does, however, come equipped with Heavy Armor (what can I say, I liked the looks of it)
- she comes equipped with basic complement of Magica Spells, namely Firebolt, Ice spike and Lightning in addition to the base Restoration Heal and Heal Other
- weapon load-out includes Skyforge Sword, basic hunting bow and 100 arrows
- although preferring ranged combat from the fringes of battle, she will mix it up close and personal if required to do so
Sar'Lia Full Details
Race -> Nord
Unique -> True
Essential -> True
Doesn't affect stealth meter -> True
Height -> 1
Weight -> 50
Voice -> Female Even Toned
Class -> WKSCombatSpellswordDup (new)
Stats:
Health Offset -> 0
Level Multiplier -> 1
PC Level Multiplier -> True
Base Health -> 50
Calculated Health -> 50
Magica Offset -> 50
Base Magica -> 50
Calculated Magica -> 100
Stamina Offset -> 0
Base Stamina -> 50
Calculated Stamina -> 50
One Handed -> 20
Two Handed -> 25
Archery -> 15
Block -> 20
Smithing -> 20
Heavy Armor -> 15
Light Armor -> 20
Pickpocket -> 15
Sneak -> 15
Alchemy -> 15
Speech -> 20
Alteration -> 15
Conjuration -> 15
Destruction -> 15
Illusion -> 15
Restoration -> 15
Enchanting -> 15
Factions
CurrentFollowerFaction -1
PotentialFollowerFaction 0
PotentialMarriageFaction 0
Relationships
Player Ally
AI Data
Aggression -> Aggressive
Confidence -> Brave
Mood -> Neutral
Energy -> 50
Morality -> Any Crime
Assistance -> Helps Friends and Allies
Combat Style -> WKScsSpellswordDup (new)
Spells
FireboltLeftHand
Healing
HealOther
IceSpikeLeftHand
LightningBoltLeftHand
Perks
LightFoot
RestorationApprentice25
DestructionApprentice25
IllusionApprentice25
AlterationApprentice25
AI Package
DefaultSandboxCurrentLocation1024
[bLoad-out[/b]
Default Outfit -> ClothesTavernWenchOutfit
Outfit Objects -> ClothesWnechClothes01, ClothesBoots01
Sleep Outfit -> None
Geared Up Weapons -> None
Inventory
ArmorDraugrBoots
ArmorDraugrCuirass
ArmorDraugrGauntlets
HuntingBow
SkyforgeSteelSword
SteelArrow (100)
Mods Used and Highly Recommended
ENB
by Boris Vorontsov
UFO-Ultimate Follower Overhaul
by fLokii
Skyrim Redone
by T3nd0
Static Mesh Improvement
by Brumbek
Player Headtracking
by Maegfaer
LIAT
by Demidekidasu
DIMONIZED UNP female body
by dimon99
The Eyes Of Beauty
by Gabriel Mailhot
ApachiiSkyHair
by Apachii
Immersive Armors
by hothtropper44
Requiem
by Xarrian
Mature skin texture and body for UNP
by Maevan2
Tera Armors - various packages, search for them!
Numerous others!
Consider trying my other mod
Breezehome Rustic Basement Workshop
should you be in the market for a more modest and rustic type basement lair.