This is a complete overhaul of my own
Better Rueful Axe Volendrung and others
mod and It will replace it with no data lost. I've made a separate release because It's now way too different.
INSTALL: Use NMM or extract & drop the file into your Skyrim/Data folder.
VOLENDRUNG

Malacath's Revenge
The mighty warhammer of Malacath, the cursed god of all Orcs, is now a true daedric weapon with a unique enchantment and new capacities and effects, both visual and sound.
Revenge of Malacath
- New enchantment. Causes
30 damage points
from a
Daedric Fire
that burns through armors and classic fire protections.
Malacath was betrayed by his own people the daedras and he will show no mercy to any creature, including daedras, atronachs and dragons. Those flames come from his realm in Oblivion. They transfer his fury and desire for revenge in the material world. Therefore, no protection from the material world can stop them. Only protection against magic may work, as they're drawn from the aetheral world.
Powerful Hits
- New ability.
30% chances of staggering
a normal sized target.
Volendrung is a huge weapon and a human-sized enemy (or even larger, like a bear or a sabrecat) is likely to be shaken and staggered, even knocked down or pushed backward by its massive blow. This effect is permanent and doesn't cost any mana / soul gems.
FIXED STATS
- Speeds up to 0.7. (comparison: 1.0 = classic 1H sword)
- Base damage of 27 like a classic daedric warhammer.
- Critical Hit frequency increased a bit.
- Increased knockback score to match the Powerful Hits.
- Considered Orcish Material. That means It can be fully tempered now!
- Hit effects set on GORY. I hope you have a nice "enhanced blood" mod!
SPECIAL EFFECTSMalacath's Roar
: Sound effect. Brief burst sound when Volendrung is unsheathed. This may cause enemies to detect you but who cares, this is not a weapon for sneaky folks anyway. Detection set on "normal" instead of none.
Daedric Flames
: flaming glow on the hammer. See my bad pics. Much better than the vanilla reddish fire glow. Also, new burning effect on the enemies when they're hit and keep burning. Kept from the "Ancestral fire" dunmer ability. Again, better and more subtle than the vanilla fire effect on creatures.
NOTE: my pics suck and don't render well the flames dancing around the bodies. If you have better screenshots post them please.
BONUS
: Smaller fixes and mods of two vanilla unique weapons included.
RUEFUL AXE
Modified Enchantment:
- Health Drain +20
- Soul Trap 5 sec.
Modified Stats:
- speeds up to 0.8 (quite fast for a 2H weapon)
- base damage of 25 just like an ebony battleaxe... because It is an ebony battleaxe after all!
I suggest that you use this
Rueful Axe Retexture
mod. The bloody design totally fits the new "vampiric" enchantment and It\'s in real HD. See my pic. Don't pick the "no glow" option or it will overwrite the new enchantment.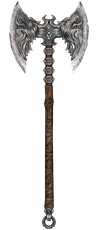 THE LONGHAMMER
- Fixed the sound bugs. No more one handed sheath/unsheath/block sound!
- Enhanced the damage stats, now same as a glass warhammer.
More descriptions to come. Give me time please.
Main version in English. French Version included as Optional.
Version francophone en option.