Description
Last updated at 23:43, 13 Aug 2012 Uploaded at 18:25, 12 Aug 2012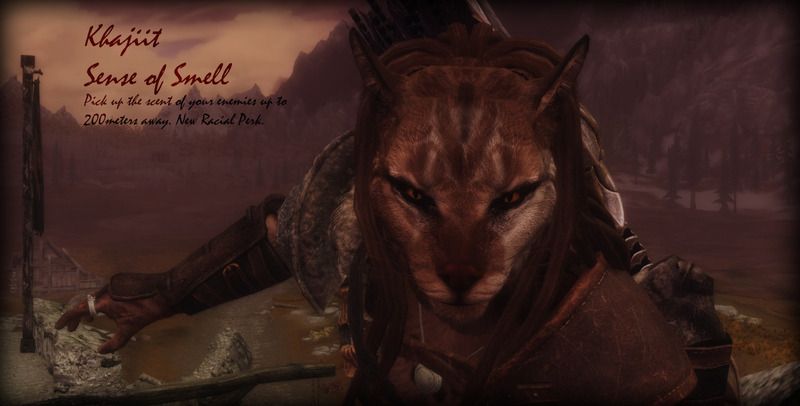 Khajiit Sense of Smell
VERSION 3 - By ShadowDragon96
http://www.nexusmods.com/skyrim/mods/50252/?
Ever wonder why your Khajiit can only see for 60 seconds in the dark? Or why they have that big old nose but never use it, well, fear and wonder no more, Enhanced Khajiit NightEye fixes this! Night Eye is now enhanced to last 2 minutes.
Your Khajiit "Sense of Smell" ability now allows you to "smell" people in your vicinity. They show up as a cloud of pheromones within a certain distance, allowing you to sneak around and use their smell against them.
You can also distinguish between friend and foe. Friend appear as blue pheromones whiles enemies appear as red.
Another downside, you cannot make out the smell of Draugr, Dremora or anything Mechanical.
----------------------------------------------------------------
()Due to the decay in the crypts where you often find Draugr, it is impossible for even the most sensitive nose to figure out whats dead and whats undead.
()Dremora have a special presence in the world, corrupting all around them, almost cloaking them from your sensitive nose.
()And last, mechanical creatures are well, metal, and if you chose to sniff out metal, your combat would be very confusing.
Any issues please let me know and I will do my utmost to fix them, but as I'm using the mod aswell, I'm sure I'll come across them to.
---Conflicts---
This mod will conflict with any other mod that effects the Khajiit Perks. Other then that, it changes nothing else in the gameworld.