Description
Last updated at 16:51, 11 Aug 2012 Uploaded at 2:42, 8 Aug 2012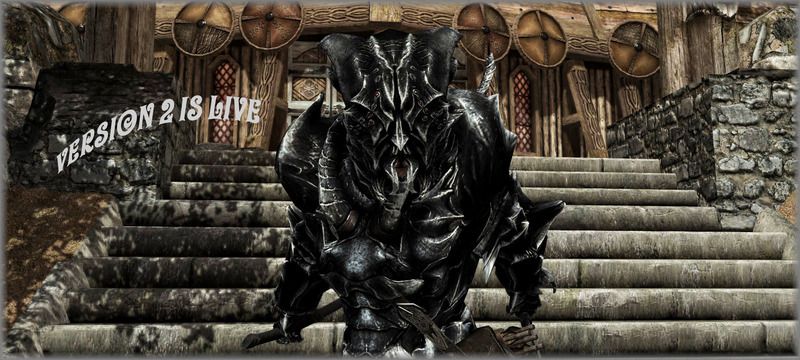 HQ & Recolor Falmer Heavy Armor
Optional Hi-Res replacement for all Falmer Shields and Weapons
3rd Edition is Live
After a little reading up, tweaking and poking at the normal maps and recoloring the entire set (for a 4th time) I finally am happy with the result. Ive been trying to shine dog shite and I think I'm as close as I'll ever get to a shiny turd :)
Dont expect brand new textures anytime soon, BUT, I am working on it.
Ive edited the normal maps to increase their detail. Ive decided to not increase the DPI or Resolution of the default textures because it makes no difference other then to the size of the download.

---So if you like it, please endorse it---
The Falmer Heavy Armor is one of my favorite looking armors in Dawnguard, the minute I seen it I fell in love, downside was, I was a thief so I had to go and make a mod to fix the weight issue first.
After that I used it all the time, but the color was slowly starting to bug me. Purple just didnt suit it, seeing as the Chaurus arent that color it didnt make much sense, so I started to mess with photoshop and came up with a newer version.
Now its not Chaurus color because when I made it darker I lost detail. Instead Ive given it a polished dark look, less saturation and a bit of a glow.
Its resolution is also increased, but its not really hi-res, but its my first retexture mod so gimme some time to get it sorted.
Ive recolored the eyes from puke green to deep red on both helmets.
Feel free to post your own screenshots of the armor if you like it.

---Installation---
You will require Dawnguard for this as its not standalone, sorry anyone waiting for a price drop.
Simply drag and drop the texture folder into your DATA folder or use NMM to install.
I will be updating this to a better quality and eventually (fingers crossed) Hi-Res.
Enjoy.
---One Last Thing---
And if your like me and you love this armor but cant use it as a light armor wearer, check out my other mod :
Falmer Reinforced Armor