Beans Badass Women-- THE COMPILATION
Skyrim » Companions
Added: 03/08/2012 - 08:49AM
Updated: 06/12/2015 - 03:17AM
Description
Last updated at 3:17, 6 Dec 2015 Uploaded at 8:49, 3 Aug 2012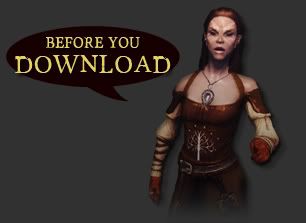 1) READ MY MODS USED LIST. None are required but different mods=different appearances for better OR FOR WORSE.

2) SOME FACEMORPHS HAVE ALTERNATE VERSIONS. Look at the individual files at the very bottom with PINK BORDERS.

3) Please no nude images! Skimpy armor is coolbeans, but I'd like to keep this page SFW.
This is targeted for people looking for lore-friendly, realistic, but naturally beautiful characters. Expect WARPAINT, SCARS, DIRT AND A WHOLE LOT OF FRECKLES. If you like clean faces though, I have also made a NO WEAR, NO TEAR ADDITION that removes all warpaint, scars and dirt. Freckles stay.

And for added flexibility, there's the optional PACKS version which separates my facemorphs into four .esp, three faces each. This allows you to skip some characters that you don't want. If you want some individuals that you skipped, download them in the individual files located at the BOTTOM OF THIS PAGE.


The only followers that I haven't done are: Uthgerd, Annekke, Iona, Jenassa and Ugor. Ugor got squashed by a giant in my playthrough, and Jenassa was by 83willow. Uthgerd, Anneke and Iona look too similar but I will comeback with an update when I finish them.
For Compilations
Use NMM or extract the files into the skyrim root folder manually. Make sure that the .esp is below mods that affect followers such as UFO.
For PACKS version
Manually extract the data folders from chosen Pack Folders into Skyrim Root Folder.
PACK ONE- Jordis, Brelyna, Ria
PACK TWO- Aranaea, Illia, Borgakh
PACK THREE- Adelaisa, Eola, Njada
PACK FOUR- Aela, Lydia, Mjoll
Uninstallation
Use NMM or delete all of the files manually. If manually, remove the .TARGA, .dds, and the .NIF files with the codes all found in the READ MES located at
skyrim/Data/textures/actors/character/FaceGenData/FaceTint/Skyrim.esm and
skyrim/Data/meshes/actors/character/FaceGenData/FaceGeom/Skyrim.esm
ANY FRECKLE REPLACER HALF of my facemorphs use freckles. THIS MAKES FRECKLES A LOT LESS REDDY. Improved Freckles Skyrim, though taken dow currently, is what I'd recommend as the top freckle replacer if you have it stored.
Coverwomen--for eyebrow textures. Download Coverwomen first and then download any other face texture to replace the rest.
Navetsea's Skin and Face Retextures (the optional 1.8 fuller lips and more character or 1.8 patch with toned arms abs are my recommended options)
Gizmodian Scars makes scars a lot more thinner and clean
Covereyes look 4 (for the eyelashes)
(for the actual eye texture)
Dimonized UNP (though bodytype doesn't matter)
1) ILLIA SOMETIMES WON'T GIVE FOLLOWER DIALOGUE. This has nothing to do with my mod, but here is how you fix it:
Open up the console command with the tilde key and click on Illia.
Type "setrelationshiprank player 3" to make her an ally
Close console, speak to her again to see if she works. Then save your game.
If you dismiss her apparently the same bug appears again, so repeat the process.
2) Wyldtats will disappear if you place Improved Freckles .esp BELOW the custom tattoo .esp in the load order.
3) ALL NECKGAPS FROM THE INDIVIDUAL FILES SHOULD BE FIXED. If it ISN'T, tell me and I will update/help you.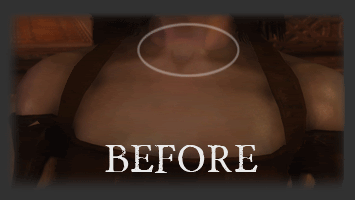 4) To fix this, download
Calientes Texture Blender
and extract into a new folder. Scroll down to Examples subsection, and read how to fix the NeckSeam.
For UNP, Svarog posted a
BodyBlend Kit
and a
Neckblend Kit
. NOTE THAT: The Neckblend Kit works best WITH COVERWOMEN AND BELLA'S BETTER FEMALES.
If you get
grey skin or black bodies
reinstall your body type and textures to get everything back to normal. The neckseam will go back to vanilla, but you can try the process again if you wish.
5) Lydia's appearance from Moonlight Tales might not work! Try to place my .esp below that mod to see if her appearance works.
Thank you
Jo
and
Kyo
for making the wonderful ENBs used in the screenshots. Also thank you
fileosoft
for improving my description information.
And a big kudos for ALL of the people who have been supporting me, whether through comments, making endorsements, and downloading so many of my mods. =)
As for what I'll do next, I'll continue making Annekke, Iona, Uthgerd and Ugor and post them in my next update. I'll also tweak some of my released facemorphs as my eyes become more trained. HOWEVER, right now I need a big break from working so hard in the past few days, so don't expect anything in a while. xD