File information
Created by
Matherthebec
About this mod
A new set of 22 historically accurate VIKING SHIELDS. You can smith them in any forge of Skyrim or take from bandits corpses.
PLEASE NOTE THAT'S AN OLD, NOT SUPPORTED VERSION.
Please refer to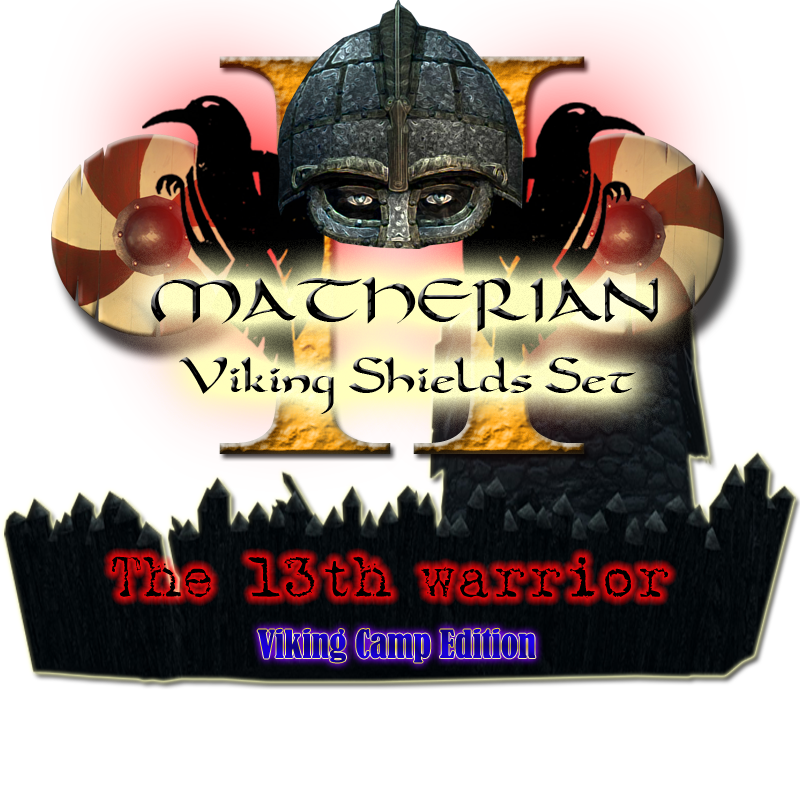 +++ DESCRIPTION +++
The MVSS originated from a personal, deep dissatisfaction with previous
viking-related mods which
never provide (IN MY VIEW) this essential component with proper esthetic
results.
Now, you can have your favourite personal VIKING SHIELD by crafting it in
any forge of Skyrim (IRON
CATEGORY) or just taking them from bandit corpses (who already will carry it
by outfit).
As any other common shield, you can also improve the armor value by using
proper materials.
If you like to get a quick general preview of the (almost) complete set you
will find an
interesting "wall-decoration" in "The Bannered Mare" of Whiterun.
+++ INSTALLATION +++
1) Unzip and copy the entire content of "DATA" folder into your personal
skyrim\Data folder.
2) REMBER to ACTIVATE "+ MATHERIAN_VIKING_SHIELDS_SET +.esp" by "Nexus Mod
Manager" or Skyrim
Launcher->DATA FILES.
3) ENJOY YOUR VIKING COMBAT !
+++ PERMISSIONS +++
Please, feel free to use that set for any mod or armor pack you like
(possibly a good viking one
!!!)...
JUST QUOTE ME AND MY MEDIEVAL TOTAL WAR COMMUNITY
(mtwitalia.freeforumzone.leonardo.it/) IN
CREDITS.
>>> DON't FORGET TO ENDORSE !!! :D <<<
For further information,
you can find me at MEDIEVAL TOTAL WAR ITALIA -> "EMBASSY" section
(mtwitalia.freeforumzone.leonardo.it/)
+++ CREDITS +++
The 3d .nif MVSS models are based on "Worn Round Shield" of superb
"Witcher 2 Shield Pack" Skyrim adaptation by redxavier
http://skyrim.nexusmods.com/mods/7328/
who generously allows to use his material by giving him credit for the
porting.
In order to get the best REAL viking experience possible I also suggest :
- Raider Helmet -
http://skyrim.nexusmods.com/mods/3947/
- Cloaks of Skyrim -
http://skyrim.nexusmods.com/mods/12092
- JaySuS Swords -
http://skyrim.nexusmods.com/mods/1002
- NorseViking Chainmail -
http://skyrim.nexusmods.com/mods/13462
- Faal Sizaan - Ancient Nordic Longbow -
http://skyrim.nexusmods.com/mods/14085
- CONAN THE BARBARIAN outfits -
http://skyrim.nexusmods.com/mods/4793
- The Chronicles of Steel -Skyrim- Realswords -
http://skyrim.nexusmods.com/mods/12506