Description
Last updated at 16:35, 11 Jun 2012 Uploaded at 12:03, 10 Jun 2012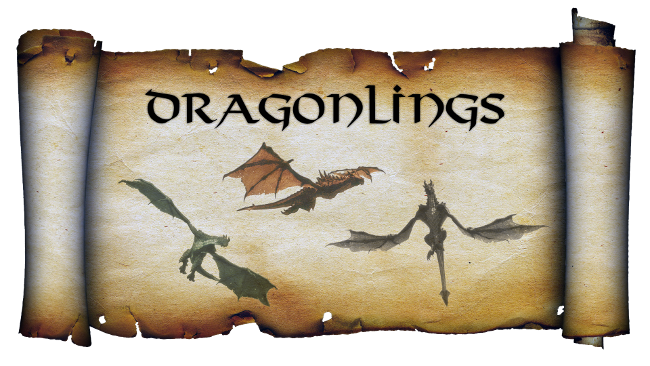 banner by chart4ever!
Features:
NO slow flying animations!!!
Adds Dragonlings (miniature dragons) to the world
Uses the 'Ambient Creatures' levelled lists so wont conflict with other dragon mods
Two Dragonling types: fire, forest, and frost (some uniques to come)
Redesigned shouts to make them less powerful
New Dragonling death items
New behaviour pattern
Dragonlings do not disintegrate on death and offer no soul: keeping the game balanced!
Dragonlings now attack in groups
Player can raise dead dragonlings using necromancy
The Dragonlings
These dragons may be tiny but they are certainly no fluffy kitten. Lower in health than some of Skyrim's other small predators (sabrecat) the Dragonlings have the advantage of flight and their miniature voices give them an advantage over their prey. Fortunately their small frames grow tired easily and they are required to land often. Dragonlings can be found across Skyrim and should blend seamlessly into the game.
To Do:
Possibly add some unique Dragonling types to the world
Installation:
Install the mod by either downloading via NMM or copying the data file to your Skyrim directory. If you use Wrye Bash you will need to generate a new patch and add the Dragonlings esm file to the level list merge window. If you don't use Wrye Bash (which you should if using multiple level-list mods) the make sure the Dragonlings esp file loads last in order to get the full effect!
If you are using ASIS (awesome mod) you should rerun the patch after installation!
If continueing a current savegame (which I guess you will be) you may wish to wait inside for 3-5 days to give the level lists time to respawn
Compatibility
Will conflict with any mod that changes the 'Ambient Creatures' lists only if you're not using the level list merge feature of Wrye Bash. Even so the AC level list contains nothing of great interest only rabbits and nonviolent creatures so very few mods use it.
Credits
chart4ever for his playtesting, ideas and dragonling lore knowledge
cleaned with tesnip
Dragonlings in Daggerfall