Description
Last updated at 23:01, 18 Jun 2012 Uploaded at 7:37, 24 May 2012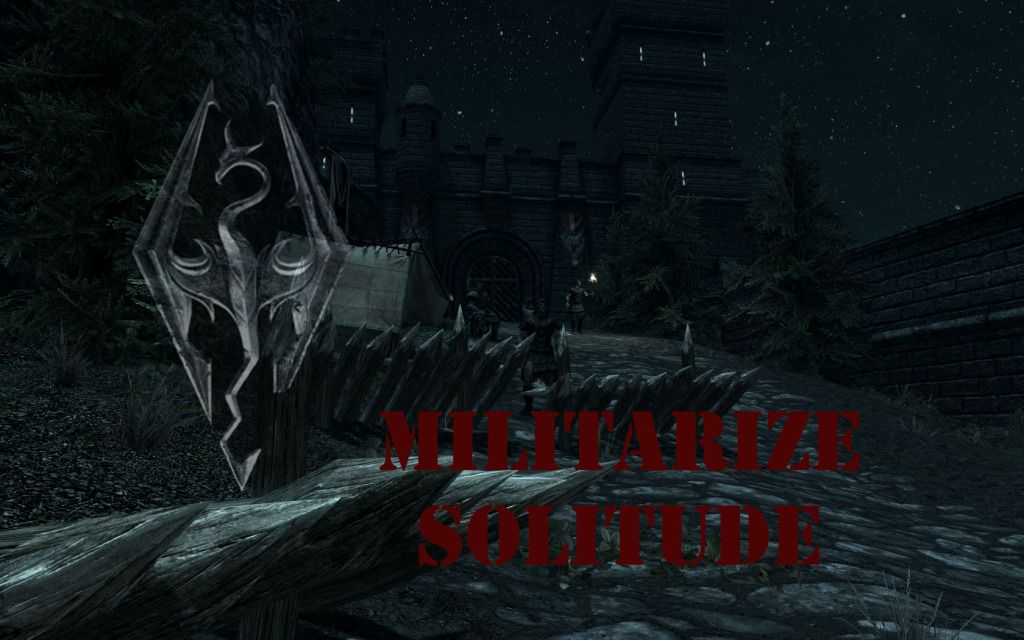 ===============
The Mod!
===============
A militarized capitol...the smell of smoke and death permeating the damp air, people shuffle by keeping their heads down, not daring so much as a
fevered glance at the soldiers standing on the corner, while the local recruiter cries out for any man foolish enough to volunteer...Well i cant deliver
all of that but i think i still did a good job, in addition to several cosmetic enhancements such as surplus military supplies and a gallow for making
examples of dirty Stormcloak traitors complete with an Imperial crier (all dialogue included), I have also re-routed the quest for joining the legion
to the local Solitude recruiter after all why would the commander of troops recruit a commoner?
===============
Version Breakdown
===============
v2.0
includes:
-Several cosmetic improvements to enhance immersion
-Retextured and lore friendly Dragonscale Cuirass that enables the quick reflexes perk while equipped and offers a boost alteration (hidden amongst military surplus and non craftable)
-Fixes Bug that prevented succesfully joining the Legion
-Other minor Bug fixes
v1.0
includes:
-Guard Towers at every internal gate
-Imperial Crier calling out against the Stormcloaks
-Imperial Recruiter calling the locals to service and offering
an alternative to joining the Imperials
-A Barracade to supplement the outer wall
-Additional Patrols to keep the population repressed
-All local gaurds converted to Imperial Soldier armor
-Two sets of military surplus
-Stormcloak Prisoner on display in Castle Dour courtyard
-Additional Archers training in courtyard
-Custom Dialogue for recruiter and crier
===============
installation:
===============
Simply unzip the files using WinZip, 7zip, ect.. than drop all files (except the readme) into the steam/steamapps/common/skyrim/data file
-Dont forget to move the Sound file!! if you dont have that the NPCs wont have any voices
===============
Important!!
===============
-Do not install this mod if you intend to be a Stormcloak, this mod is currently incompatable with a siege on Solitude,
this is a problem that will be fixed in the next update
-I apologize to everyone who downloaded the wrong zip file, im really not sure how that happened but ive replaced the file with the proper one now, enjoy :)
==============
Other great mods!
==============
Nightingale Manor
Legend of the Lost Sword
==============
Credit Due
==============
A big thanks to everyone who posts on the Nexus Forums and anyone anywhere who has made a tutorial..especially video tutorials