Dragonius Tower
Skyrim » Player homes
Added: 18/05/2012 - 05:02AM
Updated: 05/08/2012 - 03:08PM
Description
Last updated at 15:08, 5 Aug 2012 Uploaded at 5:02, 18 May 2012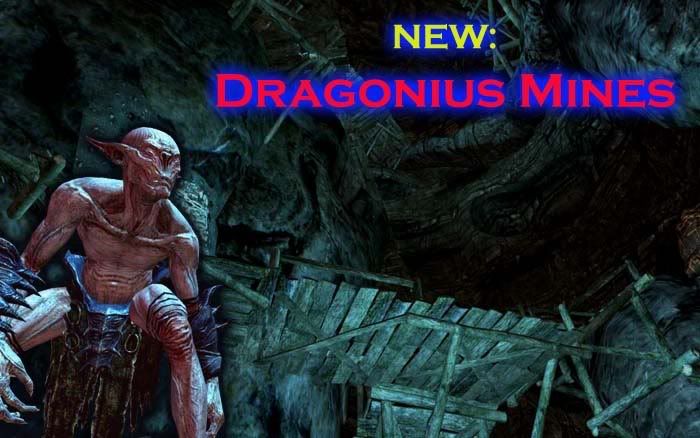 It's dark and dangerous...you'll need a torch, a pickaxe and strong dose of courage. Be careful, there's enemies in there and in some places...it's a long way down!
********
Inside the Tower you'll find all the display and storage areas you'll need; all within the context of the path you choose to travel. Port straight into the crafting area, where all crafting stations are in one room! Features 50 Mannequins, 28 display cases, 80 weapon racks and over 37 bookshelves. Enjoy!
Newest Features:
**Hall of Doomstones--all Doomstones in one area
**Female Mannequins
**Arboretum -- full of common and rare plants (BIG windows to view the great landscape)
**"Hall of Daedric Artifacts" -- display all 16 of the artifacts given upon completion of the daedric quests!
THE ENTRANCE TO THE UPPER TOWER IS RIGHT NEXT TO THE KITCHEN!!!
Features:
50 MANNEQUINS!
28 display cases
80 weapon racks
18 shield plaques
37 bookshelves (over 1100 book slots) + 3 library book containers
25 player chests and containers
All crafting stations in ONE ROOM with separate storage for each--even wood chopping!
Full kitchen with cooking station
General merchant with $5000 budget, specializing in rare ingredients
General blacksmith merchant with $3500 budget
Large tables have collision barriers around edge so you can place staffs and whatever on them without them rolling off or getting bumped across the room
Dragon priest mask altar
Shrine room
Unique books
Themed rooms to accentuated your character's alliances-- Hall of the Holds, Hall of the Alliances, Great Hall (Imperial/Stormcloak), Dwemer Hall & Hall of Daedric Artifacts
Master bedroom with plenty of wardrobes
Fast Portal system takes you straight into crafting area and back out to Skyrim
High balcony with scenic view (weather permitting)
Scenic waterfall and Huge Dwemer dam/hydro plant, with 2 lakes full of fish
Area for harvesting plants and mushrooms
New Dragonius Mines -- full of ore and enemies
Easy to find, south of Helgen toward the southern gate. Just check your map, a marker pops up after install. A quest is in the works.
*********************
For more pics, videos, news, and everything Dragonius, check out the Dragonius Tower Library---
http://dragoniustower.weebly.com/index.html
VIDEOS *******************************************************************
"Skyrim Cribs Ep.11 - Dragonius Tower" by MachinimaRealm
http://www.youtube.com/watch?v=A17l7FLbUto&feature=youtube_gdata
"Skyrim Mod Spotlight - Dragonius Tower" by ForAdventure
http://www.youtube.com/watch?v=YtJTwv2-J0Y
"Skyrim mod spotlight - Dragonius tower" by Plusonegaming
http://www.youtube.com/watch?v=5JXPrUQKOCc
"The Elder Scrolls V: Skyrim - Mods Show #18" [DEUTSCH] by KeysJore
@ 8:41 (cant tell what he's saying but i hope its good)... nice walkthrough...
http://www.youtube.com/watch?v=cUeAFVQOew8
*****************************************************************************
*****************************************************************************
SPECIAL NOTE ON NEW DAEDRIC HALL-- this mod has utilized the the great mod "Unlimited Bookshelves" by da5id throughout the newer areas of the tower, in particular--the crafting area and upper floors. However, with the construction of the new daedric hall, this mod has become essential to placing some of the artifacts on the display areas (all the weapons and armor are still placed on the convential weapon racks, display cases and mannequinns). In order to place a few items (rings, masque, ...etc.) You must have da5id's mod installed, if you don't already have it. This is mainly because--as you can probably tell--I'm more of a visual person and do not have the scripting knowledge or capabilities to make my own containers. However, I'm going to really be focusing on these areas and hope to make this unnecessary in the future. Thanks for your patience. Link below...
*******************************
*******************************
RECOMMENDED MODS---
To utilize the vast number of shelves in this mod, I encourage you to download Da5id's great mod "Unlimited Bookshelves," if you dont already have it. Its a simple script that changes everything concerning bookshelves and storage in the game. You can download it here:
http://steamcommunity.com/sharedfiles/filedetails/?id=13661&searchtext=
or the nexus version:
http://skyrim.nexusmods.com/downloads/file.php?id=10891.
**
Mannequins are creepy little buggers, and this house has a ton of them. But you can fix their erratic behavior and strange poses with this great mod:
Vanilla Mannequin Script Fix - http://skyrim.nexusmods.com/downloads/file.php?id=10652
**
Trying to get your spouse to move into Dragonius Tower can be a tough sell, especially if they've got plenty of high-society friends in Solitude or Windhelm. This mod will convince them to follow you anywhere!
Spouses Can Live Everywhere - http://skyrim.nexusmods.com/downloads/file.php?id=11370
++++++++++++++++++++++++++++++++++++++++++++++++++++++++++++++++++++++++++++++++++++++=++
Need a home that's a little less...well, monstrous? Try my other house mod: "Grey Ledge Manor -- No Load Doors"
Available here:
http://skyrim.nexusmods.com/members/editfile.php?id=18112
And also on the Steam Workshop
++++++++++++++++++++++++++++++++++++++++++++++++++++++++++++++++++++++++++++++++++++++
UPDATE NEWS+++++++++++++++++++++++++++++++++++++++++++++++++++++++++++++++++++++++++
Version v3 -- added Dragonius Mines/Dungeon
Increased lighting in main dispaly halls and living quarters
fixed bug that caused conflict with vlindrel hall
New update (.01) fixes the bug with the female mannequins. Nothing else has been changed.
+++++++++++++++++++++++++++++++++++++++++++++++++++++++++++++++++++++++++++++++++++++++
+++++++++++++++++++++++++++++++++++++++++++++++++++++++++++++++++++++++++++++++++++++++
I appreciate all the suggestions many of you have made. I read each one and have made many changes based primarily upon them. I'm glad you like the tower. I like it too, i've been living in it for about 2 months now and continue to work on ways to improve it. If you have any, i'd be glad to hear from you. I hope you enjoy the place as much as i have. Thank You!