ShipHome - A Unique Player Home
Skyrim » Player homes
Added: 20/02/2012 - 09:57AM
Updated: 20/02/2012 - 09:58AM
Description
Last updated at 9:58, 20 Feb 2012 Uploaded at 9:57, 20 Feb 2012
On the verge of a daunting precipice, there lies the remains of an old ship, long forgotten by time, it lies trapped, intact, in the side of a glacier. Hmm, it looks like someone built a house on it...how incredibly clever and good looking they must be, pity they're not around...I suppose I'll stay here for a while!
Welcome to ShipHome!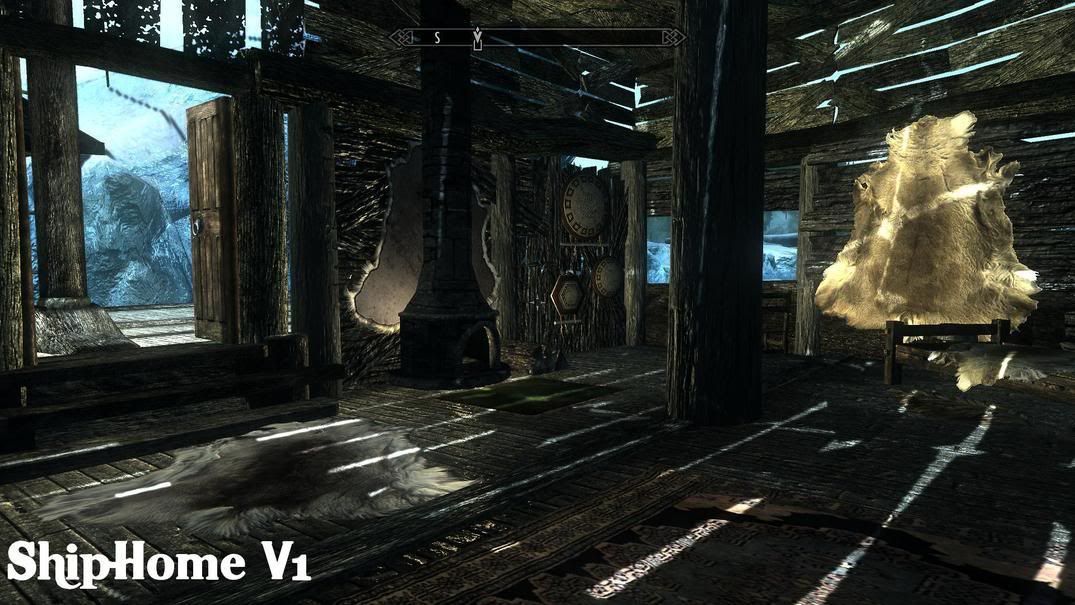 Thanks for taking a look at my newest creation, ShipHome! Fans of my mods (Both of you) will know that my mods are unique, in that, I build all of my homes from various statics I dig around for in the CK! The benefit? Unique and beautiful homes, with no loading screens! You will NEVER find another home like ShipHome I am sure of it. Real views of beautiful ocean vistas! Incredibly time consuming to make! Creativity out the wing-wong! Take a look at the screens, but don't blame me if your hair starts on fire, FROM THE AWESOME!
Edit: This is V1 of this mod, there will be many updates based on feedback and my own ideas, Let me know what you guys think!
Edit: The location of the home is North of Solitude quite a ways out in the ocean, There is a fast travel marker for convenient travel. Also because you can't get there from the water.
Features!

*Real Views from the windows!
*No Loading screens
*Teeny Tiny Shrine to Talos (Because I love Talos!)
*Fully Indoor/Outdoor home!
*Named/Non-Respawning/Player Owned Storage!
*Cookpot!
*IT'S A SHIP JAMMED INTO A GLACIER WITH A HOUSE ON IT I MEAN COME ON!?!
1. Installation
2. Uninstallation
3. Breakfast
1. Installation: To install Shiphome, simply put the .esp into your /data folder and activate! Simple!
2. Uninstall: To uninstall, simply pour a glass of incredibly wet water into your computer case. EASY!
3. Breakfast: Scramble up 3 eggs, add in chopped red peppers, a small bit of chopped onion, some chopped spinich, Salt and pepper to taste, Enjoy with Hollandaise sauce!
Bugs/Incompatibility: This mod will conflict with anything that messes with the same area in game. I highly doubt it will be an issue. It may have bugs, I've tested it as thoroughly as I can, but there is always a chance! Save carefully! Because of the nature of this mod (Built entirely out of statics) lower end computers will have issue with framerates. There's nothing I can/will do about it. I run it at 60fps, and my computer is Mid-high end so I did the best I could to save fps.