File information
Created by
gg77
About this mod
Each Jarl now has his pet that follows him all day ! (No DLC required)
Permissions and credits

Changelogs
Each
Jarl
now has his pet that follows him all day ! (No DLC required)
You can also buy scrolls from
Hulda
or
Arcadia
(Whiterun) to spawn a multitude of cats all around you ... and thus repopulate Skyrim with these animals !
Adds 5 companions: Breezehome (1), Proudspire Manor (1), Honeyside (1) + Riften (2)
->->->->->->->->->->->->->-><-<-<-<-<-<-<-<-<-<-<-<-<-
Credits
DracoWarrior729 for the cats/khajiits in
Creatures of Nirn - Khajiit Alfiq
The hunt is on ! Can you find this Easter Egg ! ? (
This cat has many gifts for you, and can follow you if you want
)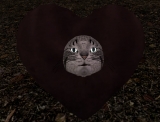 Bugs or Problems
« Also, one of the 'cats' had the voice of a Khajiit. It asked me "How can I help you?" »
This is normal (and intended). There is
no dialog box
because the cats follow the jarls (it's either one or the other; the two together cause bugs ... i tried it in another mod).
« i can't see the body » (or the head !)
I don't understand, because i can see all the cats in my game (my screens).
Other mod who cause this conflict
?
Message by « soupdragon1234 » :
« You don't have HDT-SMP by any chance? Theres something about the extra head node on the skeever skeleton the models use to animate that HDT doesn't like. Invisible models is a known problem with HDT under certain conditions. »
Presentation of this mod by Pascale games :
->->->->->->->->->->->->->-><-<-<-<-<-<-<-<-<-<-<-<-<-